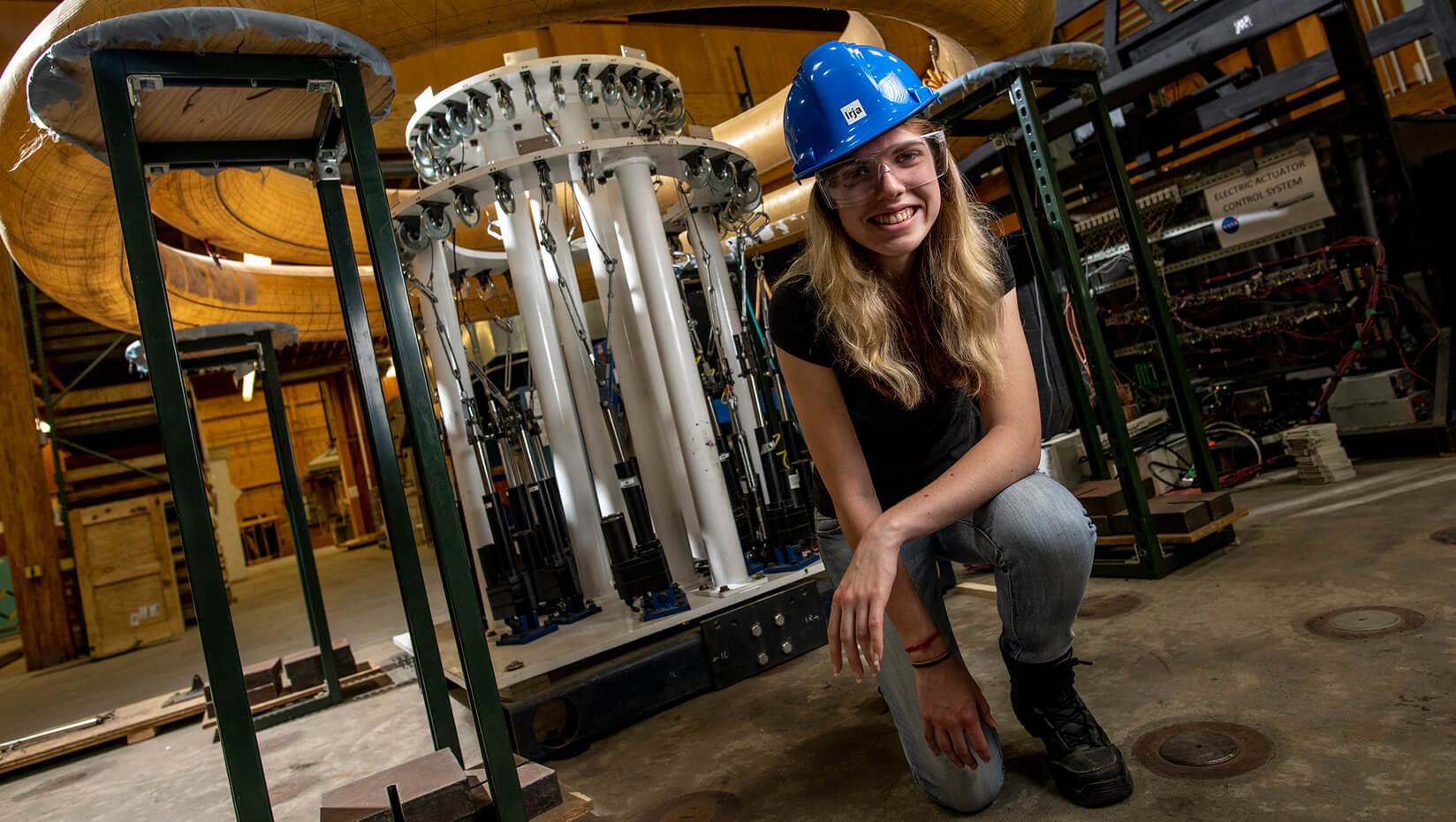 Irja Hepler: Early College leads to hands-on engineering at ASCC
Irja Hepler started working at the University of Maine Advanced Structures and Composites Center (ASCC) before college, when she landed an internship as a sophomore in high school.
Now Hepler, a civil engineering major from Orono, is a senior at UMaine.
"I really like math and I especially like applying it to the real world, which is exactly what engineers do," she says. "I chose civil (engineering) because I want to build structures and I already had connections to the department."
Those connections arose from her internship at the ASCC during January Term (J-Term) her sophomore year at the Maine School of Science and Mathematics (MSSM), a public residential magnet high school in Limestone, Maine.
J-Term is "an innovative 10-day program that provides students with the opportunity to dedicate themselves to a particular course or project," according to MSSM's website.
Hepler's internship led to a summer job that she held for the rest of high school and now continues year-round as a UMaine student.
As a student research assistant, she works about eight hours a week during the semester and nearly full time during breaks. Hepler's work encompasses data processing, file management, project finance and other tasks.
"I do a lot with digital image correlation (DIC), which basically is a way to convert pairs of images of a test into engineering data. It's a really powerful software," she says. "My favorite tool is MatLab, which is a coding language. There really isn't anything I've found that it can't do, from processing and plotting data, to running the cameras for the DIC."
And she also has had the chance to work on a project for NASA.
The project was designed to further understanding of the behavior of a hypersonic inflatable aerodynamic decelerator (HIAD), a cone-shaped structure made of inflatable rings called "tori" that can be used to slow down a spacecraft as it lands.
"There's a lot of force on something like that, and so they needed to know how the HIAD would react," says Hepler.
The ASCC team tested individual tori and the material used in the rings. Andy Young, a civil engineering Ph.D. student at the time, developed a model in MatLab to test tori virtually, supplementing the data from physical tests and reducing the high cost of constructing tori for them.
"Working on it was really cool, especially since I'd been interested in space travel for as long as I could remember and now I was helping with some of the newest research to get us there," Hepler says.
Now she's working on a project that involves designing and testing composite bridge girders. Her role focuses on data processing.
Hepler says her internship was a significant factor in deciding to come to UMaine.
"I didn't realize before I worked at the ASCC that they were doing cutting-edge research right here in Orono, Maine," says Hepler.
And she was able to receive college credit for some of her MSSM classes through a dual enrollment program at the school.
"MSSM was challenging, in a good way for the most part," she says. "I was introduced to advanced engineering-related topics like calculus-based physics, differential equations and multivariable calculus, which I wouldn't have seen otherwise. That exposure, and the study habits I built because of the difficulty of the classes definitely gave me an advantage when I came to UMaine."
After graduating in 2020, Hepler plans to pursue graduate school and do research at the ASCC.
When she's not working or in class, Hepler enjoys being outside — swimming, fishing and boating in the summer, cross-country and downhill skiing in the winter, and walking year-round.
Contact: Cleo Barker, 207.581.3721