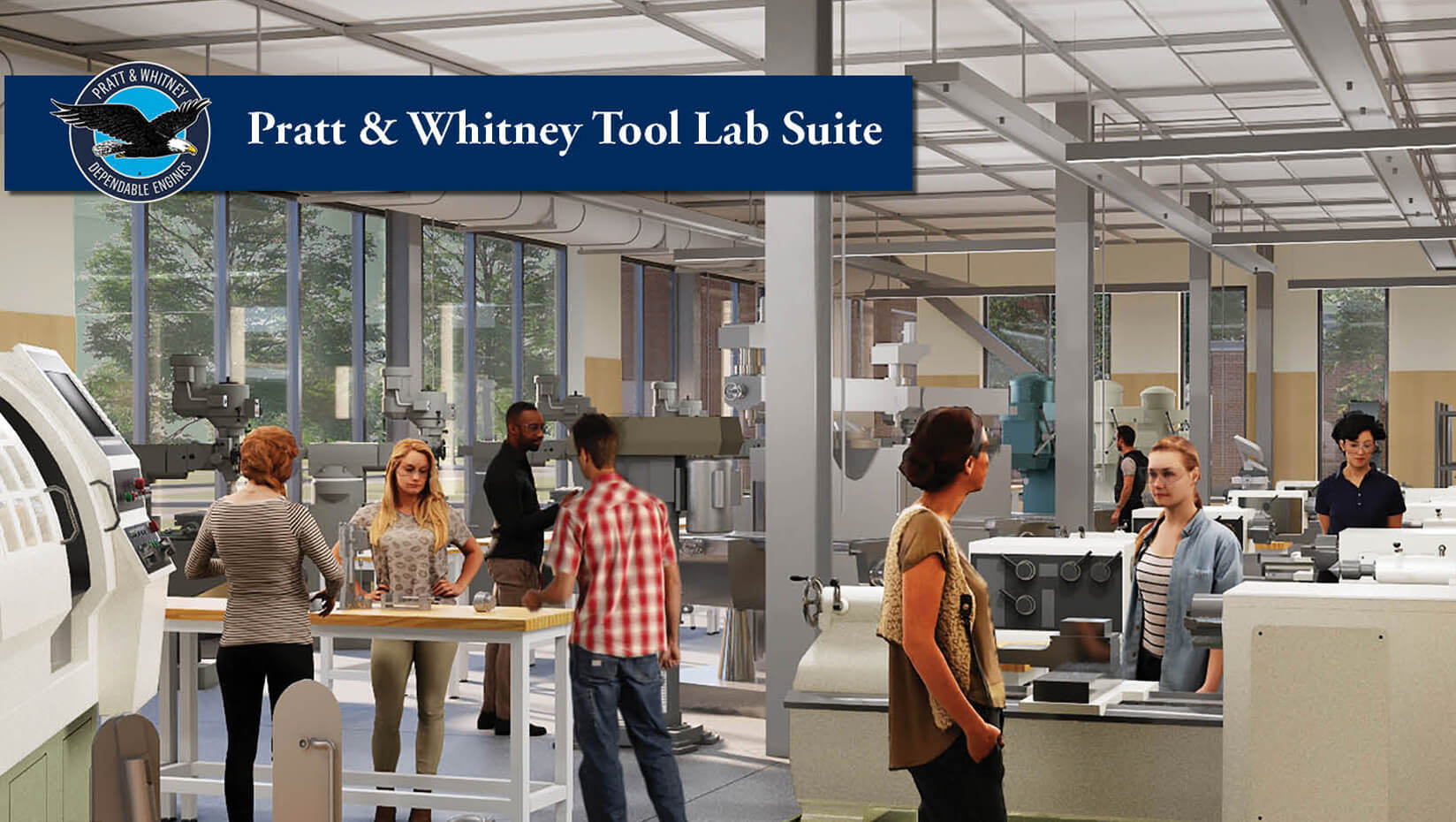 UMaine receives $1 million pledge from Pratt & Whitney for engineering center
A $1 million pledge from Pratt & Whitney for the E. James and Eileen P. Ferland Engineering Education and Design Center (Ferland EEDC) was announced on Friday, Oct. 25, as part of University of Maine Homecoming Weekend by College of Engineering Dean Dana Humphrey and University of Maine Foundation President Jeff Mills.
Pratt & Whitney will name the center's Machine Tool Suite, featuring more functional, updated space for mechanical engineering technology students to develop production and manufacturing skills. It will feature open workspace, computer-controlled milling machines and lathes, tool crib, applied research lab, and a computer-aided drafting/computer-aided manufacturing classroom.
"This gift will allow our mechanical engineering technology students to gain the hands-on experience that they need to be effective from day one in their careers. It is so appropriate that Pratt & Whitney named this space since they hire so many of our engineering graduates. I am deeply grateful for the strong and long-standing relationship between UMaine engineering and Pratt & Whitney," says Dana Humphrey, dean of the College of Engineering.
Pratt & Whitney's previous support for UMaine Engineering includes a $100,000 gift in 2015, which provided scholarships and equipment for UMaine's MET program.
"UMaine has a 99% placement rate for engineering graduates in careers or graduate school," says UMaine President Joan Ferrini-Mundy. "As a corporate leader in engineering, Pratt & Whitney understands the value of career-ready engineers. This gift moves our project forward, and supports our goals of fostering learner success and bringing research into the classroom. We are deeply appreciative of Pratt & Whitney's vision and support of the future of engineering education in Maine."
Ferland EEDC is the highest capital priority for UMaine's Vision for Tomorrow Campaign, led by the University of Maine Foundation. This pledge brings the total amount raised in support of the new facility to over $67 million, which includes over 400 gifts from alumni, friends, foundations, corporations and UMaine employees, $50 million invested by the state of Maine, and principal gifts of $10 million from James Ferland '64 and Eileen Ferland, $1.5 million from the Gustavus and Louise Pfeiffer Research Foundation, $1 million from the Abbagadassett Foundation and $1 million from the Packaging Corporation of America.
The expected cost is $75 million to $77 million. Groundbreaking for the center is planned in spring 2020, with anticipated completion in 2022.
Naming gift opportunities are still available. For more information about giving to the University of Maine, contact the University of Maine Foundation, 207.581.5100 or online.
Contact: Margaret Nagle, 207.581.3745