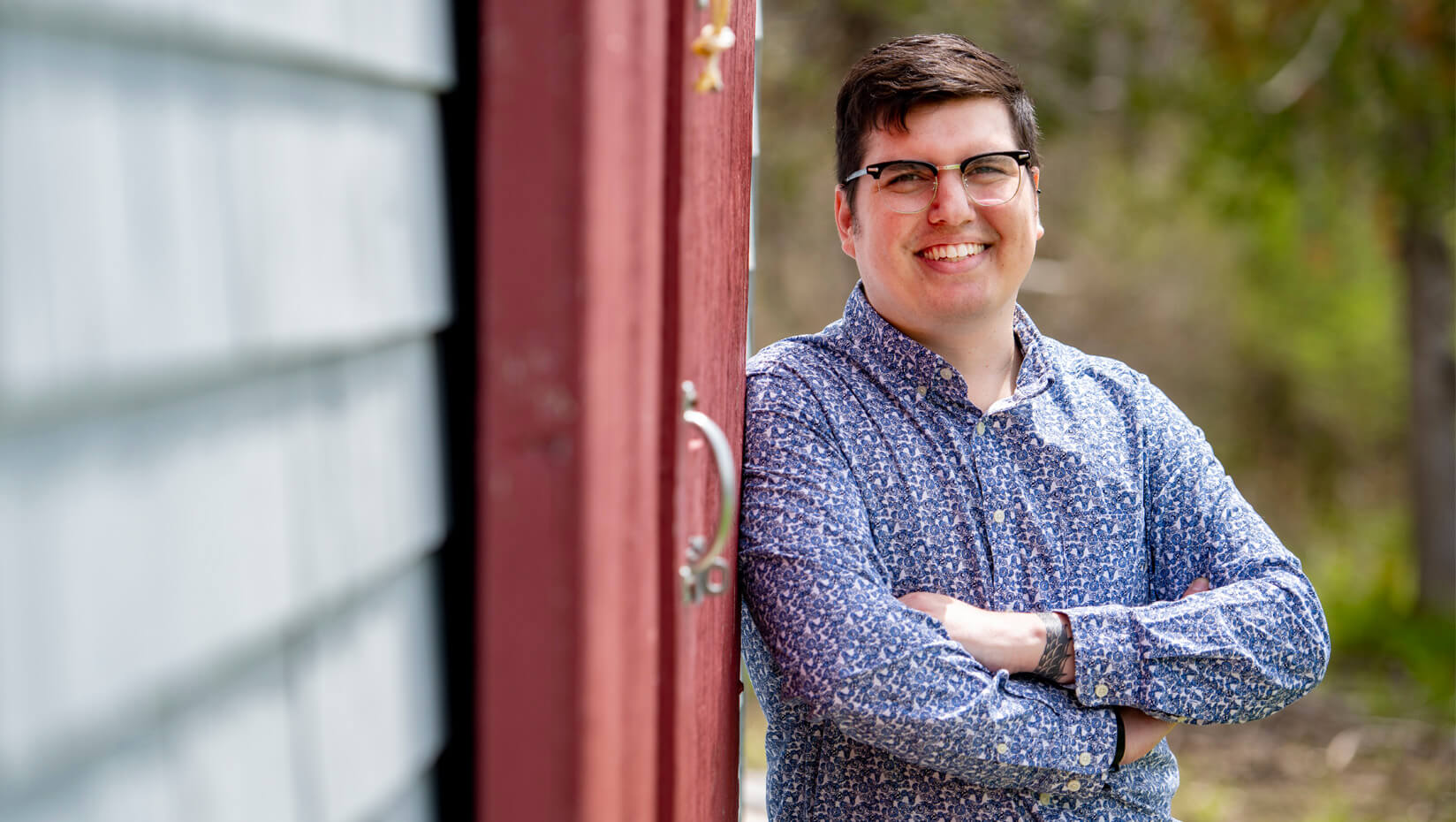 For Pittis '13, 'Rubble' could lay groundwork for Hollywood film career
In 2018, Patrick Pittis was eager to land a job in the entertainment industry after earning a graduate degree in Writing and Producing for TV at Loyola Marymount University.
He did. As an usher at a movie theater.
The pay was good. And between cleaning seats and trash cans, he got to watch films for free.
In his off time, Pittis wrote movie scripts.
In spring 2019, Universal Pictures won the bidding for one of those scripts — "Rubble."
Pittis describes the film as a "contained thriller with a big sci-fi twist," similar to "10 Cloverfield Lane." Much of the action, he says, takes place in a collapsed staircase.
During his youth, the Bangor, Maine native made short films and attended theater camp with his so-called nerdy friends. The fan of Stephen King continued to write scripts in his high school film class.
At the University of Maine, which he attended on a full scholarship, Pittis initially studied theater and secondary education. At the time, he considered a career as a high school drama teacher.
But along the way, he became more and more interested in writing — especially about pop culture — and switched his major to communication.
Pittis says he was encouraged to explore screenwriting and directing in the supportive atmosphere of the School of Performing Arts. After he graduated magna cum laude in 2013, Pittis and Meghan Ballard headed to the Golden State.
"I had met my wife as an undergrad," Pittis says. "I had told her my goal was to move to California to try to be a writer. And she was naive enough to believe that I could do it."
Turns out she was right.
When they arrived on the West Coast, Pittis and Ballard worked multiple jobs to save money. Pittis tended bar, delivered pizza and drove for Lyft. And he applied to graduate school.
Two years later, he was accepted at LMU, a top film school. He'd also been accepted to law school and to a Ph.D. program in communication.
He realized if he attended law school, he'd practice as an entertainment lawyer. And if he earned a doctorate in communication, he'd be a professor who dissected TV tropes.
"I asked myself what I wanted to do, and it was work in the industry."
At LMU, Pittis says it was thrilling to use state-of-the-art film equipment and collaborate with others who also were developing their writing voices. When he and friends formed a small student production company, they got hands-on experience — from designing set lighting to securing location permits.
Today, Pittis works an accounting clerk at The Intellectual Property Corporation, an Emmy Award-winning television production company. He says learning about the business side of entertainment has been valuable and eye-opening.
During the two-hour, one-way commute to work in Van Nuys, he brainstorms.
Pittis tries to imagine a cool concept or a cool character and a world in which they can exist. He figures out the story he wants to tell, where the emotional beats of the story are, then builds out each scene.
When he writes, Pittis sits on the couch, cranks '80s synth music, and types until his hands are cramped. He calls his initial script the vomit draft. By the third or fourth rewrite, he's ready to share it.
He shows it first to Meghan — who majored in Parks, Recreation and Tourism at UMaine. "Her initial reactions are always spot on," Pittis says.
Then he shows it to others, including his brother, who's a librarian.
Right out of grad school, Pittis' screenplay "Foxhole" got optioned by an independent producer in Hollywood. The logline: A supernatural creature plagues two soldiers in a foxhole in France during World War II.
The independent producer hooked him up with a management company. And a short time later, the managers showed his "Rubble" script to agents. After some tweaks, including to the ending, Universal bought the rights.
"What happened to me is ridiculously crazy. I was very lucky every step of the way," says Pittis. "It's important to not be discouraged if you don't have immediate success."
Rejections don't dissuade Pittis, anyway.
"If I don't have something to be writing, it's like a bug in my brain. I need to have something that I'm working on," he says. "A good screenwriter is somebody who has to write. The people that can really push past all of the denials and rejections are the people that live and breathe writing."
Pittis admires entertainers who persevere.
"One of my favorite actors is Alan Rickman. He didn't have his first feature film until he was 41," Pittis says.
"It's not really about when things happen to you. You should never be comparing yourself to other people's journeys. You should always just be focused on what you're doing and trying to do your own job as best as you possibly can."
Beth Staples, 207.581.3777, beth.staples@maine.edu