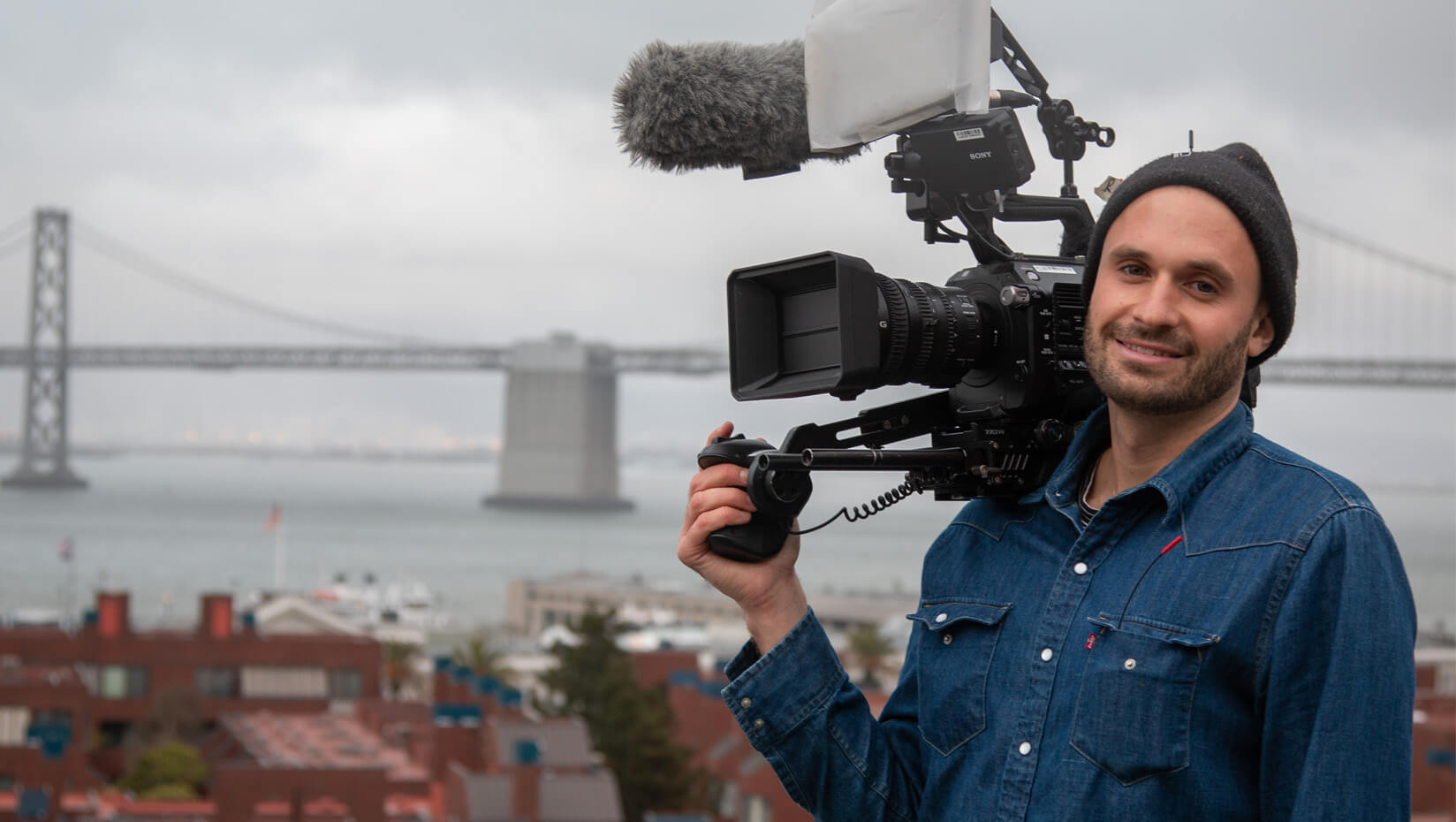 Curiosity drives Groening '10 to document, share people's unique stories
A cluster of elm trees near Stodder Hall is Jesse Groening's favorite University of Maine spot.
"They were the best for climbing and getting a bird's-eye view of the campus," says the 2010 graduate.
Since Commencement, the broadcast journalism major and TV film and video minor has had lots of interesting views and opportunities.
He's filmed (while swimming with) sharks off the Florida coast, been a passenger on a sled pulled by dogs over glaciers in Alaska, and floated in a hot air balloon over vineyards — with kangaroos — at sunrise in Australia.
He's flown on the Virgin Galactic prototype aircraft and maneuvered NASA's Curiosity rover on Mars.
"What is so special about all these experiences is that I was trusted to be the person who documented it in an interesting, creative way so that others can witness and become part of these moments," says Groening, a freelance director of photography based in Maine.
Groening has worked on programming for ESPN 30 for 30, Netflix, Amazon, ABC, NBC, CBS, HGTV, Travel Channel, Discovery Channel, Food Network, and the National Geographic Kids TV series "Weird But True!" that was nominated for three Emmys.
In doing so, he's worked with a number of high-profile athletes, actors, models, politicians, musicians, scientists and business people. And he's become friends with some, including professional golfer Rickie Fowler, design and home renovation expert Ty Pennington and celebrity chef Robert Irvine.
"At the end of the day, whether you're big or small, everyone wants a friend," he says. "It's refreshing to work with these revered people and feel like you're on the same team. Everyone wants to do a good job, and if you work hard and care about it, then people respond to that."
Groening says moments that consistently give him chills are when he's in sync with a person who's vulnerable and true in front of his lens. "There is a great joy and rush that happens when it's you, your camera and this person," he says. "It can be very intimate and beautiful — like a lightning storm."
Groening also appreciates opportunities to explore locales where he works — which have been in every state in the U.S. and in several countries. The experiences, he says, spur him to be informed, and to appreciate the natural beauty in his home state of Maine.
Growing up in Belfast was special, says Groening, in part because of the area's woods, ocean, lakes and mountains, and "a community of smart, eccentric people who work hard and are self-reliant."
"I've always been positively influenced by nature and how people connect with it," he says. "Likewise, I've always been very curious about people's stories, how they became who they are, what shaped them. Spending time with an interesting person with my camera documenting is my passion and I am lucky to have been able to make that passion into a career."
An experience during a 2008 spring break trip to Spain sparked Groening's interest in documenting people's stories through a visual lens.
In Comares, an elderly woman invited him into her home. "She had handmade soap and apricot brandy. I took this great portrait of her in front of her house," he says. "It was this brief whirlwind of meeting this woman, seeing what she did, and how proud she was, that was so sweet."
UMaine communication and journalism professor Nathan Stormer helped Groening craft his track that combined journalism, new media and photography/videography.
Groening worked at The Ellsworth American and Bangor Daily News before leaving the state to explore larger markets, establish contacts and gain expertise nationwide.
He's since returned to the state he loves to live, snowboard, mountain bike, hike, swim, camp, and play with his dog — while continuing to work on projects across the country.
As director of photography, Groening's in charge of a production's visual aesthetic and lighting. He works with the director, producers, on-air talent and with people in post-production.
"The world of lighting is a lifetime study and, as with cameras, the technology is constantly improving and changing," he says. "What a joy and a wonderful challenge it is to 'light' for a specific production's mood, requirements, budget."
Depending on the type of project, TV show or documentary, Groening also might orchestrate multiple moving cameras. Or, he might fade into the background and let a scene unfold in front of the camera.
"Every day is a new situation that requires creative problem-solving and adaptation," says Groening, adding that his career spurs him to look at every day and every person as having magnificence and a story.
"I love finding beauty in unconventional places and things," he says. "I am inspired to be aware of people's uniqueness, personal experience and point of view. My career has also affected me to always want to document, and continues to keep me curious."
As part of the job, Groening's spent his share of nights, and days, in airports. He's logged 17-hour days lugging a 30-pound camera and he was infected with the Zika virus on a shoot among crocodiles in the Everglades. And while embedded with a presidential campaign, the candidate yelled at him for getting too close.
Because Groening looks at much of life through a lens, he says he's aware of the color temperature of every single light bulb, and that he "sees" in sequences of camera moves.
"Whether I am driving, walking or sitting, I see things around me in sequence," he says. "Fun, but a little weird."
That perspective may shift a bit in the director's chair. This season, Groening will direct two episodes of the Food Network show "Restaurant: Impossible," for which he's been director of photography for five years.
"This is a big step and transition for me to put down the camera and purely direct the overall content of a production," he says.
In addition, Groening and Charlie Engelman, his business partner and co-producer, have created an educational series titled "Nature Parade" that promotes "extraordinary things in ordinary places."
They're pitching the show — which encourages people to explore their backyards, and be informed about the natural world — to networks and streaming platforms.
Climbing trees for a bird's-eye view could be one show.
Contact: Beth Staples, 207.581.3777, beth.staples@maine.edu