May named 2019 Gould Award winner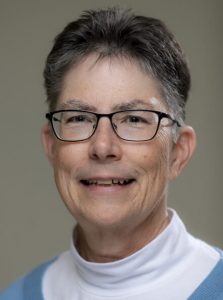 Janet May, coordinator of transition and adults in the Center for Community Inclusion and Disability Studies at the University of Maine, is the 2019 recipient of the Steve Gould Award.
The annual award is presented to members of the UMaine community who have, by their conduct, demonstrated superior qualities of unselfishness and compassion in the course of serving UMaine and its ideals. It was created in 1981 by the family and friends of Steve Gould in memory of "a man of honest and passionate concern for others."
The award will be presented April 23 at the Employee Recognition and Awards Luncheon.
May has been a member of the UMaine community for 21 years. In her position, she is responsible for helping youth and young adults with intellectual and developmental disabilities and their families transition from high school to postsecondary education or vocational training, community-integrated employment and meaningful participation in their communities. She specializes in disability policy and practice for youth in transition, volunteering and employment.
May is described as practical and visionary, an enabling and effective resource person and bridge builder who works in both academia and the community to meet needs. She provides "quiet, competent and compassionate leadership," and is dedicated to improving the lives of people with disabilities, and their families, according to her nominators. Her life experiences and sense of justice, as well as her problem-solving skills in the face of challenges, make her a true champion of inclusion.
She contributed to the Office of Child and Family Services 2016 "Guide to Transition Services in Maine," and has developed several innovative summer work experience projects for youth with disabilities. Other initiatives in which May has been involved include a New Hampshire and Maine research team that developed a successful family-centered transition planning model for youth with autism.
One nominator noted that May is "a gifted person who has made a real difference in the lives of all folks throughout Maine, now and in the future."
Above all, May knows the importance of seeing the person first — not the disability. "Janet works with us to try to create communities where differences are just aspects of who people are, but not the whole sum of who they are."
Contact: Margaret Nagle, 207.581.3745