Weber named dean of Graduate School of Business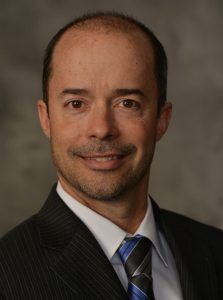 J. Michael Weber, a senior associate dean and professor of marketing at Mercer University, has been named dean of the new Graduate School of Business, effective July 1, 2018.
The Graduate School of Business, part of the Maine Business School, will offer the MBA program in Orono and Portland and online, and will house all future graduate programs in business developed in the University of Maine System. The MBA will be the only graduate business program in Maine accredited by the Association to Advance Collegiate Schools of Business. Graduate School of Business faculty are Maine Business School faculty and University of Southern Maine business faculty with graduate appointments at UMaine.
"Dr. Weber brings a depth of academic leadership, including international and domestic business consulting experience, to Maine and the new Graduate School of Business," says Jeffrey Hecker, UMaine executive vice president for academic affairs and provost, to whom the deans of the Graduate School of Business and Undergraduate School of Business in Orono report.
"As founding dean, Dr. Weber will work with the graduate business faculty to innovate curricula and pedagogy, and deliver options for the MBA program in order to meet the workforce needs of Maine and beyond," Hecker says.
Weber has a more than 20-year career in academia, with significant experience in graduate program development and growth. Since 2006, he has been a member of the Stetson School of Business and Economics at Mercer University. In 2012, Weber founded the school's Center for Executive Education, which offers a portfolio of professional certificate programs.
He also has held faculty positions at the University of West Florida, University of Miami, Barry University and Eastern New Mexico University.
Weber's research interests include innovation and entrepreneurship, financial services marketing, entrepreneurial branding, consumer behavior, and marketing in social media and tourism. He has published in a variety of journals, and has two decades of experience in business and marketing consulting to international and domestic firms, organizations and government institutions.
He received an MBA from the University of West Florida and a Ph.D. in business from Louisiana State University.
The Graduate School of Business was made possible as part of a $7.5 million challenge grant from the Harold Alfond Foundation to the University of Maine System in 2017 to support the Maine Center for Graduate Professional Studies.
The Maine Center combines the MBA programs of UMaine and USM into the new Graduate School of Business. It also will bring the University of Maine School of Law and the University of Southern Maine's Muskie School of Public Service graduate programs and Cutler Institute for Health and Social Policy together as a unique consortium to maximize cross discipline opportunities for students.