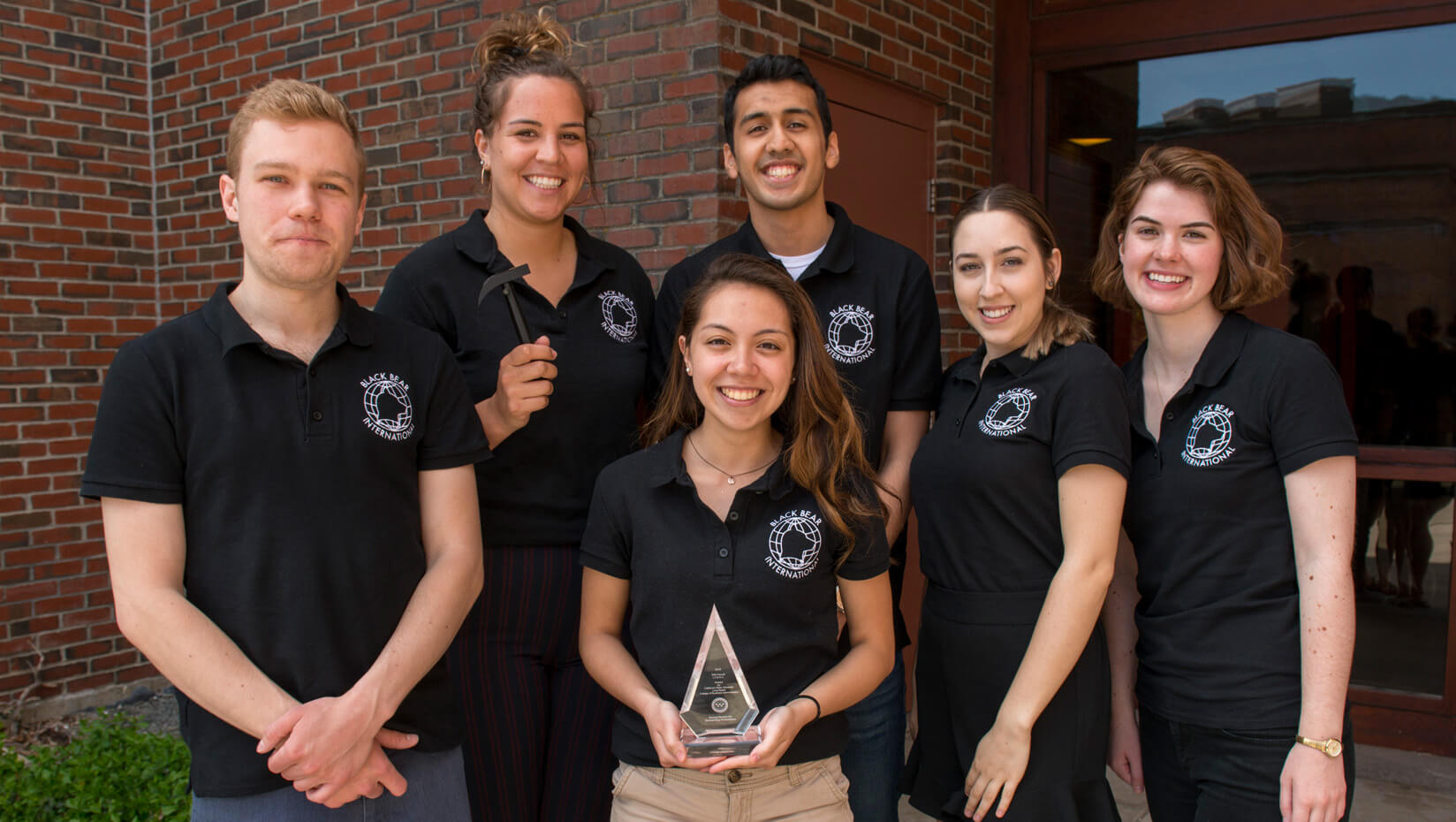 MBS seniors win performance award for running virtual company
A six-member team from the Maine Business School earned a performance award — the first for the University of Maine — at the 50th annual International Collegiate Business Strategy Competition in Anaheim, California.
In the rigorous, semester-long business simulation, which consisted of a remote phase and a final on-site phase, students ran a virtual company over five simulated years.
Students from more than 20 business schools around the world gathered April 26–28 at California State University for the on-site phase, and divided into teams, or "worlds," to compete in two categories: best reports and overall performance.
The MBS team placed second runner-up for overall performance within its "world," which consisted of six groups.
Participants were: Amy Lyons, chief executive officer; Cara Doiron, chief financial officer; Waleed Rahmatullah, chief operating officer; Emma Huntley, sales; Kirsten Johnson, marketing; and Elliott Simpson, controller. They simulated a manufacturing company that produced a multitool product.
"The competition was one of the most challenging things I've ever done academically, but also the most rewarding," says Huntley, a marketing and management major from Machiasport, Maine.
The seniors say they're grateful for the opportunity to experience first-hand how to cope with pressure and adversity, operate as a team, and view the business world from a fresh perspective.
"This competition was unlike any other experience," says Lyons, a management and international affairs major who was born in Malaysia and grew up in Brunswick, Maine.
"I was extremely interested in joining the MBS team since I was hoping to learn real business applications, which is exactly what happened."
During the 10-week remote phase, students made quarterly decisions about product price, marketing, salaries, transportation costs, finance expenses and inventory storage details, according to deadlines that occurred with increasing frequency.
In the final phase, they completed the quarterly decisions, produced an annual report and a business plan and gave an oral presentation to a panel of judges that acted as a board of directors for the simulated company.
"This is simply the finest undergraduate team of students I have ever been involved with in 41 years of teaching," says management professor John Mahon, who advised the group with finance and accounting lecturer Matt Skaves.
"They faced serious challenges and could have collapsed or folded, but they did not and were determined to do well."
Rahmatullah says the competition helped prepare him for real-world business decision. "[It] was full of valuable experiences that I hope shaped me to become a better business leader of tomorrow," says the management major from Waterville, Maine.
Doiron, a finance major from Bangor, Maine, says, "The most difficult part was to keep pushing through and trying our best to make the right choices for our company after we experienced sudden major financial and competitive changes. The most rewarding part was how, even after those difficult moments, our team stayed united and positive."
The experiential nature of the competition bridged the gap between theory and practice, say the students.
"I learned more from this competition than I could have in the classroom because it required us to make real-time business decisions and deal with unexpected disasters," says Johnson, a marketing and management major from San Diego.
She also realized the value of collaboration and multiple skill sets. "When a team comes together from different backgrounds and sets a goal, anything is possible."
Contact: Ruth-Ellen Cohen, 207.581.1926