Cathcart to receive honorary degree at UMaine's 216th Commencement
The University of Maine will award an honorary degree to women's rights advocate and former Maine lawmaker Mary Cathcart of Orono.
Cathcart will receive the degree during the morning ceremony of UMaine's 216th Commencement May 12.
"Mary has a legacy of engaged leadership in Maine and beyond," says UMaine President Susan J. Hunter. "She has served the people of the state on the floors of the Maine House and Senate, and at the University of Maine. Just as important, she has led a program for young women to ignite the same passion in the next generation of leaders."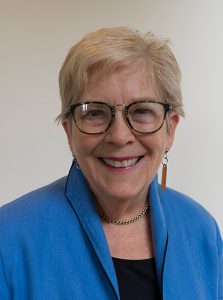 Cathcart served four terms (1996–2004) as state senator and three terms in the Maine House of Representatives. She was a member of several legislative committees, including Education and Cultural Affairs, Labor, Judiciary, and Appropriations and Financial Affairs, which she chaired in 2003–04.
Cathcart also chaired the Joint Select Committee on Research and Development (1997–99). Her leadership and advocacy in this role resulted in the first substantial investment in research and development by the state of Maine with the creation of the Maine Economic Improvement Fund. These programs, and subsequent support for Maine-based R&D initiatives, advanced UMaine as a modern research university.
Cathcart chaired the U.S. Commission on Child and Family Welfare (1995–96) and the New England Board of Higher Education (2006–08).
In 2004, Cathcart joined UMaine's Margaret Chase Smith Policy Center and two years later, established the Distinguished Maine Policy Fellows program. Beginning in 2009, she directed Maine NEW (National Education for Women) Leadership, a program that she initiated, which educates, engages, and empowers undergraduate women to take on the mantle of civic and political leadership.
Cathcart is retiring from UMaine this month. She currently serves on the advisory council of New Ventures Maine, and on the boards of the Wilson Center and AAUW Maine. She also is active at St. James Episcopal Church in Old Town, Maine.
Cathcart is the recipient of a Maryann Hartman Award at the University of Maine (2006) and the Merle Nelson Women Making a Difference Award from the Maine Centers for Women Work and Community (2011). In 2013, Cathcart was inducted into the Maine Women's Hall of Fame.
She holds a bachelor's degree in English from Rhodes College.
Contact: Margaret Nagle, 207.581.3745