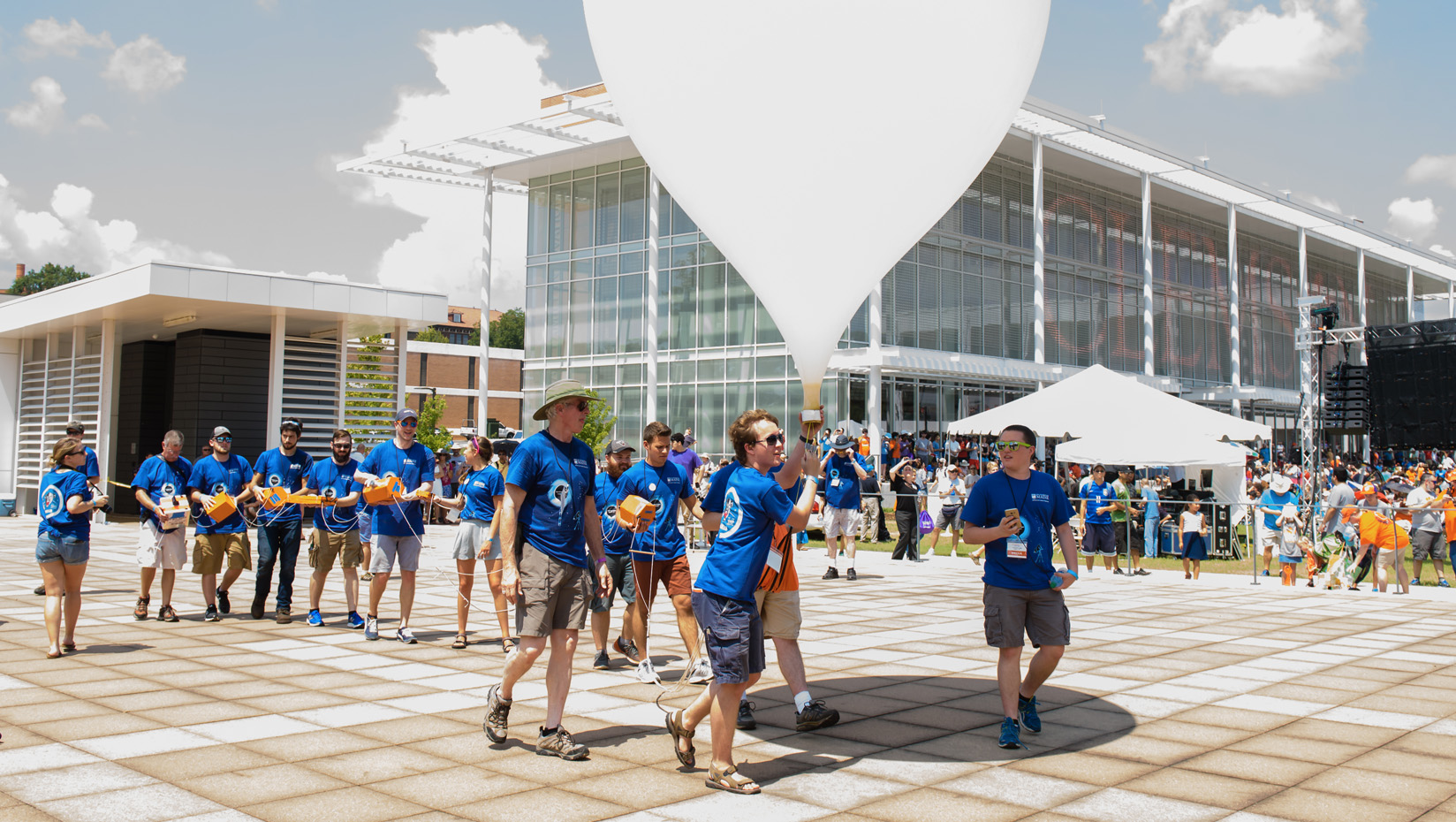 Engineering students starred during total eclipse
The temperature was north of 93 degrees on Clemson University's Quad and Cameron Sullivan's computer keyboard was so hot it hurt to touch.
On the rooftop of the nearby Watt Family Innovation Center, Derek Haas says he felt like a frying egg.
But at 2:37 p.m. Aug. 21, the temperature dropped for 2 minutes and 37 seconds when the moon completely blocked the sun.
At that point, the two University of Maine sophomores took their attention off the equipment they had been monitoring and, like thousands of other eclipse fans on campus, they looked up.
People gasped, applauded and cheered.
Bats flew overhead.
Cicadas sang.
"It was beautiful. It was just amazing," says Haas.
"It looked like a portal to another world," says Sullivan.
Throughout the summer, Haas, an electrical engineering major, and Sullivan, a computer engineering major, had spearheaded UMaine's participation in the first-ever NASA "Great American Eclipse" project.
The mission entailed students from 55 teams nationwide launching unpiloted high-altitude balloons to live stream aerial footage of the total solar eclipse from the edge of space to NASA's website.
During their first year at UMaine, Sullivan and Haas took an engineering course that included a high-altitude ballooning component. The unit provides students the opportunity to explore microcontrollers in a real-world application — collecting and analyzing data from 100,000-plus feet above the Earth.
After Sullivan and Haas completed the course, engineering professor Rick Eason invited them to be involved in the history-making NASA project and they signed on.
Clemson University in Clemson, South Carolina was nearly smack dab in the middle of the 70-mile-wide path of totality so the UMaine team traveled there to collaborate and obtain the best view of the eclipse from the balloons.
In addition to Eason, Sullivan, Haas and engineering staff member Andy Sheaff, 16 engineering students affiliated with the UMaine High Altitude Ballooning (HAB) group — Joey Arsenault, William Bessette, Jonathan Bland, Stewart Doe, Austin Dube, Dustin Knight, Justin Lipkvich, Michael Lloyd, Chris Martin, Reid Rauch, Helen Rose, Larry Schneider, Kent Seneres, Corbin Study, Eric Tuyishime and Jesse Warren — also took part.
High-altitude balloons, says Montana Space Grant Consortium director Angela Des Jardins, are an effective way to provide millions of people a distinct perspective of the rare phenomenon.
Live-stream videos from 100,000 feet and above show the curvature of the planet, the blackness of space and the whole of the moon's shadow crossing the Earth.
"Total solar eclipses are rare and awe-inspiring events. Nobody has ever live-streamed aerial video footage of a total solar eclipse before," Des Jardins said ​prior to the event.
"By live-streaming it on the internet, we are providing people across the world an opportunity to experience the eclipse in a unique way, even if they are not able to see the eclipse directly."
UMaine's high-altitude balloons are made of latex. Bright orange impact-resistant payload containers — that hold video and still cameras, computers, radio modems and tracking devices — are tethered to each balloon. Per FAA regulations, the total payload per balloon must weigh less than 12 pounds.
When the ​balloons are filled with lifting gas, they swell to about 8 feet in diameter. When released, the balloons ascend about 1,000 feet per minute and expand to about 30 feet in diameter before popping at around 110,000 or 120,000 feet.
The cameras take photographs and​ transmit live video of the planet and sky back to Earth. And when the balloon pops, the cameras and other equipment — including the GPS tracker — parachute to Earth.
For their full-time summer jobs, the students from Old Town wrote computer code, did radio transmission calculations, completed multiple practice launches with the UMaine ballooning equipment and trudged into woods far and wide to retrieve the balloon's payloads.
On Aug. 14, one week prior to the total solar eclipse, Haas, Sullivan, Eason, Sheaff and several other students conducted a final test launch at the Pittsfield Municipal Airport.
Several days later, members of the UMaine contingent arrived in Clemson, South Carolina to scout launch locations, test equipment and coordinate with Montana and Clemson officials.
Because of restricted early morning parking at Clemson (it was student move-in weekend and the Eclipse Over Clemson event was expected to attract as many as 50,000 people), at 4:45 a.m. Haas and Sullivan walked from their hotel to arrive on campus by 6 a.m.
In addition to setting up and testing the equipment, UMaine students and staff took part in multiple interviews with local, regional and media, including The Weather Channel, BBC and The Washington Post.
Being part of the event was beneficial and meaningful for students in a number of ways, says Eason, including witnessing a rare total solar eclipse, gaining hands-on engineering experience, collaborating with others, problem-solving​ and traveling.
"It was a good example of the kinds of opportunities that come up outside of classroom," he says.
Monitoring balloons at the edge of space from Clemson, South Carolina was quite a distance from rooms in Barrows Hall at UMaine.
Haas says the adventure boosted his confidence. "I feel like I'm a step ahead. At the engineering job fair, I'll have a great opportunity to go up to a business, give my resume and have something to to talk about," he said.
That he will.
Sullivan too. He was continually trying to keep one of the balloon's live streams working while simultaneously juggling queries from media broadcasting inches from his station.
"I really appreciate Eason offering this to us," says Sullivan. "My work this summer allowed me to learn from real-world experience. The eclipse taught me how valuable logistics are. Planning and communication are key to the success of any operation."
One by one, the ​high-altitude balloons of 50-plus teams from 30 state-based Space Grant Consortia across the United States were launched immediately ahead of the path of the eclipse in Idaho, Wyoming, Nebraska, Missouri, Illinois, Kentucky, Tennessee and the Carolinas.
UMaine's balloons were among the last to go airborne — at 1:10 p.m. and 1:20 p.m.
Prior to the UMaine launches, Eason, Sullivan and Haas took the stage to address thousands of people assembled on the​ Quad for the event.
Clemson was in full celebratory mode. Astronomy experts also addressed the crowd, the Clemson Tiger Band performed and the planetarium offered cosmic tours. The area around Lake Hartwell on campus provided "tailgazing" sites.
On their way to 100,000-plus feet, the balloons and their payloads were subjected to temperatures of minus 35 F. Because of that, NASA used one of UMaine's balloons for a MicroStrat experiment that simulates "life's ability to survive beyond Earth — and maybe even on Mars."
NASA provided UMaine with two small metal cards with environmentally resilient bacteria dried onto their surfaces. One card was part of a UMaine balloon payload and the other ​remained on the ground as a control.
The upper portion of Earth's stratosphere — with its cold, thin atmosphere and exposure to radiation — is similar to Martian conditions, according to NASA.
"The August solar eclipse gives us a rare opportunity to study the stratosphere when it's even more Mars-like than usual," said Jim Green, director of planetary science at NASA Headquarters in Washington, on the NASA website.​
"With student teams flying balloon payloads from dozens of points along the path of totality, we'll study effects on microorganisms that are coming along for the ride."
David J. Smith, principal investigator for the experiment, said on the NASA website after the eclipse that​ NASA will have "about 10 times more samples to analyze than all previously flown stratosphere microbiology missions combined."
The payload that carried NASA's ​experiment snagged in a tree on its return to Earth, but UMaine retrieved it and returned it to NASA for study.
Since 2011, UMaine High Altitude Ballooning group has conducted about 75 launches. Eason says while several landed in Canada, as well as in trees, lakes and the ocean, he's pleased to report the group has, to date, recovered all the payloads.
Sheaff says seeing the contingent work together was affirming.
"They represented the university in a positive way and I'm super proud of students who went and participated," he said. "It was good to be able to have students work independently through problems and issues and see them succeed."
The next time there's a total solar eclipse in the United States — April 8, 2024 — any UMaine HAB group involved in a similar project won't have far to travel. The path of totality includes​ northern Maine.
Both Sullivan and Haas say wherever they are in 2024, they'll make an effort to be in the path of totality, which in North America begins in Mexico and arcs toward Maine before exiting from Canada.
Sheaff says he'll be in Mt. Chase, Maine — east of Baxter State Park — where totality is calculated to begin at 3:32.55 p.m. and last three minutes and 27 seconds.
"It's going right over my camp."
Contact: Beth Staples, 207.581.3777