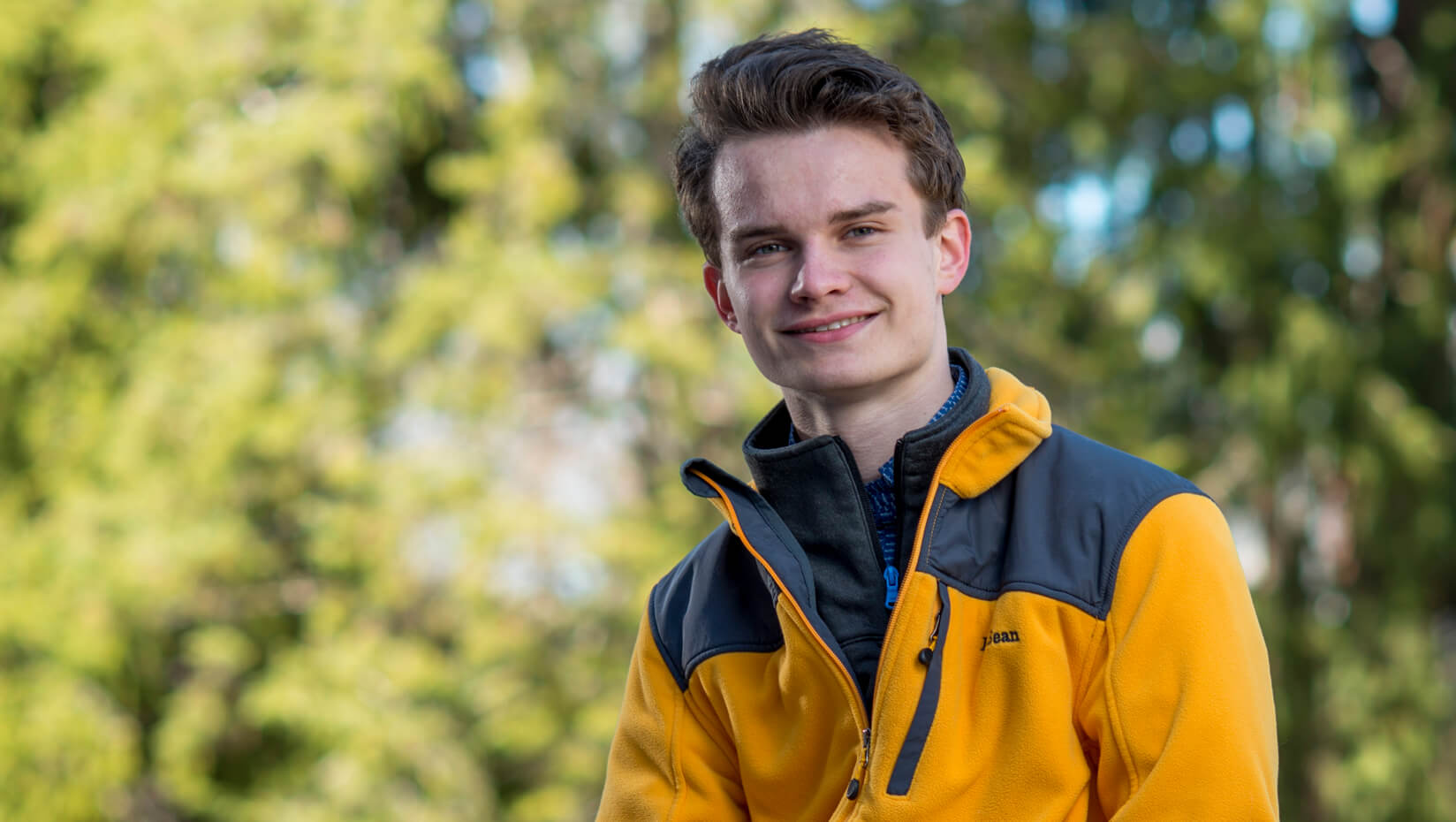 Physics, electrical engineering major named Goldwater Scholar
Graham Van Goffrier, a physics and electrical engineering major at the University of Maine, has been named a Goldwater Scholar for the 2017–18 academic year by the Barry Goldwater Scholarship and Excellence in Education Foundation.
Van Goffrier, of Norwell, Massachusetts, was awarded one of 240 scholarships to undergraduate sophomores and juniors throughout the country.
The Goldwater Scholars were selected based on academic merit from a field of 1,286 students nominated by campus representatives from among 2,000 colleges and universities nationwide, according to the foundation.
"It is a very great honor to be recognized as a Goldwater Scholar," Van Goffrier says. "In addition to the financial support, it is a welcome personal encouragement to me as I work toward my future goals in the area of theoretical physics."
The Goldwater Foundation is a federally endowed agency established in 1986. The scholarship program honoring Sen. Barry Goldwater was designed to foster and encourage outstanding students to pursue careers in the fields of mathematics, natural sciences, and engineering. The Goldwater Scholarship is the premier undergraduate award of its type in these fields, the foundation states.
The one- and two-year scholarships cover the cost of tuition, fees, books, and room and board up to $7,500 per year.
In addition to two majors, Van Goffrier also is pursuing minors in nanotechnology and mathematics.
During the fall 2016 semester, Van Goffrier completed his capstone project in physics on a topic combining string theory and the theory of minimal surfaces. He was advised by physics professor Neil Comins and supported by the Center for Undergraduate Research on campus.
He also has spent his summers involved in research at UMaine with Roy Turner in the Maine Software Agents and Artificial Intelligence Laboratory (MaineSAIL), Sam Hess in the Biophysics Research Group, and Mauricio Pereira Da Cunha in the Laboratory for Surface Science and Technology (LASST).
"I am always very thankful to the many professors and others throughout the physics and electrical engineering departments who continue to both challenge me and offer support as I work toward my degrees at UMaine," Van Goffrier says. "In addition, the guidance of Francois Amar, dean of the Honors College, was particularly valuable throughout the Goldwater application process."
This summer, he will participate in the University of Michigan's Research Experience for Undergraduates program at the European Organization for Nuclear Research (CERN).
Beyond academics, Van Goffrier has been involved in various recreational activities while at UMaine, including helping to launch the university's first Rubik's Cube club, learning to ice skate with the help of the Figure Skating Club and the Alfond Arena's public skate, and singing with the Maine Masque theatre group.
In addition, Van Goffrier has been active in professional associations on campus, including the Society of Physics Students, UMaine's Student Branch of the Institute of Electrical and Electronics Engineers (IEEE), and Tau Beta Pi. He also has worked as a teaching assistant in both the physics and electrical engineering departments.
After graduation in May 2018, Van Goffrier plans to pursue research at the doctoral level in theoretical physics to gain experience in topics such as modern gravitational theories and fundamental interactions.
More information about the Goldwater Scholar award, including the full news release, is on the Barry Goldwater Scholarship and Excellence in Education Foundation website.
Contact: Elyse Catalina, 207.581.3747