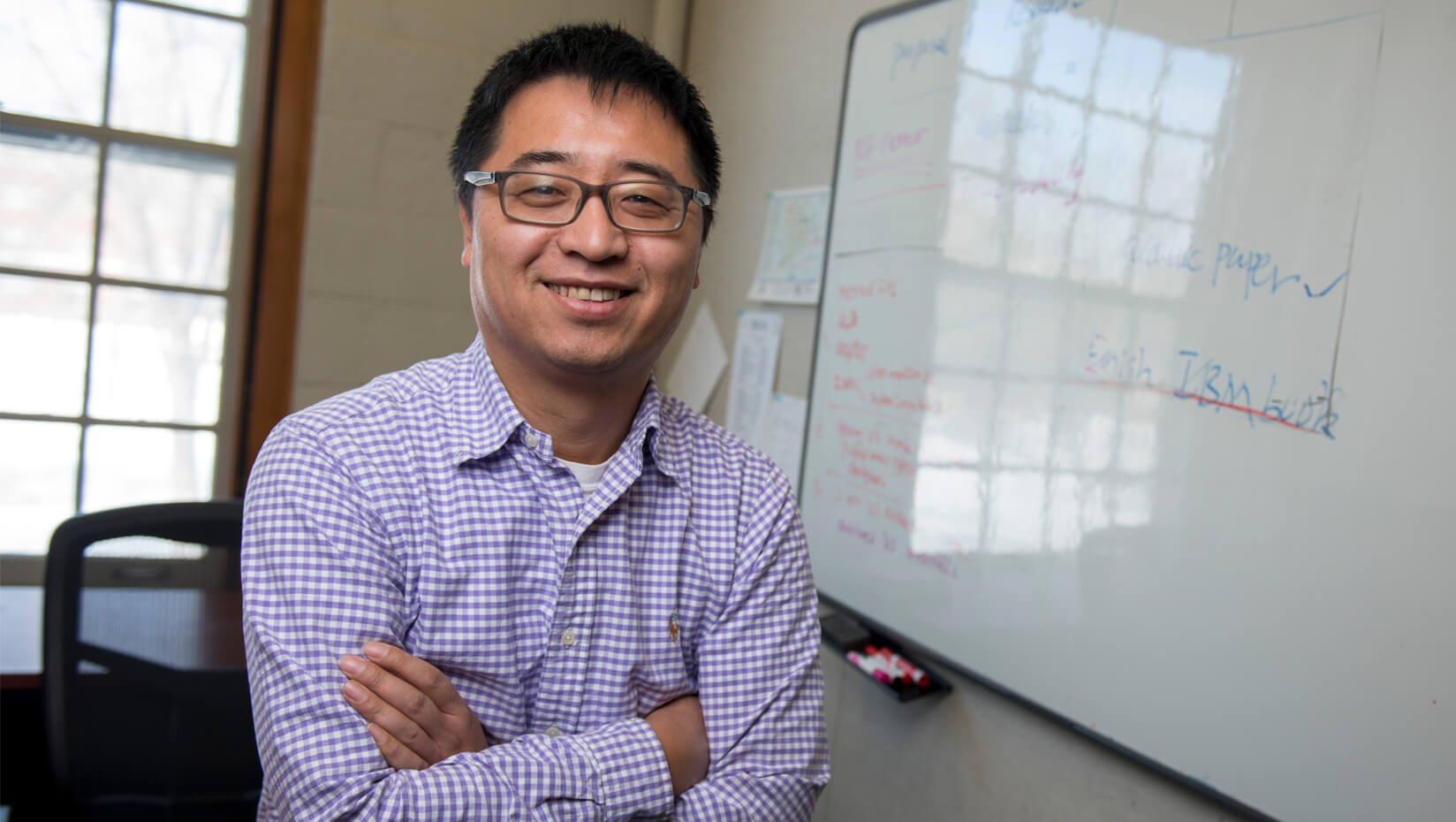 Mechanical engineering professor receives $500,000 NSF CAREER Award to study human voice production
Creating a better understanding of how humans use and control their voice is the focus of a five-year study being led by a University of Maine researcher.
Xudong Zheng, an assistant professor of mechanical engineering, is leading the project that will use computer models to look at the role of mucosal wave propagation in sound production during phonation. His long-term goal is to understand the mechanism that is responsible for the range, complexity and uniqueness of the human voice in order to provide personalized voice care.
The National Science Foundation recently awarded Zheng a $513,523 CAREER grant for his project, "Sound Production by Flow Induced Elastic Wave with Application to Human Phonation."
Mammal vocalization is characterized by mucosal wave propagation of the vocal folds that generate an alternative shape of the glottis, the part of the larynx that contains the vocal cords and the opening between them. The movement of the mucous membrane is the flow-induced elastic wave that radiates in the superficial layer of the vocal fold. Through the wave motion, it controls the glottal air pulses, which form the primary sound source of the voice, says Zheng, who adds a universal vibratory pattern of vocal folds exists in nature.
Integrated multiphysics computational models will be developed for the study, which will replicate voice production. The models will allow researchers to systematically and quantitatively study the relationship between the mucosal wave properties, glottal flow dynamics and voice outcome.
Zheng says the proposed research will contribute to the fundamental understanding of flow-induced sound through flow-structure interaction, and also will advance the knowledge of voice production.
The study will allow researchers to develop diagnosis metrics for mucosal wave-related voice diseases, determine the adjustments to the vocal folds to restore or improve a damaged voice, and predict the outcome of the adjustment.
This knowledge could help the estimated 17.9 million people in the United States who report having a problem with their voice in the past year, according to the National Institutes of Health.
In addition to improving diagnosis and surgical procedure, understanding how mucosal wave propagation affects vocal function can help people who use their voices excessively, such as teachers, singers, actors/actresses, broadcast personalities and telemarketers, by providing them with the knowledge for how to efficiently use and control their voices, Zheng says.
He adds the research also could be applied to flow problems beyond voice production, such as the detection and diagnosis of heart murmurs generated by the flow-induced motion of heart valves, and the reduction of noise due to the blade-vortex interactions in wind turbines.
The NSF's Faculty Early Career Development (CAREER) Program offers the foundation's most prestigious awards in support of the early career-development activities of those teacher-scholars who most effectively integrate research and education within the context of the mission of their organization.
Contact: Elyse Catalina, 207.581.3747