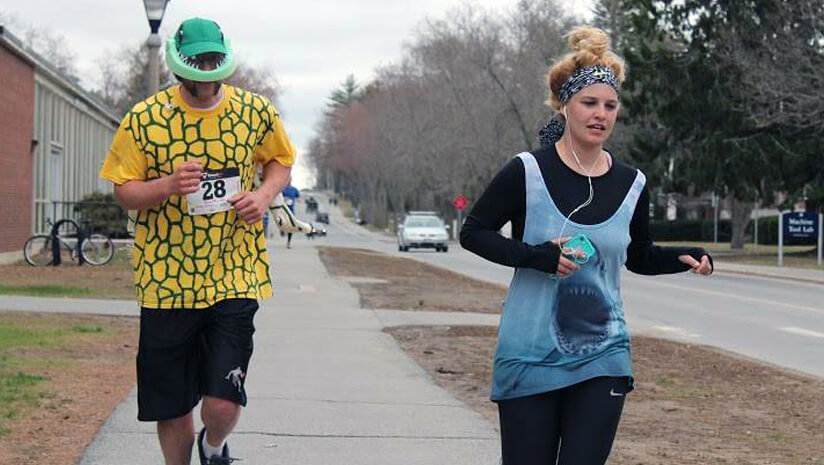 Run wild at the Spawning Run 5K April 30
Shad, sturgeon, salmon and lampreys have swum up the Penobscot River to spawn for eons. In honor of this annual migration, the UMaine Student Subunit of the American Fisheries Society is hosting its own run, albeit on land, on April 30.
The second annual Spawning Run 5K starts at 9 a.m. in front of Nutting Hall on the UMaine campus. From there, the course winds along the university's streets and bicycle trails before circling back to the starting line.
Runners and walkers of all ages are welcome, and proceeds benefit the Subunit's education and outreach projects in Bangor-area schools.
"We started this race to raise awareness of the native fishes that live right in our backyard in the Penobscot River Watershed. We hope proceeds from this year's race will help us bring fisheries science to more K–12 students," said Daniel Weaver, president of the UMaine Student Subunit of the American Fisheries Society, and Ph.D. graduate candidate in the Department of Wildlife, Fisheries, and Conservation Biology.
The 2015 event drew 105 racers and raised approximately $700, which the Subunit used to develop lesson kits about squid and freshwater invertebrates, and lead hands-on activities about sea-run fish to 15 classrooms.
The Spawning Run 5K will award prizes to the racer sporting the best fish costume, and the three fastest male and female runners.
Advance registration is $15, or $20 on the day of the race. The racers each will receive a raffle ticket, and the first 100 to register will also receive a shirt with their entry.
Race and raffle prizes were donated courtesy of Maine Rafting Expeditions, Orono Brewing Company, Woodman's Bar & Grill, Verve, Bear Brew Pub, Pat's Pizza, Old Town Trading Post, The Dry Dock and the UMaine Bookstore.
Event details and registration are available at bit.ly/spawn5k.