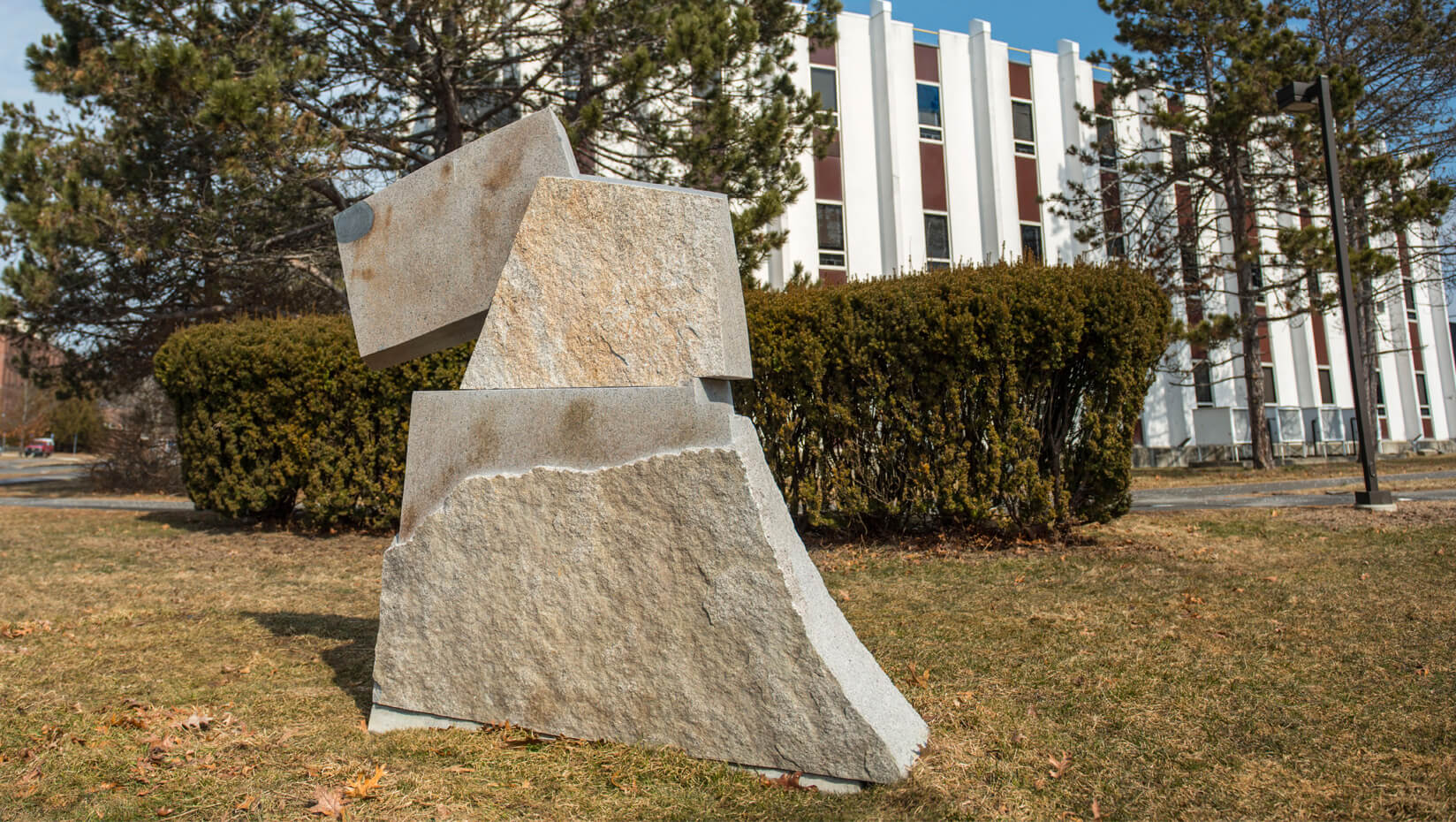 Littlefield Gallery Artist-in-Residence Series continues with the return of sculptor Andreas von Huene to UMaine April 25
In April, sculptor Andreas von Huene of Woolwich, Maine will spend a week at the University of Maine mentoring students and creating a piece of art that will be permanently installed on campus. His residency is part of the Littlefield Gallery Artist-in-Residence Series at UMaine, now in its second year.
Last year, sculptor Mark Herrington of Franklin was in residence at UMaine, culminating in his work "Tec.ton.ic," installed near UMaine's Sculpture Studio, across from the Collins Center for the Arts. In 2016–17, Kazumi Hoshino of Nagoya, Japan, will be on campus as part of the sculpture visiting artist series, sponsored by UMaine and Littlefield Gallery in Winter Harbor.
In the Littlefield Artist-in-Residence Series, artists join the UMaine community in the fall to give a lecture and demonstration. In the spring, they spend a week on campus, collaborating with students and completing their works on-site.
The visiting artist series brings professionals to work side by side with students and helps form a sense of community at UMaine, says Greg Ondo, a UMaine assistant professor of art and a sculptor. From Herrington, von Huene and Hoshino, young artists can be inspired to make their own contributions.
When von Huene returns April 25, he will be carving a 1-ton, 12-inch diameter piece of salt and pepper granite. For his design, he is collaborating with Tim Shay, using the Indian Island, Maine sculptor and his family members as models.
His work will be part of a growing body of granite sculptures on campus. Other stoneworks include three created as part of the 2012 Schoodic International Sculpture Symposium on campus: "Line Totem: Man and His Dog Walking into the Forest" by Shay, sited near Nutting Hall; "Metamorphosis" by Lee Zih-Cing of Taiwan, sited across from Emera Astronomy Center; and "A New Dawn" by Johnny Turner of New Zealand, sited at Buchanan Alumni House.
Also among the recent sculptures on campus is one created by alumnus Matthew Foster of Milo, "Relic in Time," sited at Buchanan Alumni House.
Jane and Kelly Littlefield donated four pieces at Buchanan, Fosters' "Relic in Time," Herringtons' "Ianna," Hugh Lassens' "Sea Form" and the late Don Meserves' "Pylon."
Contact: Margaret Nagle, 207.581.3745