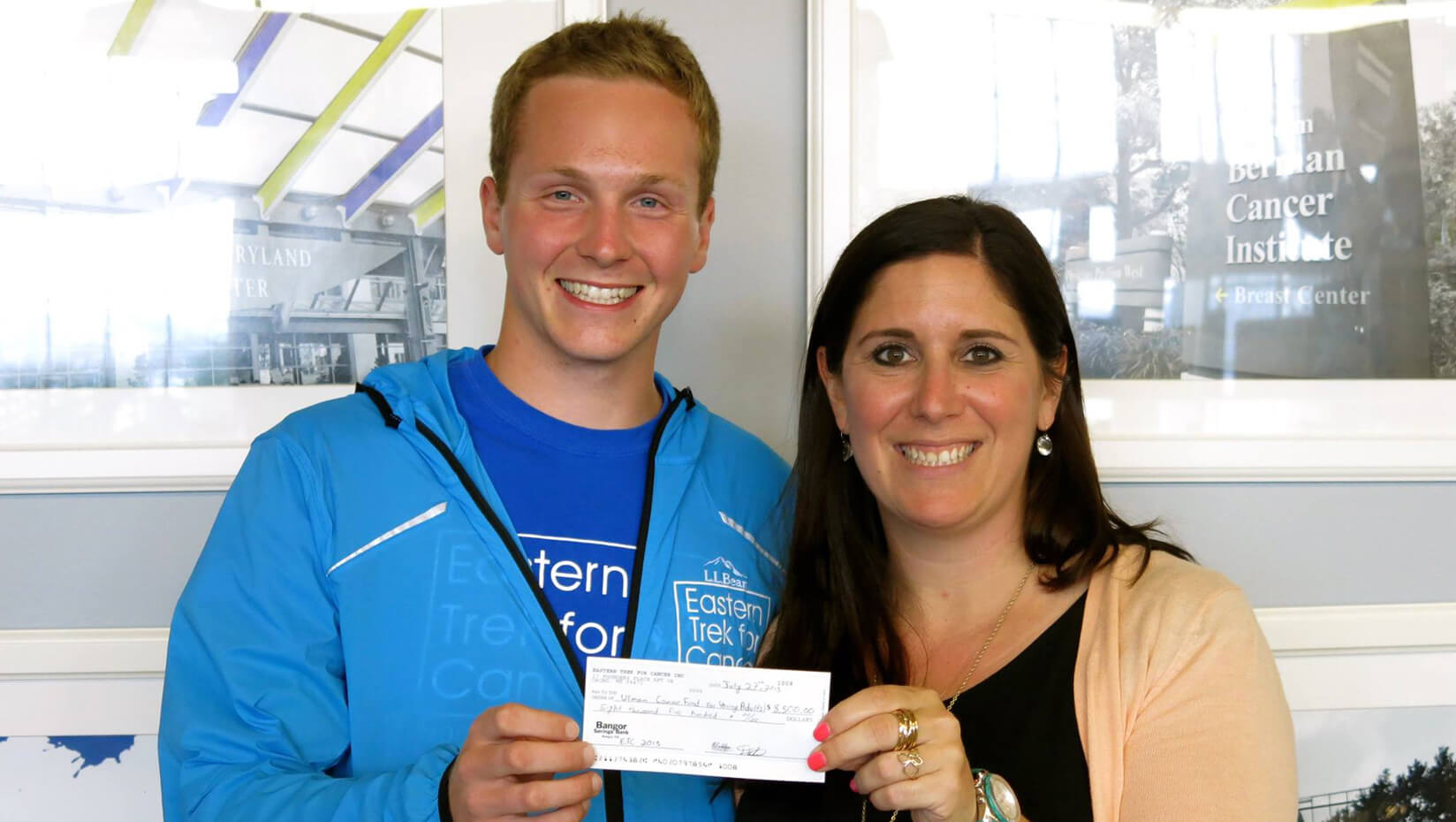 Philanthropist helps others by putting one foot in front of other
Matt Dexter believes one person can change the world.
The fourth-year University of Maine student is doing his part by raising money for and connecting with people with cancer.
Dexter is president and founder of the Christine B. Foundation — named in honor of his mother, an enthusiastic volunteer who died of stomach cancer when Dexter was 13.
Running helped him to heal and cope.
To positively impact people fighting cancer, Dexter has organized a seven-day relay run to raise awareness and funds that begins July 3 in Portland, Maine and ends July 9 in New York City.
Each of the 12 runners will average about 7 to 10 miles a day; the team also will visit a cancer center to connect with and provide service to local patients and families.
Dexter invites people interested in taking part to commit by Feb. 1. Each participant pays a $50 registration fee and pledges to raise $2,000. Assistance and resources are available for participants through CBF (chrisbfund.org).
In addition to financially supporting people with cancer, the funds will provide each participant with running gear, a pair of running shoes, a gear bag and food and housing during the trek.
The Christine B. Foundation also includes an educational component. During the trek, runners will award $2,000 scholarships to two college students affected by cancer. To learn more or apply for the scholarship, visit chrisbfund.org/scholarships.
To raise awareness of the run and the cause, 6–9 p.m. Monday, Dec. 14 in the Oakes Room in Fogler Library, Dexter will provide refreshments and healthy snacks to fuel UMaine students preparing for finals. He'll also invite them to build CBF Comfort Bags that will be given to area cancer patients this holiday season.
Such acts make a difference, says Dexter, a psychology major and business minor.
"The evolution of the Christine B. Foundation has been fueled by small initiatives through many volunteers and supporters," he says."It doesn't take much to realize that you really can have an impact in your community with CBF."
After this summer's run, the native of Acton, Massachusetts anticipates pursuing an MBA in Nonprofit Management and a career that combines philanthropy and running.
"I will make it happen," says Dexter, who is on a mission to promote healthy living and giving direct patient support to the cancer community. He envisions a world where everyone impacted by cancer has resources for recovery.
And he believes in the power of teamwork and service to make that happen.
He's already experienced that twice before.
Something clicked for Dexter when he was a sophomore at UMaine and saw an ad on Facebook promoting the second annual Ulman Cancer Fund for Young Adults 4K for Cancer — a run that raises money for cancer research and for young cancer survivors.
"Change Lives" is the motto of the relay from San Francisco, California to Baltimore, Maryland. He signed up to support others who were experiencing what his family had several years earlier.
For 42 days in June and July 2013, Dexter and 33 other college students combined to run 4,000 miles to educate people about cancer and raise money for the foundation that since 2001 has sought to create "a community of support for young adults, and their loved ones, impacted by cancer."
Dexter brought in $7,300 for the foundation whose running and bicycling efforts raised more than $1 million that year for the cause.
While Dexter sought to comfort others, he also experienced life-changing moments — including personally connecting with cancer patients as well as persevering through 113-degree heat in California and running the 20-mile final stretch to Federal Hill in Baltimore.
While taking part in that event, Dexter became inspired to establish a similar run on the East Coast in 2014. He formed the nonprofit Eastern Trek for Cancer and he and 16 others ran a 29-day, 400-mile relay from Kittery, Maine to Surf City, New Jersey.
They raised more than $17,000, supported hundreds of patients with comfort bags during visits to cancer centers and donated $8,500 to the Ulman Cancer Fund due to its overlapping mission.
He says one particularly poignant visit was with a 12-year-old boy with neuroblastoma, which occurs when malignant cells form in nerve tissue of the adrenal gland, neck, chest or spinal cord. Dexter and others presented the youth with a comfort bag that included tickets to attend a Blue Man Group performance.
To learn more, visit chrisbfund.org or follow Eastern Trek for Cancer on Facebook.
Contact: Beth Staples, 207.581.3777