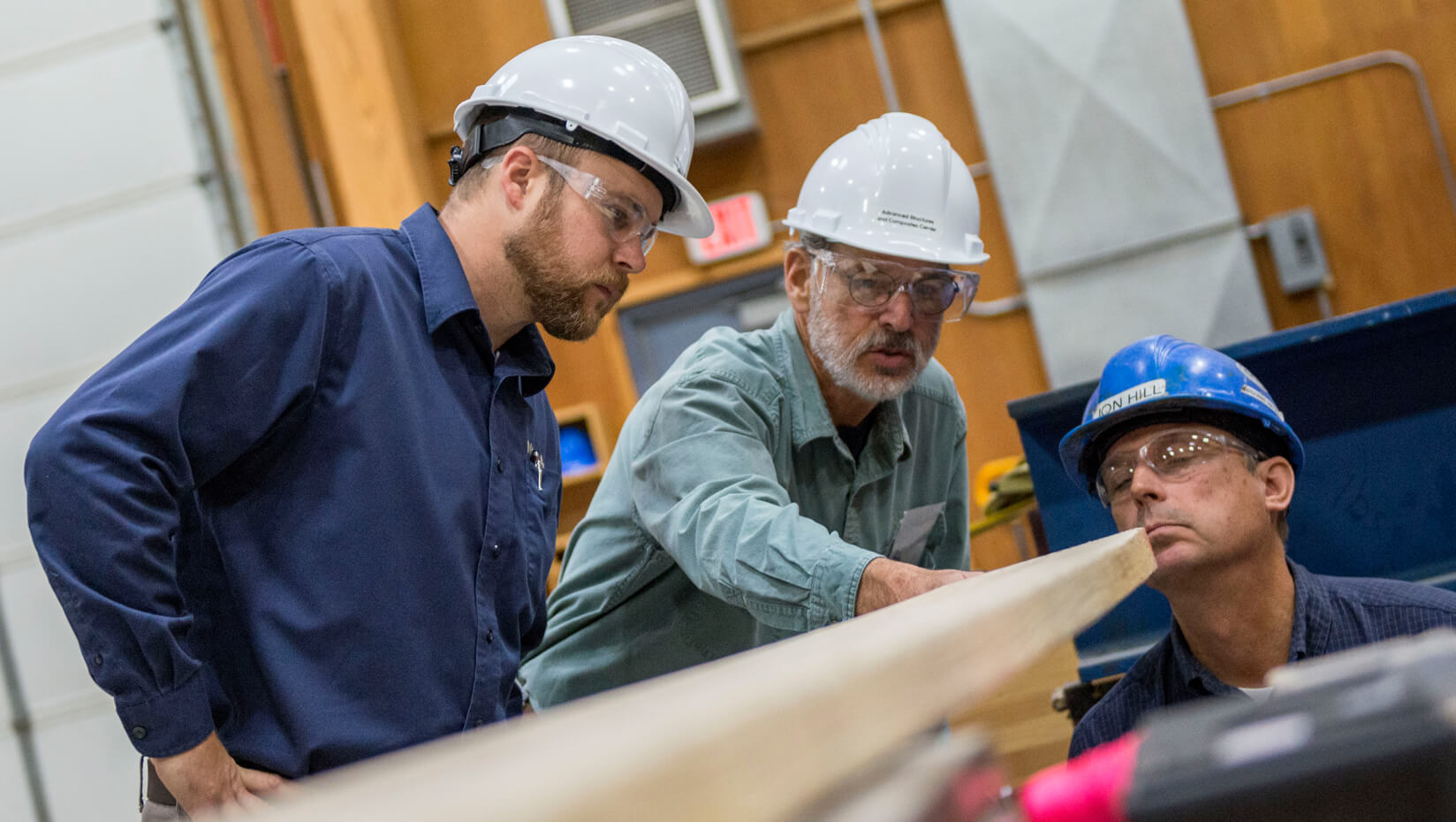 UMaine tests Norway spruce to see if it makes the cut for construction
University of Maine scientists are testing wood from some of the 3 billion trees the Civilian Conservation Corps planted during the Great Depression.
Staff and students at the UMaine Advanced Structures and Composites Center are evaluating strength values (including bending and tension) of about 1,200 pieces of lumber milled from Norway spruce that grew in Maine, Vermont, three regions of New York and Wisconsin.
Seedlings of Norway spruce — a species not native to the U.S. — were planted in the 1930s and 1940s during President Franklin Delano Roosevelt's CCC program that put unemployed men to work and promoted conservation.
Stephen Shaler, director of the School of Forest Resources and associate director of the Advanced Structures and Composites Center, is the project's principal investigator.
He and colleagues are testing Norway spruce to determine if it meets industry standards and thus can be included in the Spruce-Pine-Fir South grouping of wood species for construction-grade dimensional lumber.
Preliminary results, he says, look promising.
Norway spruce adapted to various soil conditions and grew relatively quickly and well in the cold Northeast climate, says Russell Edgar, wood composites manager at the UMaine Composites Center.
And its inclusion in the SPF South grouping would mean that some of those 3 billion trees could enter the North American lumber economy for the first time in history.
Edgar says it's great to see renewed focus on wood products from the state being tested at the Advanced Structures and Composites Center that could have a positive effect locally and nationally.
"We're very excited to do this type of work and assist industry in the state, region, country and beyond. It's right in our wheelhouse," says Edgar.
Jeff Easterling, president of Northeastern Lumber Manufacturers Association (NELMA), says the potential to introduce Norway spruce into the lumber market represents what's close to a once-in-a-lifetime opportunity.
"It's a big deal. This is the first new U.S. species to be tested in over 80 years. There's not a lot of new species available for construction material, so historically … it's very significant on a lot of fronts," he says.
"The excitement level they (UMaine researchers) have for this project has been incredible … It just leads to a lot of good relationships with our organization and the industry itself."
While Norway spruce has long been approved and is used regularly for construction in Europe, it needs to be tested here because of differences in U.S and European climate and soil.
UMaine's ISO 17025 accredited testing laboratory is a valuable resource to NELMA and the industry, says Easterling.
Easterling and Edgar say it's prime time to harvest Norway spruce that were seedlings in the '30s and '40s. Those trees are now 80–100 feet in height and their diameter at breast height ranges from about 16 to 26 inches.
It's gratifying that efforts undertaken in the Depression-era could prove to be a boost for today's economy, says Easterling.
"We're reaping benefits of what they (CCC) did," he says. "It opens up a broader wood basket for mills in the Northeast." There's a significant volume of this material that will immediately be available as a wood resource once the strength values are approved."
Edgar says landowners with merchantable-sized Norway spruce trees could sell their large Norway spruce trees to mills.
Jethro Poulin, sales manager at Milan Lumber Company in New Hampshire, says procuring more lumber translates into added hours for workers, increased lumber production and potentially more jobs.
Alan Orcutt, mill manager at J.D. Irving's Dixfield Sawmill in Maine, agrees.
And extra lumber volume could enhance East Coast mill operations' ability to compete, says Orcutt, a UMaine graduate who majored in history.
The project also benefits students.
Benjamin Farber, a UMaine undergraduate from Danbury, Connecticut, says being a research assistant on the project has been one of his best academic experiences.
"I'm learning a lot about the mechanical properties of wood — this is basically my entire field put into this one trial and I'm able to learn step-by-step what's going on and why it is important to my field," says the forest operations, bioproducts and bioenergy major who's concentrating in wood science.
"Not only that, but it is helping me get a head start for what I want to do at graduate school here at UMaine."
In addition to training the next generation of wood scientists, Shaler says the project is positive for a number of stakeholders — UMaine, landowners, the lumber industry, the economy and state and federal government.
"The university is really important in its support of the forest products industry in the sense that we combine with industry, we combine with the federal government, we combine with the state government to be able to answer some of those questions that aren't proprietary for a single mill or single company … they're more industrywide," he says.
The forest industry is one of many that works with UMaine, says Habib Dagher, director of the UMaine Composites Center.
"In addition to the exciting Norway spruce testing project, the Advanced Structures and Composites Center is currently working on nearly 200 research and development programs with companies across Maine, the U.S. and the world," says Dagher.
"Our students interact with these companies and get paid to work on cutting-edge products and concepts."
To watch and listen to a video about the project: youtube.com/watch?v=n9ZOuBOkR_Y
Contact: Beth Staples: 207.581.3777