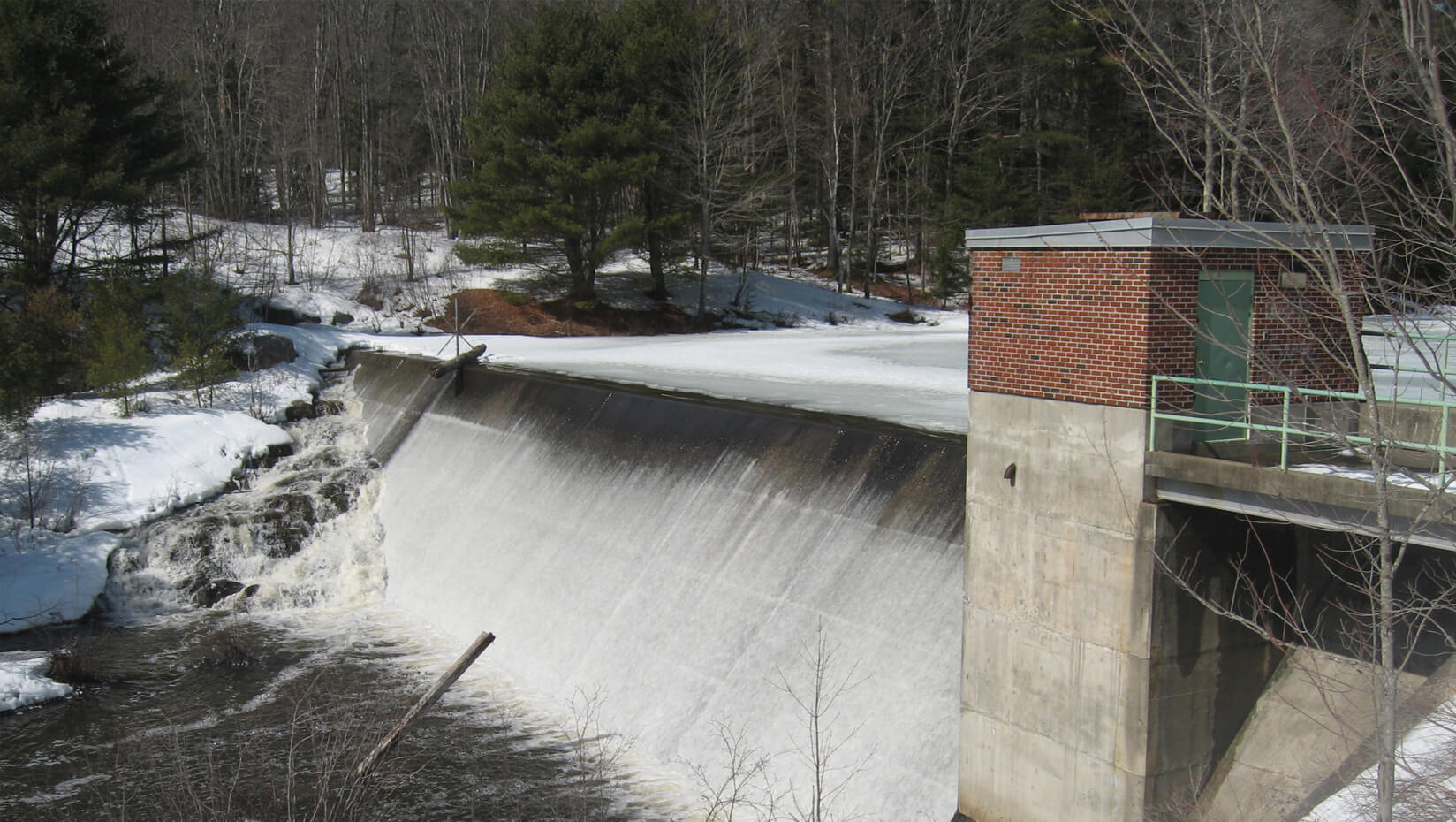 The Future of Dams: New $6 million NSF grant will fund a four-year, tri-state study in New England
The non-hydropower dam on lower Montsweag Stream in Maine was removed in November 2010 with the goal of restoring fish passage
Photo courtesy of Laura Wildman, PrincetonHydro
A new $6 million grant from the National Science Foundation's EPSCoR program will fund a four-year study examining the future of dams in New England. This project marks an expansion in partners and scope for the New England Sustainability Consortium (NEST), adding Rhode Island to the existing partnership between Maine and New Hampshire.
NEST was launched in 2013, when Maine and New Hampshire began an innovative collaboration focused on increasing the safety of coastal beaches and shellfish beds threatened by bacterial pollution and other microbial pathogens.
NEST is designed to respond to societal challenges where economic and community development goals need to be balanced with environmental protection. Such sustainability objectives are not only of central importance in New England, they also represent national and global imperatives.
This new tri-state collaboration will strengthen connections between scientists and decision-makers about a number of potential dam options, including maintaining existing hydropower dams, expanding hydropower capacity, and removing aging dams to restore fisheries or reduce safety risks. By examining economic, environmental and social tradeoffs, the project will help individuals and communities make better decisions about dams.
The project is highly relevant given that hydropower is a major source of renewable energy in New England. More than 50 hydropower dams are scheduled for relicensing in the next decade, requiring states to make important decisions about their futures. The region is also home to thousands of iconic milldams that are an integral part of New England's industrial history and continue to provide recreational and water supply benefits for many communities. But some of these milldams pose safety and liability risks due to their age and poor condition. Both hydropower dams and milldams can also have adverse effects on coastal ecosystems and economies, particularly because they often block the migrations of economically important fisheries. This project will empower stakeholders to make complex decisions about dams by taking the innovative step of combining the best available science with creative forms of community engagement.
New England has received widespread recognition for its innovative approaches to the management of dams.  "This new project will greatly enhance New England's role as a national and global leader in finding better ways to support informed decision-making about dams," said Richard Merrick, chief science advisor and director of scientific programs at NOAA Fisheries.
The research is designed to support the process by which stakeholders evaluate the many trade-offs associated with potential dam decisions, including removal, relicensing and retrofitting. Because a single watershed often contains many dams of different sizes and types, the project will focus particular attention on developing tools that facilitate coordinated decision-making. "NEST's emphasis on basin-wide decision-making has the potential to generate much better environmental, social and economic outcomes than can be achieved if decisions are made (dam by dam) in an independent and uncoordinated manner," said Mike Tetreault, director of the Maine office of The Nature Conservancy.
The multistate NEST team believes that solutions to sustainability challenges require a collaborative approach in which researchers from the natural sciences, social sciences, engineering, and the humanities combine their expertise. In Maine, the researchers include David Hart, Sharon Klein, Bridie McGreavy, Darren Ranco, Sean Smith, and Joe Zydlewski from UMaine as well as Karen Wilson from the University of Southern Maine. NEST's approach to problem solving also benefits from the local knowledge and know-how of diverse stakeholders representing government, business and industry, and nongovernmental organizations. One of NEST's greatest strengths is its ability to develop customized solutions that are tailored to meet local needs and circumstances.
The Maine project team is led by the Senator George J. Mitchell Center for Sustainability Solutions at the University of Maine. The Mitchell Center has gained national and international recognition for its innovative approach to stakeholder-engaged, solutions-focused, interdisciplinary research.
The NSF news release about the project is online.
Contact: David Hart, Director of the Senator George J. Mitchell Center for Sustainability Solutions, University of Maine, 207.581.3257; Ruth Hallsworth, Strategic Program Manager, Mitchell Center, 207.581.3196