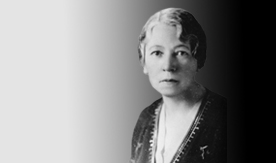 Remembering UMaine's First Female Entomologist
When Cassie Gibbs came to the University of Maine in 1971, a photograph hanging in an office in Deering Hall captivated her. She was studying it one day when Geddes Simpson, head of the Entomology Department, informed her that the woman was Edith Marion Patch, UMaine's first female entomologist.
From that day forward, Gibbs — UMaine's second female entomologist — made it her mission to learn all she could about Patch. Simpson fueled Gibbs' fascination by regularly leaving on her desk letters, laboratory notebooks and children's books authored by Patch. The collection grew steadily during Gibbs' years as a noted aquatic entomologist, filling boxes and folders that she tucked away in her office.
It wasn't until Gibbs retired in 1995 that she set out to document the life of Patch — a distinguished, nationally recognized aphid taxonomist, naturalist and educator — who became the first female president of the Entomological Society of America in 1930, during a time when women were a rare sight in the scientific community.
Twenty years later, Gibbs has published the biography, "Without Benefits from Insects: The Story of Edith M. Patch of the University of Maine," a publication of the Maine Agricultural and Forest Experiment Station.
Its publication coincides with the 150th anniversary of the University of Maine.
"Edith Patch is recognized as the first truly successful professional woman entomologist in the United States," said Gibbs. "She was among the early scientists to write and speak of the threats to the environment from the widespread applications of chemical insecticides and to bring this to the public's attention."
Nearly 60 years after her death in 1954, Patch's legacy is thriving, kept alive by her world-renowned scientific writing, a nonprofit organization named in her honor and a group of individuals dedicated to passing on Patch's lessons to generations to come.
An extensive collection of archival records on Edith Patch, including some of the first memorabilia given to Gibbs, can be found in Fogler Library's Special Collections at UMaine. The Patch homestead, once bursting with colorful gardens and buzzing insects, still sits on College Avenue on the Orono/Old Town line.
Patch's faculty office was in Holmes Hall. A residence hall now on campus is named in her honor.
Bug enthusiasts may still see her extensive, internationally recognized insect collection, The Patch Collection, at the Maine State Museum in Augusta.
But the most recognizable essence of Patch can be found in her writing.
Patch had an incredible gift — the ability to communicate scientific ideas to all ages. She believed that nature was a child's greatest mentor and that appreciation of the natural world did not belong solely to the scientist. She charmed nature lovers young and old with her enthusiasm for some of the world's tiniest creatures, publishing many internationally recognized children's publications, scientific papers and books throughout her lifetime.
"One of Patch's greatest strengths was her understanding of the power of story. As a scientist, she herself was drawn to investigate nature's ever-unfolding story," said Mary Bird, member of the organization Friends of Edith Patch, dedicated to celebrating and continuing the legacy of Patch.  "As a teacher, she realized that it is through story that each of us can find our own ways to connect with the living world around us and to make meaning of what we find there. She skillfully engaged her audiences, youth and adult, lay and scientific, in exploring and learning from nature's stories."
Patch's career as an entomologist emerged in July 1903 when Charles Woods, the director of the then Maine Agricultural Experiment Station (MAES), invited Patch to Orono. At the time, Patch was in her second year teaching high school English in Minnesota after being unable to secure a position in the field of entomology. Woods offered her an unpaid position teaching English and entomology, with the potential to establish a department of entomology the following year.
Patch packed her bags and moved to Maine.
Woods faced ridicule for his decision to invite Patch to UMaine, but his response was telling: "So far as the people on my staff are concerned, I am not at all concerned whether they are attired in trousers or skirts, just as long as they do the work."
A year after her arrival at UMaine, Patch received a formal appointment as assistant professor of entomology.
Though being one of the only female scientists in a male-dominated profession often presented difficulties, Patch persevered with grace and patience. She had practice. Growing up, she was on a baseball team with boys and girls. She had attended a coeducational university — University of Minnesota — to earn a bachelor's degree in English. She grew up walking side-by-side with males, so why would a professional position be any different?
Patch was expected to adhere to certain societal etiquettes, only some of which she followed. But her polite, often wordless deviation from the norms of her time helped pave the way for the success of women in science.
When Patch was discouraged from attending an after-dinner address during a meeting of the Entomological Society of America because the men would be smoking (women were not allowed to be in the presence of a man while he smoked during this time), she figured out where the meeting was, walked in and quietly took a seat. The smoke-filled room fell silent as the men looked side-to-side, eyebrows raised. Within seconds, every cigar and pipe in the room had been put out.
She was present at all subsequent meetings.
Jennifer Lund, a UMaine entomology graduate student, says she is grateful for the legacy Patch left behind. Lund received one of the 2015 Edith Patch Award, which honors outstanding undergraduate and graduate women for distinguished work in the fields of science, agriculture, engineering and environmental education.
"I am so very honored to win an award that is named after such a phenomenal female entomologist and scientist," said Lund.  "I often think about how my research here has been influenced by all the entomologists that have come before me but especially Edith Patch who paved the way for female entomologists at the University of Maine so early in the university's history."
Patch specialized in aphids — small sap-sucking insects commonly known as plant lice. Their complex life cycles, multiple host plants and ability to transmit pathogens made the group particularly difficult to study.
Her fascination for aphids began when she was an undergraduate student in Minnesota, under the direction of Oscar Oestlund. Researchers from Belgium to Brazil began seeking her counsel on how to manage aphid populations that had been infesting their agricultural crops. Before long, she had become the world's aphid specialist. Today, her publication, The Food-Plant Catalogue of Aphids of the World, is still referenced as the most comprehensive record of aphids and their host plants.
Before completing her master's degree in entomology at the University of Maine in June 1910, Patch had already published seven papers on aphids and related species, five of which appeared in national journals. The seventh became her dissertation for her Ph.D. in entomology from Cornell University in 1911. Patch's research at Cornell focused on the evolutionary origins of the wing veins of aphids and their close relatives the psyllids, aleuronids, and coccids.
During her time at Cornell, Patch collaborated with John Henry Comstock, a distinguished researcher and author of her beloved first insect book, the Manual for the Study of Insects. She purchased the manual during her final year of high school after winning a $25 prize for an essay she wrote dedicated to the monarch butterfly.
Patch became lifelong friends with Comstock and his wife Anna Botsford Comstock, an illustrator and author of natural history books for young people.
After establishing her career as an entomologist, Patch purchased her home, which she named Braeside. The name — derived from the Scottish word brae — translates to bank, referring to its location on the edge of the Stillwater River. Built in the 1840s, the house was sited on a 50-acre plot of land surrounded by exquisite wild gardens bustling with insect life. Here, she spent much of her free time observing and writing about the natural world.
Her home was added to the National Register of Historic Places in 2001. For the past 15 years, the Friends of Edith Patch organization has raised nearly $200,000 for the rehabilitation of Braeside. Once restored, the facility will house the Edith Patch Environmental Observatory, which will feature a museum, educational resource center, and facilities for environmental research, education and policy. The property surrounding the historic home will mirror the gardens depicted in many of Patch's writing for children.
Patch published her first children's book — Dame Bug and Her Babies — in 1913. The book, a collection of 18 stories about insect mothers and their offspring, sold for 75 cents, plus postage. This marked the beginning of her lifelong mission to write biologically accurate stories that invoked curiosity in young readers. Many publications followed, including Little Gateways to Science, which told the story of 12 birds and the inauspicious effects human activity can have on the natural world.
"With academic specializations in both English and entomology, she thoroughly understood that the work carried out in lab and field would be meaningless if it could not be connected in real and meaningful ways to those whom it was designed to serve," said Bird. "She used her skills as both a scientist and a writer to create pathways into understanding and appreciation of science and the world it seeks to explore and explain."
Dedicated to educating the next generation of scientists, Patch's expertise often took her away from Orono. She traveled all over the country giving talks about her work, and, in 1927 took a six-month research trip to the Rothamsted Experimental Station in Harpenden, England to study the migratory aphid, Myzus pseudosolani, which had become a concern in New England.
Patch was not only a distinguished scientist and world-renowned author, but also one of the first environmentalists of her time. In a compelling speech given in 1936 for the Maine Agricultural News Radio Program titled "Aphids, Aphids, Everywhere," Patch explained the dangers of excessive use of insecticides. Using the life cycle of the aphid as an example, she pointed out that there are many natural factors controlling aphid population and that it is not necessary to rely on insecticides to keep the insect populations in balance.
This speech was given 26 years before the dangers of insecticides were echoed in Rachel Carson's famous book, Silent Spring, which is given considerable credit for igniting the environmental movement in the 1960s.
"Even as a girl of 7 in Minnesota, she (Patch) was a lover of all natural things, and she remained a naturalist until the day she died. The naturalist tradition is a long one. It always has included a love of — and appreciation for — the beauty of nature," said James Slater, who delivered the Entomological Society of America's 1996 founders' memorial and lecture honoring Patch.
Patch's environmental concerns resonated again during her address at the Entomological Society of America's annual meeting in Atlantic City, New Jersey. She pleaded to the audience — filled with scientists like herself — to look closer at the adverse effects chemical insecticides can have on non-targeted insect populations and their surrounding ecosystems. Her statement — "the welfare of humankind depends on the protection of insects" — sounded the alarm and made newspaper headlines nationwide. This speech was later published as a bulletin of the Brooklyn Entomological Society in 1938, titled "Without Benefit of Insects," and became one of her most-noted publications.
After a long successful career, Patch retired in July 1937 after 34 years at UMaine. She was named entomologist emeritus and was awarded an honorary doctorate of science degree at UMaine's 66th annual commencement. She was flooded with correspondence from researchers and friends thanking her for her many contributions to science. At the time of her retirement, she had published 15 children's books and 78 scientific articles.
Though she no longer held a formal position at the university, Patch remained active in the scientific community. In a speech addressed to the Garden Club Federation in 1939 titled, "Our insect friends," she continued to stress the importance of insects as pollinators and the benefits they have to our agricultural system.
"We have a lot we can learn from Patch. She wanted children to be loving towards the natural world, not destroying it or invading it in any way," said Nancy MacKnight, member of the Friends of Edith Patch organization.  "She taught us that if you want to do something, you have to persevere. Patch tried to get a job in entomology, and she couldn't. Maine was the only place that offered her anything connected to entomology, and it was unpaid for a year. It took a lot of courage to enter a man's field at that time. We owe a lot to Edith Patch."
Contact: Amanda Clark, 207.581.3721