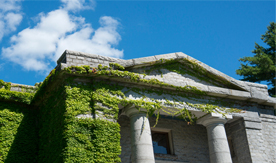 UMaine to Recognize Three Exceptional Leaders at May Commencement
The University of Maine will award honorary doctorates on May 9 to alumni Dana Connors of Gray, Maine, president of the Maine State Chamber of Commerce, and Dennis Rezendes of Boulder, Colorado, who pioneered the hospice program in the United States; and M. Peter McPherson, president of the Washington, D.C.-based Association of Public and Land-grant Universities (APLU).
The honorary doctorates will be conferred at UMaine's 213th Commencement, part of the university's 150th anniversary celebration.
McPherson will deliver a keynote address at both the 10 a.m. and 2:30 p.m. ceremonies.
Dana Connors
As the leader of the state's largest and most diverse business association for more than 20 years, Dana Connors oversees the Maine State Chamber's broad range of activities: advocacy efforts, economic development initiatives, workforce development opportunities, and a wide variety of member services on behalf of the state's business community.
Connors began his career as the city manager of Presque Isle for 16 years, and then spent 11 years as commissioner of the Maine Department of Transportation. He has been president of the Maine State Chamber of Commerce since 1994.
A Maine native, Connors received a bachelor's degree in public management from UMaine in 1965. He has been appointed by the Governor to serve on the Northern New England Passenger Rail Authority and the State of Maine Governor's Business Roundtable for Early Childhood Development. Other boards on which he currently serves include Maine Economic Research Institute; Maine Manufacturing Extension Partnership; and Maine & Company.
Dennis Rezendes
Dennis Rezendes provided national leadership to improve end-of-life care for millions of people by helping establish the hospice program in this country, offering quality and compassionate care for those with terminal illnesses. As a volunteer and philanthropist, he devoted himself to educational and social justice causes at home and abroad. He is a strong believer in the power of education to open minds and change lives. With his wife, he has contributed generously to scholarships and the arts, and has created UMaine endowments to support a visiting scholar in ethics, an ethics essay competition and the Honors College.
Under the auspices of the Global Volunteers organization, he also endowed a program enabling a student to volunteer for two weeks in a Third World country.
Rezendes is a member of the Charles F. Allen Society, President's Club and Stillwater Society. In 2012 he received the Stillwater Presidential Award. In 2014, he was the recipient of Bernard Lown '42 Alumni Humanitarian Award. He received the Founder's Award from the National Hospice Organization (NHO), which provided national leadership to define hospice and develop the standards of hospice care. Rezendes provided direct leadership in the passage of federal legislation enabling hospice care to be a Medicare benefit. In New Haven, Connecticut in 1974, he became the nation's first hospice executive director, guiding the development of the first hospice program of care.
Of Portuguese heritage, Rezendes is a second-generation immigrant and the first of his family to graduate from college. After graduating from UMaine in 1957 as an honors student with a degree in public management, he continued his education at the University of Pennsylvania, the Wharton School. From 1960–70 he served as director of administration for the City of New Haven, Connecticut. He has had a successful career both in government and the private sector.
Peter McPherson
Since 2006, M. Peter McPherson has been president of the Washington, D.C.-based APLU. The association, founded in 1887, is North America's oldest higher education association, comprised of public research universities, land-grant institutions and universities in all 50 states, the District of Columbia, four territories, Canada and Mexico. APLU is the leading research, policy and advocacy organization for public research universities like UMaine.
McPherson also chairs the Partnership to Cut Hunger and Poverty in Africa, an organization he co-founded to address agricultural production and rural income issues. He is chair of the advisory committee for HarvestPlus, an organization funded at approximately $40 million annually to research the biofortification of crops grown by workers in poor countries. Biofortification is the genetic improvement of crops to fortify them with vitamin A, iron and zinc.
From 1993–2004, McPherson served as president of his alma mater, Michigan State University. Prior to that, he was a group executive vice president with Bank of America, based in San Francisco. He also served as deputy secretary of the U.S. Department of the Treasury and the administrator of the U.S. Agency for International Development (USAID). McPherson is a former chair of the board of directors of Dow Jones and Company, publisher of The Wall Street Journal.
McPherson received an MBA from Western Michigan University and a J.D. from American University Law School.