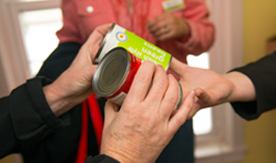 UMaine Community Charitable Projects to Benefit Those in Need
Editor's note: This is not a complete list; additions will be made.
Several University of Maine student, staff and faculty groups are leading charitable efforts this holiday season in an effort to give back to the community.
The UMaine Bodwell Center for Service and Volunteerism is collecting Thanksgiving turkeys for Crossroads Ministries Food Pantry in Old Town, and will hold a holiday food drive at IGA in Orono on Dec. 6. Turkeys can be dropped off by Nov. 24. at the Bodwell Center, 311 Memorial Union, or at Crossroads Ministries on Wood Street in Old Town.
The Black Bear Exchange, UMaine's food pantry and clothing exchange, will provide Thanksgiving meals to its clients who will be in the area for the holiday.
The Bodwell Center also is collecting gifts for the Holiday Sharing Program, which serves more than 450 children in the local community. The program is a partnership between the center, Crossroads Ministries, Toys for Tots, Orono-Old Town Kiwanis, Orono Health Association, and many student and staff groups on campus.
Gifts can be dropped off at the Bodwell Center or Crossroads Ministries. The deadline for gift donations is Dec. 10. For more information about the Holiday Sharing Program, contact Jennifer Aldrich, community engagement coordinator at the Bodwell Center, at 207.581.3097.
The UMaine Office of Human Resources is holding an Adopt-A-Family program this holiday season. For more than 20 years, UMaine's Employee Assistance Program (EAP) held a similar program to help UMaine families that are most in need. This year, Human Resources is looking to continue the tradition.
Supporting a family can be done by department or individually. Family information will be shared with participants once the office is notified of the commitment. The office also is seeking nominations for families that would benefit from the program, and so far has more donors than eligible families. Families will remain anonymous.
To sign up to support and/or nominate a family, contact Kasey Richards at kasey.richards@maine.edu or 207.581.2366 by Wednesday, Nov. 26.
The Classified Employees Advisory Council (CEAC) recently collected and delivered several items to the Black Bear Exchange. The group continues to accept donations, and has boxes located around campus including in Alumni Hall, rooms 201 and 218; Fogler Library's east entrance; Chadbourne Hall, rooms 122 and 226; and the Graduate School's front desk in Stodder Hall.
Several UMaine fraternities and sororities also are getting involved by hosting clothing and food drives.
Kappa Sigma held its annual Coats for the Cold drive, where they collected coats to be sold for $5 from 9 a.m. to 5 p.m. Nov. 21 and 22 at the Kappa Sigma house, 4 Munson Road on campus. Proceeds go to the Fisher House Foundation for aiding military families. HerCampus will be selling baked goods by donation during the sale, with all proceeds also benefiting Fisher House. Leftover coats will be donated to the Bangor Area Homeless Shelter.
Alpha Tau Omega is hosting Blue and Gold Christmas, a competition-based philanthropy event that collects clothes, books, nonperishable food and monetary donations for Crossroads Ministries. Teams of students from Greek Life and other organizations will be given a tree to decorate, along with a donation box. Teams score points for donations and tree decorations. The trees, which will be on display in the Memorial Union from Nov. 23 to Dec. 7, will be judged by university officials.
Pi Beta Phi and Phi Gamma Delta (FIJI) will host the annual Pi Phi/FIJI Christmas event from 4–6 p.m. Dec. 12 at the FIJI fraternity house, 79 College Ave. Donations for the Bodwell Center and Crossroads Ministries will be collected during the Christmas-themed reception.
The Kappa Delta Pi International Honors Society is collecting new or gently used winter clothing for children, such as jackets, gloves, hats, scarves, boots and snow pants. Donations will be accepted at 102 Shibles Hall until Dec. 5. All donations will be brought to a Salvation Army Coats for Kids drop box.
Contact: Elyse Kahl, 207.581.3747