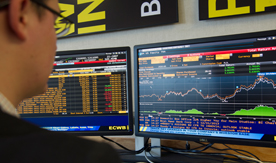 Gerard S. Cassidy '80 Capital Markets Training Laboratory to be Dedicated Sept. 18
Young men and women discuss investment strategies as they scrutinize real-time electronic trading and commodities data scrolling across numerous screens. In a scene right out of Wall Street, students examine global, up-to-the-second energy prices, stocks and bonds, interest rates and supply chain analysis, honing skills they'll be able to employ in financial firms in New York City and around the world.
That's what Gerard S. Cassidy intended when he created the Capital Markets Training Laboratory in the Maine Business School at the University of Maine.
Cassidy, who graduated from UMaine in 1980 with a dual degree in accounting and finance, knows the world of capital markets well.
He's managing director of equity research at the Portland, Maine-based RBC Capital Markets. At the investment bank with offices in 15 countries he provides banking and regional economic research to clients. He's also president of BancAnalysts Association of Boston, Inc. and he created Texas Ratio, a formula investors use to determine the financial health of banks.
The Wall Street Journal, The New York Times, Forbes, CNBC, CNN, BNN and National Public Radio utilize him as an expert source about banking, stocks and economic issues.
Cassidy wants other UMaine graduates to be able to have similar opportunities, so he donated a gift to make the state-of-the-art financial education lab possible. At 5 p.m. Thursday, Sept. 18, the Gerard S. Cassidy '80 Capital Markets Training Laboratory will be dedicated in his honor.
"I was fortunate to get a solid foundation in accounting and finance here at UMaine," says Cassidy, who lettered in football for the Black Bears. UMaine is also where he met education major Elaine Conley '78. The two married and live in Cumberland Foreside, Maine.
"I hope that this new laboratory will bring a Wall Street environment to UMaine students and that they might benefit from exposure to a part of the business world they might not otherwise experience."
The lab provides a variety of business educational experiences for the 950 undergraduate and graduate students and 26 faculty members in the Maine Business School (MBS) as well as for numerous other students and staff members in other disciplines.
It's also an ideal facility to conduct portfolio management for the University of Maine Foundation, construct business models for commercializing UMaine products and analyze energy pricing for the University of Maine System.
"We are so grateful to Gerard for his generosity," says Ivan Manev, dean of the Maine Business School.
"The new lab will be an important resource for our students and the whole university. It will help us teach business at a truly world-class level and demonstrates our commitment to revitalizing the state, which is Pathway 1 of the University of Maine''s strategic plan."
The lab, which measures 26 feet by 20 feet, includes two 70-inch monitors for Bloomberg data — "real-time global financial and market data, pricing, trading, news and communications tools."
Nine leased Bloomberg data feeds supply an instructor's workstation and eight dual-monitor stations that can be utilized simultaneously by as many as 16 students.
"Upon graduation, many of our students will accept a position where being Bloomberg-savvy on day one is a real plus and is likely to give them an advantage over their contemporaries who have not previously had this experience," says Robert Strong, University Foundation Professor of Investment Education, professor of finance and SPIFFY (Student Portfolio Investment Fund) adviser.
One wall-mounted monitor is designated for the SPIFFY portfolio. In the early 1990s, the University of Maine Foundation contributed $200,000 to start a fund so students could apply financial knowledge they gleaned in the classroom to real-world investing.
Today, Strong advises the group of about 70 SPIFFY students who, after weekly presentations and research, make trades through a broker. The SPIFFY fund now totals $2.3 million in value.
Contact: Beth Staples, 207.581.3777