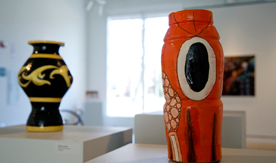 Annual UMaine Juried Student Art Exhibition Runs Through May 5
The University of Maine Department of Art is currently hosting its annual Juried Student Exhibition at the Lord Hall Gallery on campus.
The exhibition is free and open to the public from 9 a.m. to 4:30 p.m. Monday through Friday until May 5.
For more information or to request disability accommodations, call the Department of Art at 207.581.3245.
Contact: Elyse Kahl, 207.581.3747