2013 Commencement Honorary Degree Recipient and Speaker Lawrence Bender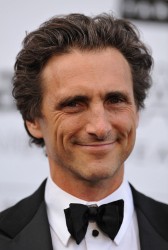 University of Maine alumnus Lawrence Bender, the producer of films that have won a total of six Academy Awards®, will return to his alma mater May 11 to receive an honorary Doctor of Humane Letters degree and share remarks during Commencement ceremonies.
Bender will address both the 10 a.m. and 2:30 p.m. ceremonies as part of UMaine's 211th Commencement in Harold Alfond Sports Arena.
"Lawrence is one of our truly outstanding alumni," says University of Maine President Paul Ferguson. "We are so pleased to award him a Doctor of Humane Letters in recognition of his excellent contributions to the arts through film and his deep commitment to addressing some of the major issues facing our society. I am confident our new graduates will enjoy and value hearing how his UMaine degree provided a foundation for such success and passion."
Bender graduated from UMaine in 1979 with a degree in civil engineering. His successful career as a producer and activist spans two decades. His films, which include such noteworthy projects as "Inglourious Basterds," "Pulp Fiction" and "Good Will Hunting," have been honored with 29 Academy Award® nominations, including three for Best Picture, and have won six.
His film, "An Inconvenient Truth," which raised unprecedented awareness about climate change, won the Academy Award® for Best Documentary Feature. His documentary, "Countdown To Zero," which features Tony Blair, Pervez Musharraf, Mikhail Gorbachev, Frederik De Klerk and Jimmy Carter, among others, details the urgent risk posed by proliferation, terrorism and accidental use of nuclear weapons.
Bender's other films include: "From Dusk Till Dawn" (1996), "Anna and the King" (1999), "The Mexican" (2001), "Innocent Voices" (2004) and Quentin Tarantino's "Reservoir Dogs" (1992), "Jackie Brown" (1997), and "Kill Bill" — Vol. 1 and Vol. 2 (2003–04). He has also produced "Havana Nights: Dirty Dancing 2"; "Knockaround Guys"; "A Price Above Rubies"; "White Man's Burden"; "Killing Zoe"; and "Fresh." His most recent film, "Safe," which stars Jason Statham, was released worldwide early last year, according to biographical information provided by Lawrence Bender.
Bender is also a passionate social and political activist. In 2003, he co-founded the Detroit Project, a campaign advocating vehicles that will end the U.S. dependence on foreign oil. He also traveled to the Middle East with the Israeli Policy Forum, meeting with heads of state. Bender is a member of the Council on Foreign Relations and the Pacific Council. He received the ACLU's Torch of Liberty Award and was named a Wildlife Hero by the National Wildlife Federation.
In 2009, Bender was one of five alumni honored by the University of Maine Foundation at its 75th anniversary celebration. He also was inducted into the College of Engineering's Francis Crowe Society as a distinguished engineer in recognition of extraordinary accomplishments to society and his profession. Bender returned to campus that fall to give an address at the Maine Business School.
Contact: Margaret Nagle, 207.581.3745; 207.949.4149