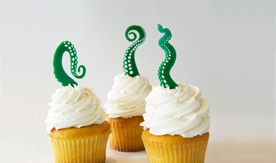 Two UMaine Students Develop Quirky Cupcake Toppers, Jewelry With the Help of the Foster Center
Cupcakes probably aren't the first thing you think of when hearing words such as zombies, ninjas and octopus tentacles, but they are for University of Maine students John and Christine Carney.
In November, the newlyweds from Seekonk, Mass., launched Through Thick and Thin, a business that makes quirky acrylic cupcake toppers, jewelry and ornaments. The name of their business reflects not only the material they use to make their products but also their marriage.
The Carneys were surprised at how quickly their business took off and credit much of its success to counseling and mentoring from the university's Foster Center for Student Innovation and the Innovative Media Research and Commercialization Center (IMRC).
John, who is a graduate student in the Intermedia Program at UMaine, works as a research assistant in the IMRC for Owen Smith, director of the Intermedia Program.
John is part of a team that's putting together the center's prototyping lab; researching everything from 3D and vinyl printers to laser cutters. John's focus quickly turned to the laser cutter, calling it an "amazing tool" and the "next table saw."
He was given the task to teach others how to use the laser cutter and decided the best way to do so would be through real-world applications. At the same time, he and Christine, who is pursuing her second bachelor's degree in zoology at UMaine, had been itching to get creative and dive into a business of their own.
"We're both makers and designers, so we wanted to do something where we could work together, make a design and turn a profit, and be innovators," John says.
"And have fun working together," Christine adds.
As the fifth-generation of a jeweler dynasty, Christine grew up learning about customer service and retail, and was confident she could handle running a small business.
One night, the pair was looking at zombie cutouts John had made using the laser cutter. He originally envisioned putting bases on the figures and selling them as board game pieces. After seeing the pieces they wondered: "What if we put a spike on this and stick it in a cake?"
Christine says they then joked about having a lone survivor among a bunch of zombie-topped cupcakes.
"And that was sort of like our aha moment," Christine says. "It was the zombie-and-survivor cupcake battle."
The couple then applied for a grant through the Intermedia Program which focused on refunding costs for student artwork, but was turned down because their business was outside the scope of the grant.
However, Smith offered them a $500 scholarship fund grant under a few conditions: They had to write a statement about their business and their intentions, show receipts and talk to Foster Center Coordinator Jesse Moriarity.
The Foster Center offered the couple office space, helped them get set up, showed them where to find the necessary paperwork, put them in touch with business contacts and got them publicity.
Over Christmas, the business took off, with 100 orders filled in the first month, mostly ornaments.
The Carneys initially invested a couple hundred dollars and didn't expect to turn a profit. They were shocked to make their investment back in two weeks.
"We were afraid that after Christmas it would die down, but the cupcake toppers totally picked up and people are running with it," Christine says.
With top sellers including zombies, ninjas, steampunk gears and octopus tentacles, the couple knows the uses of their cupcake toppers vary widely.
The couple has seen their ninja toppers used to celebrate a new black belt and their zombies atop brain cupcakes made by fans of the popular AMC zombie television series "The Walking Dead."
"I think they're neat but the response we've gotten has been awesome," Christine says of their cupcake toppers. "I love the product, but I don't think I love it as much as other people, which is awesome."
The Carneys agree they bring their own set of strengths to the business.
"We both have different areas or artistic talents," John says. "Christine is really good with color and knowing what is going to sell well and my talents are more in knowing how to make a design work and what we need to do to make it look good."
Both of the students create designs, while John uses the laser cutter. John tends to design more of the masculine figures such as zombies and ninjas. After deciding "there was a severe lack of cute," Christine recently started designing bunnies, deer, antlers and jewelry. They also do custom designs.
"We try to have as much fun as we can with it because that's the point," Christine says.
The pair says they would love to purchase their own prototyping machinery one day, instead of renting time to use the IMRC equipment.
"We'd love to be self-sufficient, live anywhere we want, work from home, that sort of thing," John says.
He added that even though self-sufficiency is important to the duo, they appreciate everything the university has given them and are grateful for all the Foster Center has done to help them.
"They're giving us the opportunity to go from a small home Internet-only business to something that could really turn a profit for us and potentially change our lives, which is pretty awesome," John says.
Through Thick and Thin products are available on Etsy and will be sold in the Foster Center's soon-to-be-opened store. The couple is designing a website and hopes to see their products in area stores.
Contact: Elyse Kahl, 207.581.3747