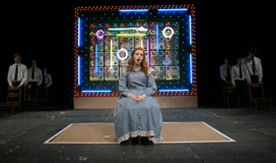 University of Maine School of Performing Arts Stages Tony Award-Winning Musical Spring Awakening
The University of Maine School of Performing Arts production of the powerful Broadway smash-hit rock musical Spring Awakening opens Feb. 15 and runs through Feb. 24.
Shows will be at 7:30 p.m. February 15–16 and Feb. 21–23; 2 p.m. Feb. 17 and Feb. 24 in Hauck Auditorium on the UMaine campus. Admission is $15; free with a student MaineCard. Tickets are available online at umaine.edu/spa or at the door unless sold out.
The musical contains explicit adult content and language.
Based on a controversial 1891 German play by Frank Wedekind, Spring Awakening, with music by Duncan Sheik and book and lyrics by Steven Sater, has been produced worldwide since its 2006 Broadway debut. The story follows teenagers as they grow up and struggle to understand their sexuality in repressive 19th-century Germany. The winner of eight Tony Awards, Spring Awakening includes high-energy rock music, combined with edgy, bold and elegant choreography.
Director Tom Mikotowicz, a UMaine professor of theatre, chose this demanding production because it includes dozens of challenging opportunities for students to act, sing and dance.
"I liked the energy of the rock music juxtaposed with the historical context of topics directly related to our current students," Mikotowicz says. "This is a version of the Romeo and Juliet story, set simultaneously in the 19th and 21st centuries."
UMaine graduate student Craig Ouellette is the musical director. Leading the high-energy, choreography — emotionally charged movements with a modern, urban twist — are UMaine dance faculty member Birdie Sawyer, who teaches hip-hop, and Hip-Hop Club president Sam Borer.
The entire production involves more than 20 students, including Austin Erickson, an anthropology major from Bangor as Melchior, and Hope Milne, a vocal music education major from Hamilton, Mass., as Wendla.
The artistic team is rounded out by costume designer Kathleen Brown, lighting designer Shon Causer and set designer Dan Bilodeau.
Contact: Monique Hashey, 207.581.4721