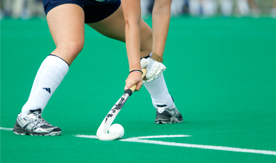 UMaine Student-Athletes Place Highest in America East Fall Academic Honor Roll
The University of Maine had the highest percentage of its fall student-athletes named to the America East Fall Academic Honor Roll, released Feb. 1. The Black Bears had 78.1 percent of its fall student-athletes honored. Maine had 42 of those student-athletes earn a 3.5 grade point average or higher.
Six-hundred sixty America East student-athletes who competed in fall sports earned America East Honor Roll distinction with grade-point averages (GPA) of 3.0 or higher during the 2012 fall semester — the highest total in league history and 68 percent of all fall-sport student-athletes. More than half of those student-athletes (352 total) earned Commissioner's Honor Roll status for completing the fall semester with a GPA of 3.5 or higher.
"We are so proud that over two-thirds of all America East fall athletes earned honor roll status," said America East Commissioner Amy Huchthausen. "Achieving a 3.0 grade-point average at institutions as respected as those in our conference is impressive in its own right. To do so while balancing the rigors of being a Division I athlete makes this a truly outstanding accomplishment for so many of our student-athletes."
University of New Hampshire had the most student-athletes (108) named to the Academic Fall Honor Roll. University of Vermont came in second (77), followed by Binghamton University (76), University at Albany (74), University of Hartford (74), Boston University (69), University of Maine (57), UMBC (52) and Stony Brook University (52). Fairfield University, an associate member for the sport of field hockey, had 14 squad members named to the fall honor roll, while Providence College, an associate member in volleyball, had seven student-athletes honored.
Hartford had the most fall student-athletes on the Commissioner's Honor Roll (56). Vermont (43), Maine (42), Albany (40) and Binghamton (40) all had at least 40 student-athletes earn a 3.5 GPA or higher during the fall 2012 semester.
America East has one of the most comprehensive academic awards programs in the country.
Men's Cross Country: Hayden Bove, Kelton Cullenberg*, Michael Fitzpatrick, Ryan Hardiman*, Don Kerrigan, Jerrod Lenfest, Jesse Orach*, Taylor Phillips*, Derrek Schultz*, Mitchell Sroka*.
Women's Cross Country: Lucy Algeo, Kourtney Bonsey*, Monique Boutin*, Corey Connor*, Lauren Connor, Taylor Cunningham*, Paige Gallagher*, Krislyn Hyatt*, Marina Mann*, Ariel McNett*, Alexandria McVicar, Shannon O'Neil*, Anne Ryan*, Mary Scanlan*, Kate Spies*, Carolyn Stocker*, Ashton Weiler, Abigail Wessels*, Rachel Wilkinson*.
Women's Soccer: Alexandra Abrahams, Lisa Bijman*, Meaghan Bradica*, Gretel Breton*, Liis Emajoe*, Taylor Frame*, Brianna Hammond, Madelaine Hill*, Eve L'Abbe*, Joanie L'Abbe*, Addison LaBonte*, Hallie Lipinski*, Maggie Malone, Nicole Misener*, Meagan Price-Leibenzeder*, Ashley Robinson, Camille Varin-Tremblay*, Lauren Williams.
Field Hockey: Zoe Berkey*, Natasha Ford*, Alicia Frisch, Elke Jacobse* Hannah Keating*, Rebecca Paradee*, Brianne Robertson*, Nicole Sevey*, Marissa Shaw*, Holly Stewart*.
*Commissioner's Honor Roll with a 3.5 grade point average or higher.