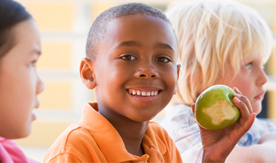 Students in a Small Group Communication Class Take on Community Projects
Claire Sullivan, University of Maine associate professor of communication and journalism, loves it when students experience "Aha" moments during service-learning projects.
Sullivan was particularly pleased after two recent presentations in her Small Group Communication class.
"It makes me happy when they really connect," Sullivan says. "It's my goal for them to work together in groups, to learn about community issues, and to use creative ways to use their strengths and see how they can help."
Four UMaine students used their individual and collective talents to assist The River Coalition, an organization that strives to make the communities of Alton, Bradley, Greenbush, Milford, Old Town and Penobscot Indian Nation safe, healthy places to live, work, and play.
As part of their semester-long, service-learning project, Hillary Goranson, Kathryn Harlan, Jana MacIsaac and Allison Noonan visited the Helen S. Dunn School in Greenbush to promote healthy eating and exercise.
They played nutrition and physical activity educational games with children in pre-kindergarten through second grade and gave them a healthy trail mix snack as a take-home gift.
Harlan, a communication major and women's studies minor living in Bucksport, Maine, says service learning is a brilliant teaching tool.
"We worked harder and did more because we knew it would impact the lives of children in our community," says Harlan, who plans to graduate in 2013. "Making that difference to those children was an amazing feeling."
Grades weren't the only thing UMaine students received for their class participation. Harlan says students at Helen S. Dunn School recently sent them thank-you cards.
Ann Bean, first-grade teacher at the school, says the youth had a wonderful experience and gained practical knowledge from the interaction.
"It was a great presentation," she says. "They (UMaine students) made learning fun. I was impressed with how well they (the youth) took the information and applied it to their own life — to what they do at home."
Linda McGee, executive director of The River Coalition, also praised the UMaine students. She said their energy and enthusiasm created a positive experience for the elementary schoolchildren.
After working with the children, UMaine students provided the Helen S. Dunn School with a state-approved lesson plan and props for the games.
In addition, the group revamped and updated The River Coalition's Facebook page and made posters to increase awareness of the dangers of alcohol and smoking.
The smoking poster included a partial list of ingredients of cigarettes, including rat poison, ammonia and insecticide.
Sullivan says it's rewarding when students enrolled in CMJ 345 are so positively affected by the course that they continue to volunteer after their grades are in the books.
Anna Ayotte, a double major in food science and human nutrition as well as communication, says she plans to do just that.
Ayotte, from Sidney, Maine, participated in a group class project to raise awareness of the Black Bear Exchange, an innovative combination food pantry and clothing swap in Estabrook Hall under the direction of Lisa Morin, coordinator of the Bodwell Center.
Ayotte says working on the project alerted her to the very real issues of local hunger and poverty.
"It's shocking and scary," says Ayotte, who plans to graduate in 2013. "It breaks my heart. Now that I am truly aware of how prevalent the need is, I am going to be more involved in service projects to help alleviate the problem. Even if you can't donate items, you can donate your time, which is just as important."
Other groups in the communication course partnered with Big Brothers Big Sisters; Shaw House in Bangor; University of Maine Cooperative Extension Eat Well Education Program; and the American Red Cross blood drive for their service learning projects.
Community engagement figures prominently in "The Blue Sky Project: Reaffirming Public Higher Education at Maine's Flagship University," the University of Maine's five-year strategic plan.
"The University of Maine aspires to be the most distinctively student-centered and community-engaged of the American Research Universities," it reads.
In 2008, UMaine attained an elective community engagement classification from the Carnegie Foundation for the Advancement of Teaching. The designation means the university collaborates with other communities, from local to global, "for the mutually beneficial exchange of knowledge and resources in a context of partnership and reciprocity."
Contact Beth Staples, 207.581.3777