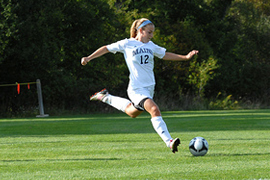 UMaine Student-Athlete Graduation Rates Among Best in Country
University of Maine student-athletes are graduating at rates higher than the federal Graduation Success Rate (GSR), according to statistics the NCAA released Oct. 25.
Eighty-four percent of Black Bear student-athletes are graduating within six years of enrolling in college, and UMaine had four teams honored with perfect 100 scores and four other UMaine teams improved their GSR from the previous year. The 84 percent GSR is UMaine's highest since 1998.
The statistics are based on the 2002–2005 cohort, for which the national average was 81 percent.
All of UMaine's 17 sports were either at or above the federal graduation rate. The men's and women's swimming, women's soccer and softball teams, all received perfect 100 scores. The men's basketball, cross country/track and field, football and men's ice hockey teams all improved their scores in the past year.
Overall, the national GSR was a point off the 82 percent of the 2004 cohort, but still higher than any other previous cohort.
America East, the conference UMaine belongs to, had 29 different teams honored for perfect 100 GSR scores. Boston University led the way with six, while UMaine was tied for second with Hartford, Vermont and UMBC, which all had four teams honored.
Furthermore, the conference's men's and women's basketball programs specifically graduate at a higher rate than the rest of the nation.
"We are extremely pleased, but not surprised, that our conference GSR ranks among the best in the country," says America East Commissioner Amy Huchthausen. "This success is a testament to the value our student-athletes place on their education, as well as our institutions' commitment to preparing its student-athletes to thrive after college."
America East is seventh among 31 Division I conferences in one-year GSR (student-athletes who began school in 2005), a two-spot improvement from last year, as 85 percent received degrees within six years of enrollment. Additionally, America East's overall GSR, measuring graduation rates for student-athletes entering school over a four-year period (2002–05), ranks eighth nationally with an 84-percent rate, which is four points higher than the national average of 80 percent.
Contact: Laura Reed, (207) 581-3646 or laura.reed@maine.edu