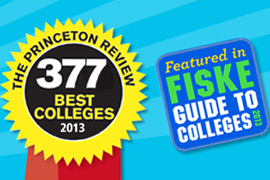 UMaine Again Ranked as Among the Best Universities Nationwide
Again this year, the University of Maine has been recognized in multiple national college rankings for its outstanding academics and programs. That consistency in national rankings speaks to UMaine's academic quality, research strength and leadership in higher education, both in Maine and across the country, according to University of Maine President Paul W. Ferguson.
"These rankings continue to reflect the excellence of our faculty, staff and students in fulfilling the unique and broad mission of Maine's only land grant research university," he says. "Through diligence, commitment and hard work, the UMaine community consistently meets the educational, research and public outreach needs of our constituencies, and we are gratified to be acknowledged for that effort and quality by these national sources."
Highlights of the recent UMaine national ranking citations include:
U.S. News & World Report: The most recent ranking in U.S. News & World Report's 2013 edition of Best Colleges placed UMaine as one of the country's best national universities. UMaine is considered by U.S. News & World Report as Maine's only national university, a selective group of only 281 public and private institutions that offer a full range of undergraduate majors, plus master's and Ph.D. programs, and an emphasis on faculty research. UMaine ranked 83rd of all public universities and 156th overall. Several factors are considered by U.S. News & World Report when compiling its "best colleges" rankings, including peer assessment, graduation and retention rates, faculty resources, student selectivity, financial resources and alumni giving. The editors of the Best Colleges list assert that "for families concerned with finding the best academic value for their money, the U.S. News Best Colleges rankings provide an excellent starting point for the college search."
The Princeton Review: For the ninth consecutive year, UMaine has been named one of the country's best institutions for undergraduate education by The Princeton Review, which features UMaine in the new 2013 edition of its annual college guide, The Best 377 Colleges. Only about 15 percent of America's 2,500 four-year colleges are profiled in the book, which is The Princeton Review's flagship college guide. It includes detailed profiles of the colleges, with rating scores for all schools in eight categories, plus ranking lists of top 20 schools in the book in 62 categories based on The Princeton Review's surveys of students attending the colleges. In the Princeton survey, UMaine students reported that: "There is a wide range of diversity in thought and belief," and "one of the best aspects of UMaine is the camaraderie that everyone has for each other, and students have many opportunities to meet people in and out of class."
Fiske Guide to Colleges: The Fiske profile describes UMaine's honors, engineering and marine sciences programs, faculty/student relationships, low tuition and nationally competitive hockey team. Compiled by former New York Times education editor Edward B. Fiske, the guide is designed to give a selective, subjective and systematic look at 316 colleges and universities in the United States, Canada and Great Britain. "UMaine is a medium-sized school with a small-school atmosphere," according to the guide. "Combine the state's natural beauty with an increased emphasis on top-quality facilities and more intimate student/faculty interaction, and it's no surprise that this campus draws more die-hard 'Maine-iaks' each year," the guide adds.
Forbes: The America's Top Colleges ranking also cites UMaine — the only public institution listed in Maine and one of five higher education institutions listed in the state — along with Bowdoin, Bates, Colby and the College of the Atlantic. For the America's Top Colleges list, Forbes evaluated 650 colleges that award undergraduate degrees or certificates requiring four or more years, and focus on students' needs and concerns: quality of teaching, great career prospects, high graduation rates and low levels of debt.
Contact: Margaret Nagle, (207) 581-3745