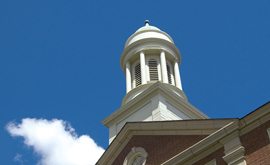 UMaine Unveils New Strategic Plan
ORONO, Maine – University of Maine President Paul Ferguson today officially released a strategic plan that creates a blueprint for the state's flagship public university to become one of the most distinctive universities in the country for student achievement and community engagement.
The plan, "The Blue Sky Project: Reaffirming Public Higher Education at Maine's Flagship University," was accepted by the University of Maine System trustees at their board meeting in Bangor today.
"This plan isn't just about making the University of Maine a bigger, better and more financially sustainable institution," says Ferguson. "It also is about reconnecting the university to the people of Maine so that we can have a major impact on the future growth and prosperity of our state in the 21st century."
The plan is centered around investing in UMaine's existing areas of distinction and launching a number of new initiatives to better align the university's resources and programs with the needs of the state. It outlines five strategic pathways, summarized as the "Five M's," and a series of related initiatives and strategies to transform UMaine in the next five years:
Maine's Renewal – Ensure that UMaine teaching, research, outreach, workforce and economic development program excellence are in close alignment with Maine's priority needs. Initiatives include increasing campus/private sector partnerships by 50 percent in the next five years, and aligning technology and educational programs with Maine's economic infrastructure needs.
Money and Management – Optimize operating efficiencies and control expenditures within a financially sustainable business model, and seek new and entrepreneurial revenue sources. Initiatives include a new enrollment management unit and a plan to potentially increase enrollment to 15,000 (from 11,168 in 2012), increasing the number of out-of-state and international students, and increasing academic partnerships with Maine's community colleges.
Morale and Marketing – Invest in faculty and staff professional development, refresh the UMaine brand and improve communication among all constituencies. Initiatives include establishing consistent and high-quality brand standards to better promote UMaine, harnessing the goodwill of alumni for student internships and career networking, and promoting UMaine's role in athletics as the state's only NCAA Division I school.
Mentoring and Modeling – Promote undergraduate and graduate opportunities for student success, including value-added residential life, research fellowships, internships, and more effective advising and learning environments. Initiatives include developing new models for learning to better prepare graduates for meaningful jobs and lives, establishing an outcomes-based assessment of all academic programs, and increasing the number of externally funded opportunities for hands-on student research.
Master Plan and Maintenance – Restore and create UMaine's physical plant and technology infrastructure to ensure a vibrant place of learning and discovery. Initiatives include a Total Cost of Ownership (TOC) approach to managing UMaine's $1 billion in infrastructure and real estate, fully funding appropriate levels of campus upkeep and beautification, and continuing to implement campus sustainability initiatives.
Ferguson, who came to UMaine in July 2011 and was formally inaugurated as the 19th president this past April, began the "Blue Sky" project shortly after arriving on campus. From November 2011 to April of this year, a 26-member leadership team, made up of faculty, staff, students and alumni, met weekly to develop the plan. More than 30 informational meetings attracted hundreds of participants and more than 250 contributors submitted "blue sky ideas."
"This has been a comprehensive, inclusive process that has united the entire University community around a renewed sense of pride, purpose and commitment to serving the people of Maine," Ferguson says. "There is much work to be done, but we see blues skies ahead for this great University and the State of Maine."
About UMaine: The University of Maine, founded in 1865, is the state's premier public university, located in the town of Orono. As Maine's land-grant university and the flagship institution in the University of Maine System, it is among the most comprehensive higher education institutions in the Northeast, attracting students from across the U.S. and more than 60 countries. It currently enrolls 11,168 total undergraduate and graduate students who can directly participate in groundbreaking research working with world-class scholars. Students are offered more than 90 undergraduate majors and programs, 75 master's degree programs, 30 doctoral programs and one of the oldest and most prestigious honors programs in the U.S. The university promotes environmental stewardship on its campus, with substantial efforts aimed at conserving energy, recycling and adhering to green building standards in new construction.
Download the Blue Sky Plan Here. (PDF)
Contact: Margaret Nagle, (207) 581-3745