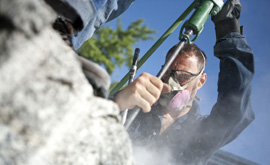 Schoodic International Sculpture Symposium Open for Visitors
Schoodic International Sculpture Symposium Opens July 22
Thousands of visitors are expected to attend Schoodic International Sculpture Symposium (SISS), which opens Sunday, July 22, in the University of Maine's Steam Plant parking lot on College Avenue in Orono.
The event will be free and open to the public from 9 a.m. to 5 p.m., seven days a week, until the symposium closes on Aug. 30.
SISS is being held this summer in partnership with the University of Maine. This is the fourth symposium since 2007 and the first time it has been held outside the Schoodic region of the Maine coast.
The symposium brings eight internationally known sculptors to Maine for the six-week event. Each sculptor has been paired with one of the participating community partners – the University of Maine, the University of Maine Foundation, Husson University, Acadia Hospital and the city of Bangor and the towns of Orono and Old Town — to create a sculpture for a site chosen by each partner's committee.
To mark the SISS opening, there will be a public event from 7 p.m. to 8:30 p.m. on Thursday, July 26, at UMaine's Hudson Museum in the Collins Center for the Arts. All eight artists will be introduced during a reception at the event, which will also feature a slide show of the artists' works.
Volunteers from each of the eight SISS partners will staff the site each day.
Other activities during the symposium include artist talks each Thursday in the McIntire Room of the Buchanan Alumni House at UMaine, during which the sculptors will present their work; tours of the sites of sculptures from previous years symposia; a summer camp for children in grades 6-12; UMaine college courses, including a sculpture course and a documentary class; and artist fieldtrips to New Brunswick and the Schoodic peninsula.
There will be a closing ceremony at 3 p.m. on Thursday, Aug. 30 in the Steam Plant parking lot. The finished sculptures will be on display before they are moved to their permanent locations.
For more information about SISS, go to schoodicsculpture.org.
Each partner group is doing its own fundraising for its participation in SISS. For more information, contact the following representatives:
A list of story ideas for the 2012 Schoodic International Sculpture Symposium is available here.
Contact: Tilan Langley, (207) 263-6057 or tilan@schoodicsculpture.org; Jessica Bloch, (207) 581-3777 or jessica.bloch@umit.maine.edu