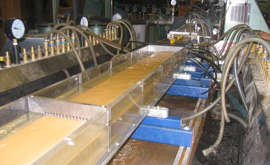 New Technology for Composite Fencing, Decking
UMaine Patent Will Improve Manufacturing Process for Fencing, Decking Materials
A new technology developed at the University of Maine's Advanced Structures and Composites Center will help fences and decks of the future to be stronger and longer lasting than those currently built with wood or synthetic wood materials.
The U.S. Patent Office issued in July U.S. Patent No. 8,221,663, which introduces a method of manufacturing a synthetic wood product.
The patent was issued to Doug Gardner, UMaine professor of forest resources; Chris West, Advanced Structures and Composites Center wood plastic composite research associate; Yousoo Han, UMaine assistant research professor; and Stephen Michalik, a researcher at NOVA Chemicals' Beaver Valley Technology Center in Monaca, Pa.
The innovative process combines wood and plastic in a manner that strengthens and stiffens the final product by polymer cross-linking, and at the same time reduces weight by the formation of bubbles in the synthetic wood mixture. This process creates a material for fencing and decking that is stronger and lighter than materials currently on the market.
Although they are aesthetically pleasing, traditional solid wood fences and decks have increasingly been replaced by plastic fence components that are less labor-intensive to construct, lighter in weight, easier to maintain and longer lasting.
Advanced Structures and Composites Center researchers have, for a decade, been developing improved composite materials for plastic fence and decking based on the mixing of wood flour (sawdust) and plastic — especially recyclable plastics.
These composite fencing and decking materials are more durable and easier to maintain than natural wood alternatives, and have gained widespread market acceptance. However, compared to natural wood, the synthetic wood products lack the strength and stiffness of wood and tend to warp after long-term exposure to the heat of the sun. The newly patented manufacturing method for fencing and decking provides a product superior to natural wood, as well as to previous methods and materials used in synthetic wood.
The technology is currently under consideration by several manufacturers of synthetic wood materials.
Contact: Doug Gardner, (207) 581-2846 or douglasg@maine.edu; Jessica Bloch, (207) 581-3777 or jessica.bloch@umit.maine.edu