Maine Farm to Institution Food Project
Institution: University of Maine
Sponsor: Senator George J. Mitchell Center for Sustainability Solutions
One of the most important questions facing the local food movement in Maine is how to make it sustainable—environmentally, economically, and socially. A major approach has been to promote a farm-to-institution (F2I) movement whereby farms will be able to sell their produce to local institutions such as universities and hospitals, and reduce environmental costs through these local supply chains. What might appear simple and straightforward has turned out to be filled with challenges—timing, need, size, and coordination. Institutions often find it easier to purchase from non-local sources despite the economic benefits for the local economy from buying local.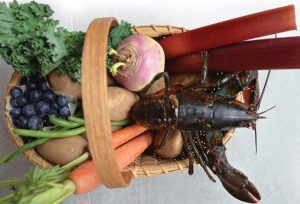 The F2I team's community partners have focused on the fragmented nature of information as a barrier to solving these problems. Glenn Taylor, director of UMaine Dining has won acclaim for his dedication to purchasing Maine food, and understands the challenges well. Integral research collaborations, like the Sustainability Solutions Initiative and the Honors College's Sustainable Food Systems Research Collaborative, have demonstrated UMaine researcher and student capacity for creating knowledge to support impactful action. There is an opportunity to take these independent efforts and collaboratively address Maine F2I challenges.
The team's facilitated session at the 2017 Maine Sustainability and Water Conference (MSWC), "Maine's Changing Foodscape," illustrates the importance of supporting, building, and expanding these valuable research-community networks and partnerships. Session presenters reached out to discuss opportunities for increasing researcher and community partnerships. Projects like this can be the link that moves systems challenges toward solutions.
Information must be integrated in ways that reflect the F2I supply chain and the variety of challenging steps that need to be addressed. This project aims to piece together these fragmented bits of data and knowledge about Maine F2I opportunities and barriers. Key gaps in the information must be addressed and information must be compiled in ways that support the development of decision support tools.
The Plan
The team will complete pilot work crucial to their partners, doing so in ways that will increase the likelihood of attracting foundation or federal funding to continue building these collective efforts. Three components are proposed:
Take data already available that is fragmented, partial, and incomplete and put it together in a working model of interest to partners. This process will be used to identify gaps and next steps;
Interview no fewer than five key individuals in Maine to help fill those data gaps;
Identify potential funding opportunities and write proposals that use the pilot work to seek funding for additional research. Opportunities will be sought that support funding for one or more of the following:

Move research-to-action to strengthen F2I linkages and overcome current obstacles;
Develop clear metrics for measuring success that all partners agree are important benchmarks against which to measure improvements in Maine practices;
Strengthen interdisciplinary approaches with a strong focus on involving undergraduate students from diverse disciplines who bring their disciplinary perspectives to work with community partners.
This project is designed to model how university assets—in organizing information, in interdisciplinary collaboration, in training students in ways that will encourage them to stay in Maine—can be brought together to move towards innovative solutions to sustainability problems identified by partners as crucial to Maine's future.
Key roles in this work are being played by:
Faculty and post-docs – including mentoring, interviewing, and grant writing;
Interdisciplinary honors student(s) – including data gathering, and interviewing;
F2I partners – including input on goals and feedback on the degree to which the feedings are actionable.
To sustain this work and ensure that it is deeply integrated into ongoing institutional activities and practices, we will carry out events, capacity- and network-building, and focus on educational outputs that will serve as tangible inputs for future funding, and strengthen the initiative. These could include:
Inclusion of the work in a proposed Spring 2018 Honors College food systems tutorial;
Facilitated student-student mentorship where former SFSRC cohorts will share their experience with the new cohort;
Further network-building through events such as hosting and coordinating a related MSWC session.
Team Leader:
Mark Haggerty, Associate Professor of Honors, Rezendes Preceptorship of Civil Engagement, Honors College, haggerty@maine.edu
Team Members:
Outcomes:
Literature Synthesis Report to Maine Farm to Institution
Challenges & Opportunities for Farm to Institution Supply Chain Participants (pdf)
Michaela Murray and Hannah Herrick, April 2018
Mitchell Center News, January 24, 2018
Food for Thought
Mitchell Center News, August 2, 2018
Undergraduate Michaela Murray reflects on her capstone experience
Presentations
Mitchell Center Sustainability Talk, February 5, 2018
The Puzzle of Making the Local Food Movement Sustainable: The Challenge of the Supply Chain (link to Vimeo)
Mark Haggerty, Stephanie Welcomer, Linda Sila and Melissa Ladenheim.
Maine Farm to Institution Summit, Belfast, ME. February 2018.
The Puzzle of Making the Local Food Movement Sustainable (pdf)
Michaela Murray, Mark Haggerty and Stephanie Welcomer
Annual Meeting of the Agriculture, Food, and Human Values Society, Association for the Study of Food and Society, and Society for Anthropology of Food and Nutrition, Madison, WI. June 2018.
Pressing from the Top Down or Emerging from the Grassroots: Who and What is the Farm to Institution System Transforming? (pdf)
Michaela Murray, Mark Haggerty and Stephanie Welcomer