Enhancing Dialogue with Blueberry Growers
 Grower Based Analytical Analysis for the Wild Blueberry Agro-ecosystem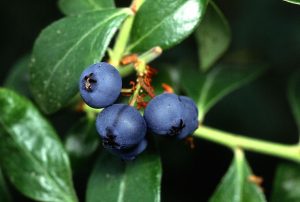 Wild blueberry production is very important to Maine's natural resource economy. Management of a natural resource always affects the environment and so it should be a high priority that management of this wild crop is performed sustainably, both ecologically and economically. Using seed funding provided by the Mitchell Center for Sustainability Solutions, researchers are taking a new approach. The research team, led by Professor of Insect Ecology and Insect Pest Management Frank Drummond, is developing a wild blueberry modular-hierarchical simulation model that can be used by both agricultural researchers and blueberry growers. One objective of the model is to enhance two-way dialogue between researchers and stakeholders.
Project stakeholders, who represent members of the blueberry grower community, will provide input into the initial conceptual design of the simulation model as well as the desired outputs and the graphical interface. In addition, these stakeholders will provide ideas on how to use the model to advance analytical insight and communication from growers to researchers.
The simulation model will represent: 1) the ecological interactions in the Maine wild blueberry agro-ecosystem, 2) production tactics used to manage this wild crop either as an organic or across a gradient of conventional systems, 3) the economic algorithms for assessing short and long-term behavior, and 4) a weather module that will allow simulations based upon recent average weather conditions, annual historic weather records, or future weather constructions for investigating climate change. The model will be hierarchical and accessible at several levels of sophistication, all with user-friendly graphical interfaces. The multi-layer design will provide a basis for analytical systems analysis of wild blueberry production by researchers, extension agents, and growers.
One of the goals of this project is to initiate a small but significant paradigm shift in the way that current progress toward agricultural sustainability occurs. Instead of a university top-down solutions-development strategy, the research team is facilitating more analytical thinking from the grower community that is directed towards the university research community. It is hoped that adoption of the model as a tool by wild blueberry growers will enhance exploration and communication with researchers.
Research Team
Frank Drummond, UMaine (team leader)
Seanna Annis, UMaine
David Yarborough, UMaine
Xuan Chen, UMaine
A. Hoshide, UMaine
Samuel Hanes, UMaine
Brian McGill, UMaine
Hongchun Qu, visiting scientist