Engaging Maine Blueberry Growers to Develop Tools for Native Bee Use and Conservation
Institutions: University of Maine, Maine Cooperative Fish and Wildlife Research Unit
Sponsor: Senator George J. Mitchell Center for Sustainability Solutions

Native bee conservation has become a pressing need. With honey bees, long the crop pollinator workhorse, on the decline, researchers are working with farmers to see if they can conserve and bolster Maine's native bee populations. The team is led by Samuel Hanes, Assistant Professor, Department of Anthropology, and brings together researchers and experts in the areas of wildlife, economics and ecology.
Why This Project?
Evidence is mounting that pollinators, particularly honey bees, are declining in the U.S and globally. The loss is not only an environmental problem; it has economic ramifications for farmers who grow animal-pollinated crops. Maine depends on pollinators, in particular, for its blueberry crops. The stakes couldn't be higher. Maine has the biggest blueberry economy on earth, producing over 25% of the world's total blueberry crop and over 50% of the world's wild blueberries. Right now, Maine currently brings in 80,000 honey bee hives to pollinate the blueberry crop. But commercial hive availability and cost are likely to change. The honey bee population has decreased by more than 40% since 1980. Maine has close to 300 native bee species, none of which live neatly in 40,000-insect colonies like the honey bee. But they can be attracted in mass by special pastures and certain plants. Hanes and his team will be meeting with lowbush blueberry growers to disseminate information and assess interest in native bee conservation.
Connecting Knowledge with Action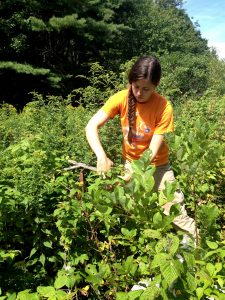 The research is small in scope but potentially of large importance. The team has developed a "pollination toolkit" for growers, which includes a GIS-based bee habitat assessment tool that can help growers assess the quality of their bee habitat plus their pollination needs and optimal plant bee pasture area. The kit contains a video that teaches growers how to estimate the size of native bee populations. There's also an economic tool to measure the costs and benefits of using native bees and a plant list for bee habitat. The purpose of the kit and the researchers' one-on-one and group interactions with growers is to overcome barriers to action by reducing uncertainty regarding native bees.
Lead Investigator:
Samuel Hanes, Assistant Professor, Department of Anthropology
Team Members:
Frank Drummond, Professor, School of Biology and Ecology; UMaine Cooperative Extension
Cynthia Loftin, Associate Professor, Dept. of Wildlife, Fisheries, and Conservation; Maine Cooperative Fish and Wildlife Research Unit
Aaron Hoshide, Adjunct Assistant Professor, School of Economics
Kourtney Collum, Graduate Research Assistant, Dept. of Anthropology
Brianne Du Clos, Graduate Research Assistant, Ecology & Environmental Sciences Program
Additional Resources