Cheesemaking in Maine
Institution: University of Maine
Sponsor: Senator George J. Mitchell Center for Sustainability Solutions
Cheesemaking in Maine: Investigating Social, Economic, and Environmental Practices and Sustainability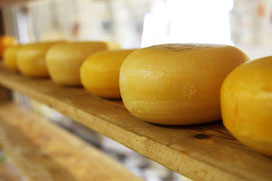 A sustainable agricultural system must do many things, including satisfying human food needs, contributing to biofuel needs, enhancing environmental quality, and, sustaining the economic viability of agriculture. The food system is thus a complex socio-environmental system in which sustainability requires highly efficient energy and material resource use, elimination of waste, and development of markets and products.
A growing community of young farmers and food producers in Maine provides an opportunity to develop a sustainable food system, but such a shift will require farmers and food producers to develop strong connections to foster innovation and link to other sectors of the economy.
This project is founded on the idea that information and opportunities are spread through social networks, and we are conducting a preliminary study of Maine's cheesemakers' business and waste management networks within this context. We focus on current network impacts on economic, environmental and community sustainability and how these networks can be strengthened and expanded to positively affect these inter-related systems.
Maine is one of a minority of states in the U.S. in which the number of farms and young farmers are growing. Closely linked to these farmers are post-harvest production activities that more fully develop businesses downstream in the supply chain and move farm commodities, such as milk and other value-added products including cheese and yogurt. Such products are attractive on a number of levels—they require complex skillsets, have a higher profit margin, and have more distinctive attributes contributing to branding.
Currently, Maine's artisanal cheese maker numbers are increasing, putting the number among the top in the U.S., and the cheese-maker to output ratio is comparatively low, suggesting growth potential. Additionally, U.S. demand for cheese has climbed steadily since 1995 with per capita consumption increasing from 24 pounds per person in 1995 to 34 in 2014. With Maine's growing reputation for "foodie" consumers, the demand for artisanal cheese appears to be on a growth trajectory.
At the same time, many of Maine's small-scale cheese producers do not want to grow past the point of being able to manage their business "by hand." This means that network connections formed play a significant role in exchanging knowledge, creating more efficient distribution channels, and creating closed loops for waste management. These trends suggest that Maine is poised to have a significant regional cheesemaking cluster—a geographic network characterized by high interactivity, that can generate economic growth, community development and more efficient closed loop waste management.
Sustainability for these small-scale cheese producers is a multi-dimensional problem. Profitability for Maine's cheesemakers is a struggle – many do not make a living wage, relying on second jobs, or partners who have additional income as well as health care benefits.
Environmentally, the cheesemaking sector faces challenges stemming from reliance on fossil-fuel based transport systems, spotty access to farm waste recycling, and use of carbon-intensive inputs, making farms vulnerable to changing oil/gas prices. Part of the work in building sustainable business clusters is careful stewardship of natural resources. Specifically, making cheese depends on using milk from cows, sheep, goats and water buffalo, and so involves manure management.
Additionally, whey, a production by-product, can overload farm waste management systems but can be a beneficially used as a food ingredient or animal feed. For communities, a new business cluster represents not only additional revenues but also ideas and people that help build viable rural communities. Cheesemaking clusters have the potential for notable impact on social sustainability, as cheese makers populate the rural landscape and become part of their communities.
Project Specifics:
We are working with the Maine Cheese Guild (MCG), Maine's premier cheese makers' organization. Members of the guild will help design a survey (of/to gather what data?) and some will be interviewed to provide data for a network analysis. As part of our project we will identify potential end users of cheese byproducts, and assess the degree to which nutrient and economic value are optimized. We expect that the MCG and farmers who handle manure and whey will be our major stakeholders.
We have assembled a team with knowledge of business networks and sustainable food systems (Welcomer), environmental engineering and sustainable food systems (MacRae), cheese making and cheese makers in Maine (Rector), and food science, cheese making and dairy farming in Maine (Calder). Additionally we plan to recruit two undergraduate students for this research, at least one from the Sustainable Food Systems Research Collaborative who is interested in cheese makers' business networks and one who is interested in waste management of small cheese makers. (Brady Davis?)
Team Leader:
Stephanie Welcomer, Associate Dean, Maine Business School, UMaine
welcomer@maine.edu
Team Members:
Jean MacRae, Civil and Environmental Engineering, UMaine
Jean.MacRae@maine.edu
Beth Calder, UMaine Cooperative Extension
beth.calder@maine.edu
Eric Rector, President Maine Cheese Guild, Monroe, ME
info@mainecheeseguild.org
Brady Davis, Undergraduate Student, Honors College and Mitchell Scholar