Charting the Rangeley Region's Social & Ecological Systems
Charting the Rangeley Region's Social-Ecological System and Identifying Community Sustainability Strategies
Institution: University of Maine at Farmington
Sponsor: National Science Foundation through the Sustainability Solutions Initiative
The Rangeley region's history as a tourist destination and source for the forest products industry tie its socioeconomic opportunities to the viability and character of its natural landscape. The region has recently undergone rapid change as land ownership has shifted from pulp and paper companies to financial capital. Across the Maine Woods the new owners' shorter time horizons have led to parcelization and habitat fragmentation, a decline in certification and biodiversity practices, and rapid ownership turnover. For Rangeley, the shift from industrial to financial owners has contributed to changing stewardship regimes, threats to public access, and rapid second home development. The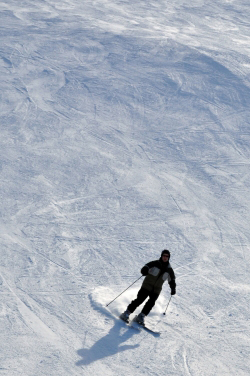 quickening pace of development has increased income inequalities, exacerbated the local economy's reliance on certain tourism-related retail services, thereby intensifying labor market volatility in low-wage sectors and leading to a decline in the 20-39 yr demographic. Ecological impacts may include changes in the abundance or distribution of sensitive plant and animal species, increased risk of invasive and/or pathogenic species, and declining water quality in smaller ponds leading to more frequent algal blooms and declining property values. Further, changing climate is likely to exacerbate these ecological perturbations with large impacts on the regional economy. Warming and changing precipitation patterns will continue to transform the terrestrial and aquatic ecosystems of the region by curbing certain peak winter recreational activities, altering logging practices and necessitating a range of adaptations by regional economic interests.
Given the challenges cited above, how can a small community like Rangeley, Maine, create economic opportunity while maintaining its unique identity, attractiveness, and ecology in response to external changes? The ongoing work of Rangeley Lakes Heritage Trust, Rangeley Logging Museum, and other key regional stakeholders, promoting regional sustainability can benefit from integrative, multidisciplinary research aimed at promoting knowledge-to-action (K-A) in the service of regional sustainability.
Research by the University of Maine Farmington (UMF) team will update and strengthen the major couplings between community, economy, and ecosystem.
Progress to Date
The complexity of the sustainability issues faced by the Rangeley region is mirrored by the diverse interests pursued by the UMF research team. The team is focused on:
Gathering high quality GIS data on riparian habitat associated with ponds and lakes with associate shoreline development photographs for eight of the more populated ponds, increasing the amount of water quality data gathered on each pond, gathering baseline data on insect biodiversity for possible use as indicators of habitat degradation associated with changing land use practices and/or climate change, high elevation lake temperature profiles, and terrestrial invasive species in proximity to lakes and rivers;
Building a more detailed bank of information about current economic trends;
Using technology to develop innovative apps that will help people connect to the Rangeley region and foster a sense of place.
Team Members:
Matthew McCourt (team leader)
Wendy Harper
Dan Buckley
Ron Butler
Julia Daly
Drew Barton
David Heroux
Chris Bennett
Partners:
Resources
Supported by National Science Foundation award EPS-0904155 to Maine EPSCoR at the University of Maine.