Waste Not, Want Not
Ph.D. student Brie Berry explores Maine's reuse economy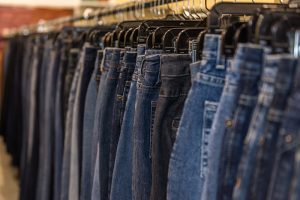 Before moving to Brooklyn, New York in 2008, Brie Berry lived for two years in a rural area of the West African Republic of Mali as a Peace Corps volunteer. It was her experience in Mali that provided Berry with the foundation for the future research efforts she now focuses on at UMaine.
"I joined the Peace Corps to experience what it was like to live in another place with a very different culture," says Berry, who earned a master's degree in urban affairs from Hunter College. "I worked as an agricultural extension volunteer providing support to communities doing composting, fish farming, and eco-tourism. It was very eye opening and sparked my interest in sustainability."
That's because, Berry says, "There's a strong culture of reuse in Mali and it was amazing to see the things people were using over and over again. Street vendors sold sweet potato fries that were wrapped in children's old homework assignments and people would strip bike tire tubes and sell them as bungee cords. Everything that could be was used again." Including her own "garbage." Kids routinely went through the trash she tossed out at first to pick out all the good stuff.
"That really made me rethink my own practices and spurred my work in sustainability as a whole." Thus, Berry spent the next eight years exploring various aspects of sustainability and getting as many diverse experiences as she could.
"I wanted to see what was happening in the broad spectrum of sustainability, what aspects were most interesting to me and how I might be able to make the biggest impact in pursuing sustainability work," Berry says.
After her stint in the Peace Corps, Berry landed in Brooklyn and began doing urban sustainability work in natural areas, environmental education in city parks, energy efficiency work, and the like. But after a time, she felt that while the work was important "it wasn't making the kind of difference I wanted to make."
As luck would have it, she ran across a short piece in Anthropology News written by Cindy Isenhour, UMaine assistant professor of anthropology and Mitchell Center fellow, that piqued her interest and led her to contact Isenhour directly. Looking more closely into Isenhour's background and current work, Berry realized it was a great fit.
Not surprisingly, she ended up sharply focused on the reuse of materials and is currently working in this area as a member of the Mitchell Center's Materials Management team. Isenhour, also a Materials Management team member, is Berry's advisor. One aspect of Isenhour's research is Maine's thriving reuse economy.
"I decided to come to Maine to study with Cindy because all her work is really focused on reuse and consumption and waste and she's an anthropologist, which is my background, too."
While Berry notes that the Materials Management project delves into a whole host of solid waste-related issues, she, like Isenhour, is particularly interested in studying the social, economic and environmental aspects of reuse economies. (See side story below)
"I'm most interested in reuse," Berry says. "Rather than recycling that takes materials, breaks them down and transforms them into something different, reuse just takes an object and uses it again for the same purpose, so you get a lot of energy savings because, for example, you're not melting something down or burning it up to create something new."
Moreover, she adds, reusing and swapping stuff can create something essential to the community fabric and helps build relationships between people.
"Think of a garage sale—I'm selling my personal possessions that have a little bit of meaning and history in them and, in selling them to another person, that meaning and history is passed along in some sense. No one has really talked about how to measure that or what kind of impact that might have in the bigger picture, but I think there's something there and something that's pretty valuable."
Focused on Food Waste
Brie Berry extends her reuse work to food redistribution
Brie Berry recently began work on a research project focused on food waste and food insecurity in Maine, in partnership with the Margaret Chase Smith Policy Center and the Mitchell Center. Food insecurity is defined as "being without reliable access to a sufficient quantity of affordable, nutritious food." Food waste is a significant problem in Maine, and in the United States as a whole, where roughly one third of food produced for human consumption is wasted. In Maine, almost 16 percent of the population is food insecure.
"The project is focused on food waste in schools, both because schools produce concentrated streams of food waste, and because schools already work to reduce hunger through the National School Lunch Program," Berry says. "I wanted to understand how schools are taking action to reduce food waste, with particular attention to food redistribution."
Food redistribution sits at the intersection of food waste and food insecurity. The Materials Management team, notes Berry, talks a lot about the Environmental Protection Agency's Food Recovery Hierarchy (see graphic) which provides guidance on strategies for reducing food waste. Strategies listed at the top of the hierarchy provide the most economic, social, and environmental benefits.
"Food redistribution is close to the top of the hierarchy—just below source reduction," Berry says. "In my research, I wanted to understand how schools prioritized food waste reduction strategies, and the barriers they face in moving 'up the hierarchy'."
The research involved an analysis of formal school board policies across Maine. Berry also conducted interviews with school stakeholders to get a better understanding of how policies and practices emerged. Ann Acheson, based out of the Smith Center, was a close collaborator on the project. Together they analyzed state and national-level food waste policy, both within and outside of schools, and will publish their findings this summer in the Maine Policy Review (MPR).
"It's a great forum for this work because the MPR is distributed to school superintendents across the state, and one of our goals is to inform policymakers and school officials about the issue of school food waste and some of the ways that schools are working on it."
Adds Berry, "This work is also an extension of my interest in the reuse economy. Redistributing food is, in many ways, a form of reuse. I'm interested in how materials, whether food, clothing, furniture, or anything in between, move between categories of waste and commodity, and how policy can support social and economic structures that promote reuse."