Tidal Power in Downeast Maine
Maine's Cobscook Bay is a hot spot for tidal power. Following a successful demonstration project on the bay last year, an energy company plans to install the first commercial tidal power system in the U.S. to generate electricity with underwater turbines. Making sure this technology is developed sustainably is the goal of an SSI project led by UMaine researchers Gayle Zydlewski and Teresa Johnson as part of the Maine Tidal Power Initiative.
Zydlewski, a fish biologist, and Johnson, a social scientist specializing in fishing communities, are studying the environmental, economic and social issues surrounding tidal power in the communities of Cobscook Bay. They will use their findings to create a model process that other communities can use to make informed decisions about the development of tidal power in local waters.
The Cobscook Bay area, which includes Eastport, Lubec, Perry, Pembroke and other communities, may be the first region in the U.S. powered in part by tidal power from underwater turbines. Portland-based Ocean Renewable Power Company (ORPC), which generated electricity with prototype turbines in Cobscook Bay last year, plans to install a commercial system by the end of the year that could provide power for 50 to 75 homes in the area. The company plans to eventually scale up the project to provide enough electricity for 1,200 homes and businesses in Maine.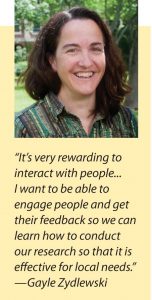 Community participation is central to tidal power development in Maine, according to Johnson and Zydlewski. "We're interested in understanding the human dimensions of tidal power," says Johnson, an assistant professor of marine policy in the School of Marine Sciences. "We want to know what the community's concerns are and what questions they want addressed."
To that end, she and Zydlewski have collaborated with area organizations including the Cobscook Bay Resource Center and the Maine Sea Grant Program to design and conduct an in-depth survey of about 40 key stakeholders ranging from fishermen to regulators and scientists.
The researchers found that stakeholders have two main concerns: how tidal power affects marine life and whether this new technology will bring desperately needed jobs to communities of Cobscook Bay.
To address environmental concerns about tidal power, Zydlewski is collaborating with local fishermen to learn more about fish populations and migrations in Cobscook Bay throughout the year. This information will help determine risks of turbine placement on fish and other marine life. State and federal regulators will then analyze these risks to determine a path forward for the industry.
"As a fish biologist, my interest is in looking at how we can develop tidal power in Maine in an environmentally acceptable fashion," says Zydlewski, an assistant professor in the School of Marine Sciences. "And that dovetails into the idea of how can this be acceptable to fishermen."
Will Hopkins, Executive Director of the Cobscook Bay Resource Center, is among the key stakeholders collaborating on this project. He has witnessed the potential of community members and scientists pooling their expertise to solve problems. "Anytime you can get experienced fishermen, who have lived their lives on the water, together with university researchers, who have the richness of their scientific background, generally, good things happen," he says.
The study involves stakeholders at every juncture, from defining the problems and developing research questions to creating and evaluating solutions—a powerful draw for SSI researchers. "This is a big part of the reason I got involved with SSI," says Zydlewski. "It's very rewarding to interact with people. I don't want to just go in and give a presentation on the work we conducted. I want to be able to engage people and get their feedback so we can learn how to conduct our research so that it is effective for local needs."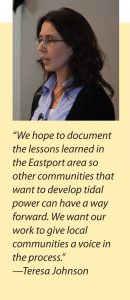 This work is timely as tidal power emerges as a promising source of renewable energy. Although the technology is still in its infancy, more than 45 tidal power projects are being proposed around the world, a five-fold increase since 2009, according to IHS Emerging Energy Research, a consulting firm based in Cambridge, Massachusetts. In Maine, energy developers estimate that tidal power could generate up to 400 megawatts of power in a decade.
"These technologies are developing very rapidly and there are more companies coming online, so there's a real need for this information," Johnson says of tidal power development. "We hope to document the lessons learned in the Cobscook Bay area so other communities that want to develop tidal power can have a way forward. We want our work to give local communities a voice in the process."
Making sure those voices are heard matters personally to Johnson, a Maine native who returned to her home state after earning a doctorate in human ecology from Rutgers University. "I grew up in a fishing family near Rockland, so I care about fishing communities and coastal communities," she says. "I'd like to see them around for a long time."