Coming Home
Assistant professor Aaron Strong kept a promise and returned to Maine to help the state meet its sustainability challenges
When Aaron Strong was ready to leave home for college, friends and mentors of the 2001 Maine state high school debate champ wished him all the success in his educational pursuits, and strongly encouraged him to return to Maine to settle down and get to work after he was finished with his studies.
So, after completing his Ph.D. in environment and resources at Stanford with an eye trained on the human dimensions of sustainability challenges, Strong, the son of two Bates College professors and now a UMaine School of Marine Sciences assistant professor of marine policy, did just that.
"It feels really good to take the advice you wanted to completely ignore at age 18 in order to get the heck out and see the world, and then come back home to focus on big sustainability challenges at the scale at which people make decisions in their communities," says Strong.
Strong says another aspect of being able to return home to Maine, raise his kids, and work towards solving sustainability challenges for Maine's communities was the opportunity to work closely with the Mitchell Center for Sustainability Solutions.
"Had the Mitchell Center not been here I would not have been as attracted to the position," he notes. "Not necessarily because of any one thing the center does, but its existence as a locus and focusing agent to bring people together from around campus to talk and share information about these important issues—that was really attractive to me."
One of the things he's most interested in doing in collaboration with Mitchell Center researchers is constructing decision support tools so that, for example, "We work with people in coastal communities to actually provide them with climate information and information on climate change that is functionally useful to them in their daily lives."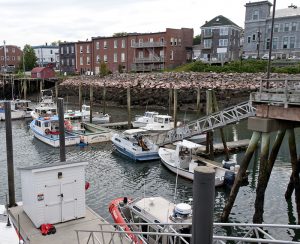 Home Work
Strong's first Mitchell Center-funded project will look at ocean and coastal acidification in Maine. The project tackles a problem that presents a unique set of sustainability challenges along Maine's coast, threatening the livelihoods of coastal communities through its current and future impacts on commercially important species such as oysters, clams and lobsters, and the delivery of ecosystem services.
Ocean and coastal acidification is primarily driven by global carbon dioxide emissions caused by human activity. However, recent evidence has made it clear that local-scale factors are also important: low alkalinity river runoff, excessive nutrients in water bodies, and the intrusion of deep ocean waters can exacerbate localized coastal acidification, and coastal Maine waters are particularly vulnerable.
Because of the many factors involved across many different scales, and because of its diverse social impacts, ocean and coastal acidification constitutes a "wicked problem" to which there are no easy comprehensive policy or social solutions. Yet we know that addressing ocean and coastal acidification—through mitigation, adaptation or remediation activities—at local scales is possible.
"This project originated from a need that was identified by stakeholders in the ocean acidification management community. It's broadly supported by conservationists, federal agencies, and scientists, and is fundamentally aligned with the Mitchell Center's mission and vision. In particular, we seek to co-create new ways to link knowledge to action, in a way that recognizes multiple viewpoints and needs."