Undergraduates Engage in Research with Real World Impact
Here we profile two undergraduate students doing hands-on research and making a difference at the Senator George J. Mitchell Center for Sustainability Solutions:
Jena Rudolph, Junior
When city officials, environmentalists, academics and waste management professionals sit down at the table to discuss Maine's solid waste challenges, UMaine Junior Jena Rudolph doesn't hang to the side taking notes. She moderates the discussion.
Rudolph is one of a large group of UMaine undergraduates engaged in sustainability-focused research through the Senator George J. Mitchell Center for Sustainability Solutions. Rudolph is in her second year working with Cindy Isenhour, Assistant Professor of Anthropology and a member of the Mitchell Center's Materials Management research team. The interdisciplinary team is working to address current and future challenges associated with solid waste and materials management in Maine.
Rudolph has been an important player at several regional meetings designed to foster dialogue between diverse stakeholders and build consensus for sustainable materials management solutions in Maine. With as many as 30 people around the table, Rudolph is right in the thick of it, facilitating information sharing, idea development and, when necessary, redirecting focus.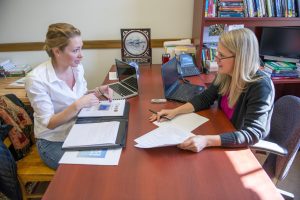 "We're trying to get them to discuss what the ideal solid waste management set up might look like. Around the table we have everyone from private solid waste managers to state representatives to haulers and composters. Everyone's been really respectful and approachable. If a case arises in which dialogue is stalled, I work to redirect the conversation back to the goal of sharing and consensus," Rudolph said
Results have been encouraging. At a June 29 meeting of 30 stakeholders that Rudolph helped moderate, stakeholders reached some early consensus points on the future of materials management in the region. Among the possibilities with the most consensus: organic waste extraction, which would route organics away from landfills to be used, instead, as nutrients for soil. Stakeholders also favored solid waste education for the general public and the support of resale shops and the reuse of existing products.
A Mainer by birth, Rudolph said she never expected to be involved in research that so directly impacted problems of urgency in her own state. She also never expected to be involved in a project focused on solid waste. Jena is one of the first undergraduates to declare a new interdisciplinary major at UMaine centered on The Human Dimensions of Climate Change.
"I'm learning about solid waste by immersion, by working with a very diverse group of academics and stakeholders who bring enormous amounts of specialized knowledge to the table. I've found it's directly connected to climate change," she said, explaining the links between waste disposal, methane emissions and climate change. "What's more, it's a chance to participate in a project that makes a difference in my own backyard."
Isenhour says undergraduate research opportunities like Rudolph's afford students a breadth of experience
"What I like about this project and others like it is that it provides undergraduates with an option to apply what they've learned and to broaden their research interests to include problems of real world significance," she said.
Allyson Eslin, Junior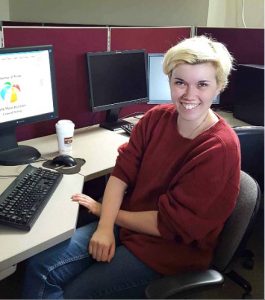 Allyson Eslin's research assistant position doesn't involve working directly with people. But she is the caretaker of stakeholder voices.
Working with Caroline Noblet, Assistant Professor in the School of Economics, Eslin has analyzed, charted, sub-grouped and culled meaning from a survey of coastal residents in Maine and New Hampshire that measured perceptions of water quality as well as coastal management and policies. Researchers want to know what value citizens place on our coastal resources.
It is an enormous job for a student who had never taken an interest in economics until she, quite accidentally, attracted the attention of one of Noblet's doctoral students a little over a year ago in an introductory economics class. Eslin was planning to work at a supermarket for the summer when Noblet came calling.
"Honestly, I didn't have the faintest idea that I would be involved in research. The opportunity literally fell into my lap. I had no experience in economics. I had maybe opened up an Excel spreadsheet five times in my life," Eslin said with a laugh. "I wanted to work in policy and intelligence. But the more I thought about it, the more a specialty in economics really fit with my intended career path."
Hundreds of spreadsheets later, Eslin and another research assistant have crunched the survey's data through multiple iterations and created a series of sophisticated graphs to accompany future publications. Eslin so impressed Noblet and colleagues, she was asked to prepare the technical report on the much-anticipated results of a wind-energy study. The report is a precursor to peer-reviewed paper submission.
Noblet said Allyson's willingness to step into new territory will pay dividends.
"Allyson takes away not only a new skill set, but the knowledge of working with a team of people and the academic references that come from that," Noblet said.
When Eslin applies to graduate school, Noblet said, "her resume is going to stand out from other students' right away because they're going to say, 'oh you were on a research team. Tell me about it.' Opportunity begets opportunity."