Sun for All, All for Sun
UMaine's Sharon Klein tracks the rise of community solar
By David Sims
Sharon Klein has had an interest in environmental issues from her middle school years right through her time at the University of Massachusetts, Amherst where she earned a bachelor's degree in environmental science. But it wasn't until Klein was teaching a high school "environmental systems" course in Ecuador that the separate education and teaching puzzle parts formed a clear picture of her future career path.
"It was in Ecuador where I began to realize how we produce and use energy was at the heart of so many major environmental issues," says Klein, now an assistant professor in the UMaine School of Economics. "So that's what I focused my Ph.D. on."
From her undergraduate years as an interdisciplinary sciences major, she knew understanding the underlying technology and policy of what drives people to make different choices was key to understanding all energy issues. So she ended up in the doctoral program at Carnegie Mellon University in Pittsburgh to study engineering and public policy.
"Carnegie Mellon was perfect for combining the two— engineering and public policy," Klein notes adding, "and economics is ingrained in both of those because if you're doing engineering you need to know how much it costs, and then of course the policy is very motivated by economics."
Her thesis was on the economic and environmental impacts of concentrated solar power with thermal energy storage—the latter being a means of saving solar energy for use later. Today, Klein has a particular focus on "community energy" movements, and community solar efforts even more specifically.
She also has expertise in hydropower energy issues and is a member of the research team for the New England Sustainability Consortium's Future of Dams project led by UMaine's Senator George J. Mitchell Center for Sustainability Solutions.
"Community energy is a growing movement in the U.S. and around the world," Klein noted in a paper she and her graduate student Stephanie Coffey recently published in Renewable and Sustainable Energy Reviews. "People are adopting sustainable energy technology and strategies (renewable energy, energy efficiency, conservation) in groups and/or on shared property, in contrast to traditional individualistic adoption."
Although many studies have been published in the last decade and a half to try to understand this growing movement, the recent paper, "Building a sustainable energy future, one community at a time," is the first to review these studies and characterize the state of U.S. community energy.
Klein has been working on community energy issues for just two years and notes that the nascent field is still relatively undefined.
"You'll see 'community energy' or 'community solar' pop up in the headlines and there's quite bit of research coming out of the United Kingdom because the U.K. had a policy that was driving a lot of the community energy work. So there's a lot of academic literature in the UK focused on what's happening in community energy but not much in the U.S. looking at the overall picture," Klein says.
Through their research looking at all types of community energy and efficiency projects, Klein and Coffey ended up with a database of nearly 6,000 projects across the U.S. and they quickly realized they would need to tighten their focus to come up with something meaningful and manageable.
"We were looking at anything with a community element—projects where it wasn't just one person or one company but, rather, a group of people or a church or school or municipal government. But we found there were so many different types and it was so spread out that it was hard to find good sources of data," Klein says.
So they began to focus on renewable energy only and found that solar dominated the community renewable sector. "There was so much going on with community solar and that's what we concentrated on," Klein says.
Not long thereafter, the White House put out a call for a National Community Solar Partnership whose mission would be to leverage the momentum in the public and private sector to expand solar access to new markets (demographic and geographic) and convene relevant stakeholders to assess market barriers and catalyze deployment in low and moderate income communities.
Klein is a member of the partnership, which is lead by the U.S. Department of Energy. UMaine, the University of Houston, and University of Minnesota are the three academic partners. Additional partners include federal, state, and tribal government organizations, utilities, nonprofits, and industry.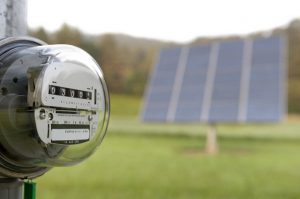 "As partners we've had a series of conference calls and on the first one we asked, 'What do we mean by community solar?'" Klein recalls. "Do we mean people who purchase a solar farm together, that is, a group that buys into a solar array and shares ownership of this larger array than what they would normally put on their house?"
But there are also "solarize campaigns" in which individuals who want to put solar on their individual properties band together to get a discount on installation. And other community approaches include municipalities putting solar panels on municipal buildings, and K-12 schools, churches and other nonprofits installing solar panels on their respective buildings.
Although different organizations define "community" differently, Klein says, "We put all of those under our definition of community solar because we're looking at projects that bring people together and aren't just in isolation."
As for the nearly 6,000 community energy and efficiency projects Klein and Coffey identified, Klein is currently building a database of U.S. community-based renewable energy projects.
"It will be publicly available via the Internet so people can search it and learn about the different projects going on around the country," Klein says. "I hope people will be able to connect, learn from each other, and help projects develop. There's a lot of learning that has to happen with these solar projects, especially to the extent that they're typically from the ground up rather than top down."
The rise of solar
Solar energy really took off beginning in 2008 when prices of solar arrays started to decline drastically. And in the last four to five years community solar has been increasing. According to Klein, the National Renewable Energy Laboratory has been seeing an exponential growth pattern for solar farms.
"And the same thing has happened with solarize campaigns, which started around 2009 in Oregon and have now spread around country," says Klein.
Maine's first attempt at this was the Freeport Solarize Campaign in the summer of 2015. The current Solarize Freeport 2.0 is a continuation of the 2015 initiative and now includes Durham and Pownal residents. Solarize campaigns reduce the cost of solar energy equipment for residents by encouraging enough people to sign up so a town can qualify for bulk pricing.
Nationally, Massachusetts currently leads the way in solarize campaign programs in part because the state has a very progressive renewable portfolio that puts a premium on solar, "which drives a lot of investment in community solar farms because you get economies of scale," Klein notes. Massachusetts also defines a "community" solar farm as having a minimum of ten residential customers.
"In Maine we have a maximum of ten per solar farm, which really limits our ability to get better economies of scale and makes our projects more expensive," says Klein. In mid-April, a bill that would have greatly expanded Maine's fledgling solar industry was passed by both houses of the State Legislature (Klein published an article about the legislation in the Bangor Daily News on April 28). Among other things the bill would have removed the ten-resident limit for solar farms. But in the end, the votes needed to override the expected veto of the bill by Governor LaPage could not be mustered, falling only three votes shy of the 96 required.
Reducing Heat Loss in Maine Homes
On a more positive note, Klein points to a unique energy efficiency program she and some of her students have been involved with. Started in 2008 out of Rockland, the nonprofit Window Dressers program creates inexpensive, customized window inserts that go inside window frames and provide an extra layer of insulation.
"We did a pilot course this past fall with funding help from the Mitchell Center to do this work as a student-run research project," says Klein. The Mitchell Center's stakeholder-engaged, solutions-driven, interdisciplinary research approach was a perfect fit for the project.
"Ten students, in collaboration with Window Dressers, built window inserts for customers in the Bangor-Orono-Old Town area and then did a research project that investigated how many other social movements like this there were around the country and how much energy they saved. We couldn't find any other similar programs, so it seems pretty unique."
Klein's master's student, Daniel Mistro, is working on calculating the energy savings from the window inserts built for people in the Bangor-Orono area. Mistro and Klein are also currently in the planning stages of another student insert build for the fall 2016 semester.
"It's just such a great example of people coming together to solve an energy problem. It's such a simple technology, you don't pay very much for the inserts, which pay for themselves within less than a year via the energy saved." Klein adds, "And there's the community element as well, where people are learning from each other, creating a greater sense of community, and learning a new skill. It's win-win."
Mistro came to UMaine after graduating in 2015 from Illinois State University specifically to work with Klein because there are so few economics programs focused on energy issues.  As part of the effort to estimate the energy savings from last year's window insert build, Mistro and Klein are taking a simple model developed by one of the students in the fall energy course—Stanley Peterson, who is also a teacher at Old Town High School—and developing it further so they can use it to project potential energy savings for customers who install the inserts.
"The goal of the model is to be able to go into a house, take a few measurements such as the square footage, assess the amount and quality of insulation and calculate what we think your savings will be for the heating season," Mistro says.
After surveying last year's participants, Mistro notes that most people have changed their behavior with respect to heating their homes by leaving their thermostats at a more constant temperature because they are more comfortable or setting their thermostats higher than previous years because they are loosing less heat.
Mistro says the fall 2016 Bangor-Orono-Old Town window insert build still has a number of spots open for people who would like the inserts installed in their homes. More information can be obtained by emailing Bangor.WindowDressers@gmail.com.