Spencer Meyer and Advisors Win President's Research Impact Award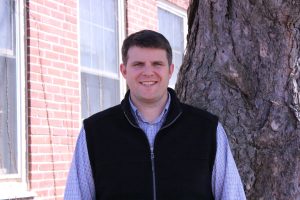 Spencer Meyer, a Sustainability Solutions Initiative (SSI) doctoral candidate in UMaine's School of Forest Resources, along with faculty advisors Rob Lilieholm and Chris Cronan, has been awarded the 2014 President's Research Impact Award for the development of a sophisticated online mapping tool that allows Maine communities to visualize future landscape scenarios in localized areas.
A member of SSI's Alternative Futures Team, Meyer led the development of the Maine Futures Community Mapper (MFCM) over four years with team leader Lilieholm, Associate Professor of Forest Policy, Cronan, Professor of Plant Biology and Ecology, and Michelle Johnson, an SSI doctoral candidate in UMaine's Ecology and Environmental Science program. The groundbreaking tool will allow town planners, conservationists, developers, and the general public to better understand and manage community assets – both in terms of conservation and economic development – now and in the future.
"Spencer's innovative, award-winning research epitomizes the statewide mission of Maine's flagship university, and its impact on the quality of life and place in the state," says University of Maine President Paul Ferguson. "His Maine Futures Community Mapper has the potential to be an important, practical tool in land use and sustainability research. Such forward-thinking research by Spencer and his faculty advisors, Rob Lilieholm and Chris Cronan, is at the heart of the President's Research Impact Award."
Meyer, Lilieholm and Cronan received the award at the April 4 Grad Expo Award Ceremony. It is given annually to the graduate student and advisor(s) who best exemplify the University of Maine mission cornerstones of teaching, research and scholarship, and outreach.
"Being recognized by President Ferguson and the University of Maine community for the impact of our research is a special honor for our entire team. Through our work with SSI and many of our partners around Maine, we strived to develop a research-based tool that empowers Mainers to envision the future of their communities. We are proud to have such a strong endorsement of our approach to linking scientific knowledge with on-the-ground action," Meyer says.
The MFCM is a web-based tool that helps Mainers:
Identify locations that are most suitable for development, conservation, agricultural uses, or forestry.
Identify potential conflicts and compatibilities between different land uses.
Envision future landscapes under different possible scenarios.
The tool was developed with the belief that Maine's most important asset is its exceptional quality of place and that our communities are at the heart of that asset. The goal is to help ensure a future in which Mainers can count on vibrant communities with vital economic development and a sustainable natural resource base.
Since 2010, the team has involved over 75 community stakeholders in the process of creating the MFCM, including policy makers, conservationists, farmers, foresters, business leaders, and scientists. Meyer and his team partnered with the Center for Community GIS in Farmington, Maine, and GreenInfo Network from San Francisco, California, on the technical development of the website. These community and business partnerships are representative of SSI's mission to examine the intersecting ecological, social, and economic dimensions of landscape change, with the goal of promoting economic development while protecting ecosystem health and fostering community well-being.
Adds Lilieholm, "Our work seeks to help landowners, businesses and residents better understand their lands and communities as well as factors affecting change. Our hope is that such information will lead to improved land use decisions that maximize the impact of new development and foster landscapes and communities that better meet the needs of Maine residents – both today and long into the future."
The Maine Futures Community Mapper is available for public use at: www.MaineLandUseFutures.org.
Meyer, who has been at UMaine for 12 years as both a student and staff member, has been accepted into The Nature Conservancy's (TNC) NatureNet Fellows Program and will begin a two-year fellowship at Yale University's School of Forestry and Environmental Studies this fall. Meyer will work together with Yale and TNC colleagues to address questions about how to prioritize future conservation efforts to sustain the environmental and economic benefits of utilizing forests as natural infrastructure.
Supported by National Science Foundation award EPS-0904155 to Maine EPSCoR at the University of Maine and the Elmina B. Sewall Foundation.