High School Students Brave Cold, Snow to Gather Important Snowpack Data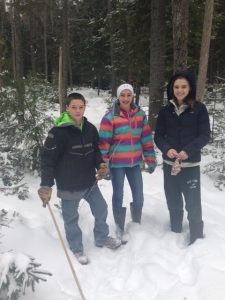 Diminishing snowpack in Maine is a very real repercussion of global climate change. From maple syrup production to animal food availability to fresh water resources, the phenomenon is not going away, scientists say. But right now, outside Old Town High School in 15 degree cold, it's come down to "the tube".
"Hold on, hold on. Who has the tube? Where's the tube," asks a shivering Oliviah D'amboise, 14. Failure to find it could mean a cold trek out of the snowy woods and back into the school to retrieve equipment.
Turns out freshman Dakota Madden, 14, has plunged the clear plastic cylinder into a days-old snowpack: "I've got it. Six inches!" he calls to Oliviah and their partner, Natalie Swift, 15, both of whom are also freshmen. "Did we get everything," he asks dumping snow from the tube into a plastic bag, which they will take back to a science lab to measure its mass.
Dakota, Oliviah and Natalie are among 300 students at 13 high schools collecting a wealth of data on Maine's snowpack, valuable scientific measurements that are fed into a national database tapped by scientists. The project is part of the Acadia Learning Program, a joint venture of UMaine's Senator George J. Mitchell Center, the university's School of Forest Resources and the Schoodic Institute at Acadia National Park.
The program has been in place since 2007 and has included research on mercury concentrations in dragonfly larvae that has expanded to 50 national parks and schools throughout the Northeast. The snowpack project is collecting important data not available elsewhere, program coordinators say. Though the National Weather Service (NWS) and U.S. Geological Survey (USGS) record snowpack measurements, they only do so in open areas. Some Acadia Learning Program students compile data from forested areas – a vital contribution since Maine is 90 percent forested. They measure depth, snow-water equivalent, and duration of snowpack plus additional datasets based on their interests.
"Students develop background understanding about weather and climate, create hypotheses, develop a collection strategy, collect data, and analyze them," said Sarah Nelson, Associate Research Professor at the Mitchell Center and UMaine's School of Forest Resources as well as the Principal Investigator of the Acadia Learning snowpack project. "We discovered that students learned a lot through hands-on field investigation and authentic data collection and analysis."
Several times a week, three- and four-person teams from Ed Lindsey's earth science classes head out into the forested areas surrounding the school to amass data from six sites. They use a variety of tools to record soil temperature, wind speed and more. The students chart their measurements on a large group calendar using color-coded stickers. A successful mission earns them chocolate and credit toward community service hours.
Lindsey hopes the work is about more than that. The data so painstakingly collected by his students is being fed into the national Community Collaborative Rain, Hail & Snow Network (CoCoRaHS), a non-profit, community-based network of volunteers collecting high-quality precipitation data, of a scale that would be difficult to produce in a typical university or agency research project. The detailed data could build a foundation to help researchers answer questions about plant and tree cycles, animal food and migration changes, as well as information on the availability of fresh water from snowmelt.
"What might seem to them to be a pile of numbers is a data set that brings up important questions about things that matter," Lindsey said. "I hope it demystifies science."
Last year, a smaller group of students gathered at the Mitchell Center to share snowpack data and discoveries. Other participating schools presented their research within their school or in a public forum, with Acadia Learning collaborators joining online. Program coordinators are working on ways for students to share their data, an important component as the teens learn to view science less as a classroom lesson and more as a living, breathing entity.
"Doing the research makes science a hands on process, something that you have to think about yourself, something that's not just presented to you," said Hannah Webber, Schoodic Institute's Education Research Manager. "It gets them thinking about how science is created, about how it's a collaborative and complicated effort."
Lindsey's gang of three who headed out to take measurements on that recent cold afternoon are still trying to wrap their minds around the importance of their careful measurements.
They come in from the cold to calculate the density of a snow sample and talk about the work. All three have stayed after school to do the data collection.
Dakota Madden says he doesn't know much about the impact of changing snowpack in Maine, but the possibility of slower maple syrup production due to warmer ground temperatures hits closer to home.
"I love to go out and get maple syrup with my friend who has a tap in a tree," he says. "I actually don't like the syrup that much but I love going out to collect it."
Says Natalie Swift: "It's fun to go out and get some data once in a while… but I'm not a big fan of the cold."
The Acadia Learning Program involves additional entities including: UMaine's Climate Change Institute, UMaine's Maine Center for Research in STEM (Science, Technology, Engineering and Math) Education (RISE Center), Maine Sea Grant, the USGS, and NWS. The snowpack project is funded by the National Oceanic and Atmospheric Administration (NOAA) through the Bay Watershed Education and Training program (B-WET).