Maine Sustainability & Water Conference
Thank you to all who attended the 2018 conference. A list of student poster winners is available and concurrent session Power Point presentations have been posted where available.
2019 Maine Sustainability & Water Conference
Mark your calendars for the 2019 Maine Sustainability & Water Conference which is scheduled for Thursday, March 28, 2019 at the Augusta Civic Center, Augusta, Maine.
If you are interested in chairing a session at the 2019 conference, please contact umgmc@maine.edu and let us know what topic you are interested in addressing.
Please subscribe to our News & Events email list for regular updates about next year's conference.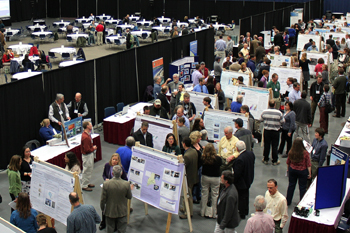 About the Conference

The conference was launched in 1994 by the Senator George J. Mitchell Center at the University of Maine with a primary focus on one of Maine's central challenges– the future of its water resources. Originally designed to provide a collaborative nexus for water resource professionals, researchers, consultants, citizens, students, regulators, and planners to exchange information and present new findings on water resource issues in Maine, the conference has grown to include participation from a broad audience of close to 400 participants from across the state.
In response to many requests, the conference's focus has expanded to encompass a wide range of sustainability challenges facing Maine, including issues related to climate change, energy futures, agriculture, forestry, fisheries, tourism, and municipal planning.