Connecting community and classroom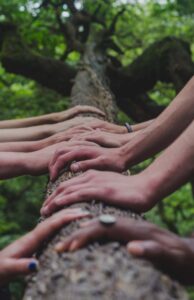 Community-based learning helps to build partnerships that link learning with community needs.
January 2021
Research done to increase knowledge is valuable, but in today's world where we face many urgent, complex problems, universities also have a crucial role to play in connecting knowledge with action that benefits communities.
Community-based learning (CBL) and related approaches such as service learning can help faculty and students engage in research that builds and nurtures partnerships, working closely with stakeholders to identify community needs and strategies to work toward solutions.
But integrating CBL in courses presents many challenges for faculty and students, from how to find a "right-sized" project and work across areas of expertise, to identifying and connecting with community partners, to adapting CBL to online or hybrid learning environments.
Through a workshop in July 2020, Linda Silka, Lois-Ann Kuntz, and Edward Laine brought together their decades of experience in CBL to train faculty and graduate students who want to incorporate this kind of learning in their courses. The workshop was held via Zoom and included a focus on integrating CBL in traditional classroom, remote instruction, and hybrid learning environments—important for adaptability in any times, and essential now due to COVID-19.
During the fall 2020 semester and beyond, workshop participants are applying what they've learned in the courses they teach.
Linda is a social and community psychologist who has focused much of her work on building and leading community-university partnerships. She is also a Mitchell Center senior fellow who works with research teams focused on a wide range of projects including economic and community development in rural Maine, materials management, and climate equity. Lois-Ann is professor of psychology at UMaine Machias and a recognized leader in community-based learning. Ed is associate professor emeritus of earth and oceanographic science at Bowdoin College and an adjunct instructor at UMaine Machias, with extensive experience in service learning and civic engagement. Together, Linda, Lois-Ann and Ed have helped hundreds of students and faculty adopt community-based learning in the classroom.
The workshop drew participants from a wide range of academic fields including marine science, engineering, anthropology, technical writing, business and Maine studies. About two-thirds were faculty and one-third graduate students. The University of Maine System Office of the Vice Chancellor funded the workshop.
Finding common ground
In the workshop, participants learned strategies for building courses that help their students gain content knowledge but also think about how they might work with community partners in mutually beneficial ways. "We ask ourselves, 'what do our students need to learn, what's the community interested in, and how do we find that common ground so our students are better off and can use what they're learning, and the community is better off?'" Linda says.
Brieanne Berry, a doctoral student in anthropology at UMaine, took the workshop hoping to apply the training in a class she taught last fall at College of the Atlantic, The Social Life of Waste. "I wanted to thread components of [CBL] into my class," she says, "but I wasn't sure what that looked like or how to get started." Before the workshop, she imagined that community-based learning would involve her students going out into the world and doing projects—which is especially challenging during the pandemic. As she applied the training in her class last semester, however, she started to view CBL as "more of a relationship between community and classroom" that can take many forms. She sees CBL as a way for students to realize that their work is not just for class, but can also be useful to others.
Rachel Schattman was looking for CBL tools such as checklists and benchmarks, as well as guidance from experienced practitioners on how to adapt CBL to a wide range of situations—and got both from the workshop. Rachel is assistant professor of sustainable agriculture at UMaine, a Mitchell Center faculty fellow, and an associate of the UMaine Climate Change Institute. She is using the CBL training to lay the groundwork for integrating service learning in a senior capstone course she's teaching in spring with students who are in their final year and eager for real-world experience. She is working with community partners to set up placements for students, such as creating outreach materials for farm businesses, and the response has been so positive that she has twice as many opportunities as students.
"I keep thinking about university-community partnerships, and ways of not just giving back to stakeholders but creating these relationships with them that are mutually beneficial … a way of maintaining those relationships and continuing that reciprocity."

-Brie Berry
Working together
Rachel describes a shift in how land-grant universities, such as UMaine, approach working with the wider community—from the university as provider of knowledge to university and community working together. "The way it works now, for example in agriculture, is that farmers are experts—in their place, in their systems, in their local knowledge and know-how. And we are holders of a different body of knowledge. It's more of a collaborative relationship and I see community-based learning as a way to feed into that relationship."
Community-based learning is a practice that closely aligns with the Mitchell Center's mission of working in collaboration with diverse stakeholders to identify problems and seek solutions, connecting knowledge with action.
"Maybe [CBL] is a natural extension of the way I think about what the Mitchell Center does," Brie adds. "I keep thinking about university-community partnerships, and ways of not just giving back to stakeholders but creating these relationships with them that are mutually beneficial … a way of maintaining those relationships and continuing that reciprocity."
---