Coming home to help 'craft the best possible future' for Maine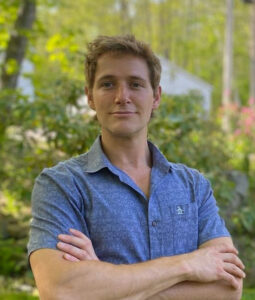 From ocean acidification to climate adaptation, Parker Gassett works with Maine communities to build resilience in the face of change.
August 2021
Parker Gassett grew up in Camden, Maine, but like many young people he struck out for new horizons after high school and left the state for college. After finishing an undergraduate degree in environmental biology at Beloit College in Wisconsin, he worked for the AmeriCorps Conservation Corps for two years in Montana, then Ocean Classroom, and later Outward Bound Schools in Colorado and Maine. Each program shared a common focus on environmental leadership. He decided to return to his home state, choosing the University of Maine as the platform for his interests to evolve.  
As an undergraduate, Parker had learned about ocean acidification through a research project on how changes in ocean acidity levels affect marine pteropods—tiny swimming sea snails—in a Sea Education Association program.  
Ocean acidification, the lowering of seawater pH that's caused by increasing amounts of carbon dioxide, can lead to a host of problems—including damaging the shells of clams and other shellfish and even dissolving the shells of juvenile organisms. It's a major challenge in Maine where shellfishing is an important fishery and a cornerstone of economic and cultural life along the coast. 
"What interested me most is how broad-reaching and relevant this type of issue is for so many different communities—both environmental and human," he says. 
The way home
Parker credits Esperanza Stancioff, an extension professor and climate change lead for UMaine Cooperative Extension and Maine Sea Grant who has long worked on ocean acidification in Maine, as a mentor and major influence in his decision to join UMaine for his graduate studies. 
While he was preparing for graduate school, there was a lot of momentum in Maine on ocean acidification with a focus on grassroots, collaborative work at the community and state level. The Maine Ocean and Coastal Acidification Partnership (MOCA), a network of scientists, educators, conservation organizations and industry members, was formed in 2016 to implement the recommendations of a statewide commission on the effects of ocean acidification on shellfish and coastal communities.
"I've found my work to be much more meaningful when I think of my role as less of an advisor and more of a peer partner. The knowledge and know-how of public officials and engaged citizens is remarkable and essential. Collaboration is about bringing everyone's skills together."

–Parker Gassett
Through his connection with Esperanza and with Aaron Strong, then an assistant professor of marine policy at UMaine and a Mitchell Center faculty fellow, he joined ongoing statewide and community-based work on ocean acidification, including with MOCA and the Climate Change Adaptation Providers Network. These experiences made it clear that working at the community level to identify and understand stakeholders' questions and needs, and seek solutions collaboratively, was the best way forward.
From ocean acidification to climate adaptation and resilience
Parker joined the Mitchell Center project Ocean and Coastal Acidification in Maine as a Ph.D. student and continued this focus in his recently completed doctoral studies. He can trace a thread from his work on ocean acidification to his current role as an extension professional with Maine Sea Grant, coordinating efforts on climate resilience at the community level. 
"What we have now is a lot of information on climate change hazards, and forecasts of how those hazards might play out," he says. "But that's very different from thinking about how communities can plan and prepare, and use the assets and resources they have now to craft their best possible future in a changing climate."
His work with communities explores these hazards, including sea level rise and flooding, stormwater management, salt water intrusion, and various pressures on natural and human communities from more extreme and variable storm and temperature patterns. He also focuses on helping communities to get the technical support, funding and financing they need to adapt to changing conditions.
"I've found my work to be much more meaningful when I think of my role as less of an advisor and more of a peer partner," he says. "The knowledge and know-how of public officials and engaged citizens is remarkable and essential. Collaboration is about bringing everyone's skills together."
He often hears from communities about the challenges of balancing longer term climate adaptation with the urgent day-to-day needs of running a town or city, given limited resources and capacity. 
He notes that "municipalities are really attuned" to the impacts of climate change. "They see it in erosion and damage to roads, calls from residents about water flooding from ditches," he says. "These impacts aren't always called climate change at town meetings, but there is growing awareness and preparation for a new normal." As part of his Sea Grant work, he's helping communities integrate climate resilience and adaptation into their existing projects and priorities. His role on the Mitchell Center project, Collaborating Towards Climate Solutions, also provided funding to assist in these efforts.
Connecting science with real life
"I'm so impressed with how practical and engaged the research community at UMaine is, really solving problems for people in Maine," Parker says. When he was considering UMaine for his graduate studies, he found that the faculty members and research efforts that most interested him shared a connection with the Mitchell Center. 
Learning about Mitchell Center research "helped orient my understanding of the role of science in human life," leading him to a 'light bulb' moment of realizing that what he'd always loved about science was its ability to embrace complexity, seek solutions and implement them in the world. In the Mitchell Center, he's found a place where researchers rise to the challenge of really tackling complex problems and connecting knowledge with action.
"The context and culture of the Mitchell Center offers researchers more confidence to pursue exploratory, collaborative work where your success is measured in the betterment of people and their communities, even when your contribution to academic literature may not fit a tradition of hypothesis, methods and results," Parker says. 
"The Mitchell Center really allows that kind of innovation and collaboration to have breathing room." 
---