Challenges and change: Cultivating resilience in rural communities
September 2020
Adam Daigneault was born and raised in midcoast Maine but traveled halfway around the world to find the direction and tools for his current research, focused on helping rural areas assess and increase their resilience in the face of economic and community changes.
During a stint doing research in the wake of natural disasters in Fiji several years ago, Adam conducted surveys to understand how communities coped with and adapted to major disruptions. He returned to Maine in 2016 to take a position as assistant professor of forest, conservation, and recreation policy at UMaine, and became a faculty fellow at the Mitchell Center for Sustainability Solutions. In conversations with Mitchell Center Director David Hart, Adam wondered if the research approaches he'd used in communities shaken by natural disasters could also be applied in communities experiencing economic shocks.
Around the same time, community leaders in the Katahdin region of Maine were grappling with the decline of papermaking—which had long provided a strong economic base for the area, drawing from the region's abundant timberland—and the final closure of the Great Northern Paper mill in 2014.
Movement from within
For decades, papermaking provided good jobs that allowed people to raise families, own homes, and put down roots. The industry was important not just for the Katahdin region's economy, but for its social and cultural identity.
As the papermaking industry declined in the region, town leaders, community organizations and residents worked to help the area cope with the many changes they faced.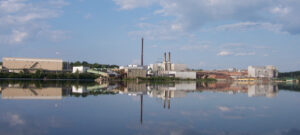 In the wake of mill closures in Millinocket and East Millinocket in 2008 and 2014, and the ensuing economic and social distress, community leaders knew they needed to do something different. In 2015, they came together and formed the Katahdin Collaborative to share resources and coordinate efforts.
After reading an OpEd in the Bangor Daily News in March 2016, Jessica Masse of Katahdin Revitalization Group, a member of the Katahdin Collaborative, reached out to Linda Silka to see how community leaders in the region might connect with expertise and assistance at the Mitchell Center and UMaine. Linda is a Mitchell Center senior fellow with extensive experience in community development and cultivating partnerships between universities and communities.
That connection led to conversations, visits to the region, and meetings, with an emphasis on listening to what communities in the region needed, and how the Mitchell Center and UMaine could help. Adam Daigneault joined the conversation and the development of the Katahdin Indicators research project was underway.
The impetus for the research, Adam notes, came from within the region, its leaders and residents. He says people realized that "if you want to create change, you have to take charge from within."
How can resilience research help communities experiencing dramatic changes?
Resilience can be defined as "an ability to recover from or adjust easily to misfortune or change." Economic and community resilience have been studied in places that have suffered natural disasters such as an earthquake, hurricane or forest fire, to help to lay out a region's strengths, resources, and areas that need the most support or assistance.
Social and economic indicators—such as poverty and education levels, median age, the value of an area's housing stock—are commonly used to measure economic and community resilience. These indicators provide a snapshot of the status of a community—a baseline from which to measure future progress and areas for improvement.
Adam assembled a team and began a study of resilience indicators in the Katahdin Region in the summer of 2017. He worked closely with community development groups, officials from eight regional towns (East Millinocket, Island Falls, Medway, Millinocket, Mount Chase, Patten, Sherman and Stacyville) and community leaders.
One particularly important finding from the research, especially the surveys, notes Lucy Van Hook of Our Katahdin, is that there is support for outdoor recreation as an economic driver, in addition to forest products—and that the two can coexist.
Together, they developed a two-part approach that included compiling data on the indicators, and conducting surveys to gain a better understanding of how residents view the region and potential paths forward. The data came from publicly available sources and was compiled in a format that could be readily shared and updated. The surveys were done in-person, by mail, and online. Survey results were analyzed to assess the potential for conflict among residents of the region.
Lucy Van Hook, director of community development for Our Katahdin, one of the founding members of the Katahdin Collaborative, appreciates how engaged Adam and his team have been with stakeholders throughout the project, from design to developing methodology and tools to carrying out the research She describes the process as "very iterative."
Adam and the research team presented their findings at a series of community meetings, and in one-on-one discussions with town and community leaders. They created fact sheets summarizing data for each town, handed them out at meetings and posted them online. Adam also encouraged people to contact him about data needs and uses.
Seeing the present, planning and building for the future
The indicators data sketched out a sobering picture of the current state of the region. Towns in the region fell in the bottom 25% in Maine in terms of the social and economic indicators that were studied. Property taxes were some of the highest in Maine, due in large part to the loss of tax base from the paper industry.
Surveys filled in the picture, showing that residents recognized problems, assets, and opportunities in their communities—and that they are committed to the region.
The surveys "indicated that people are generally optimistic about the future, but there is potential for conflict about what that future could or should look like," Adam says. Most recognize the need to diversify the economic base, including both outdoor recreation and forest products.
Deep roots, new growth
Peggy Daigle's roots go deep in the Katahdin region, and she's held positions in civic leadership around the region for decades. Her husband worked at the Great Northern Paper mill for more than 40 years, and she also worked there for a few years before they started a family.
Peggy witnessed the days of prosperity and she's seen and experienced the upheaval brought by papermaking's decline. Now she's a leader in efforts to help the region move toward greater resilience.
"To pull ourselves out of this hole," she says, "we have to look at all the aspects—housing values, unemployment, tax rates, education, and more." The data compiled in the Katahdin Indicators research "gives leverage by showing 'this is where we're at, and how we compare'" with other places in Maine, the state as a whole, and the country.
The research "strengthened our toolbox," especially with fundraising, adds Lucy Van Hook of Our Katahdin. Municipalities and organizations in the region have used the data in pursuing a wide range of grants, from large-scale federal funding to grants from private foundations. She also notes that the funding success rate has increased since the indicators research findings have been available.
Charting new pathways: Support for outdoor recreation and forest products
As communities in the Katahdin Region weigh options and make decisions to move toward greater resilience, there are differing views on which paths to take.
"It seems that most people are in favor of some way to diversify the economy, some way to keep aspects that have historically driven the region," Adam notes, "but there's also openness to finding new pathways."
Lucy Van Hook notes that one particularly important finding from the research, especially the surveys, is that there is support for outdoor recreation as an economic driver, in addition to forest products—and that the two can coexist.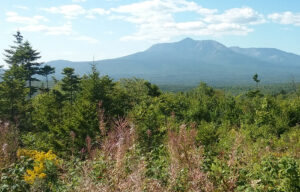 The region is rich in natural beauty and outdoor recreation opportunities, from hiking and camping to kayaking and swimming to cross-country skiing and snowmobiling. The Debsconeag Lakes Wilderness Area, Penobscot River Trails at Grindstone, Katahdin Woods and Waters National Monument, and of course Baxter State Park, are just a few of the places that draw visitors for a wide variety of activities.
Tamara Lee Pinard, community initiatives manager with The Nature Conservancy in Maine (TNC), says that findings from the Katahdin Indicators research have fed into TNC's focus on cultivating outdoor recreation in the region to support economic resilience. TNC was one of the early partners in the Katahdin Collaborative and Tamara has been engaged in gathering community input.
'Shortening the distance' between the Katahdin Region and Orono
Stakeholders in the region appreciate the way the research has helped "shorten the distance" to UMaine, says Lucy Van Hook. Organizations and individuals have developed and strengthened relationships with the Mitchell Center and other UMaine research centers since the Katahdin Indicators project began.
She says that the Mitchell Center "has been a great partner," providing funding for graduate students to do research and bringing together different types of expertise, and that tapping into these connections has lent credibility and objectivity to the research findings. "Having independent, trusted, experienced researchers produce these reports was really important," she notes. The research, and connections made, she says, have helped people in the region realize that "Orono is very close."
Funding for this project has been provided by The Nature Conservancy and the Mitchell Center for Sustainability Solutions at the University of Maine.
Student experience: Helping rural communities thrive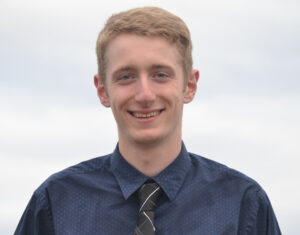 After a stint banding birds in a salt marsh as a freshman, UMaine master's student Joey Reed realized that his interests leaned less toward the biological and more toward the social sciences. He began to shift his focus to economics, which he calls a discipline that can "bridge the gaps between the natural and social sciences."
Joey also wanted more of a focus on sustainability, and was especially interested in economic and community development in rural communities. He's from Maine, and his dad grew up in Calais.
In his junior year, he was looking for an opportunity to get involved in economics research, and Adam Daigneault hired him to work on the Katahdin Indicators project. He dove in, working on survey design, data collection, statistical analysis and conducting in-person surveys.
Talking with people and interacting with local residents in the Katahdin Region was one of the highlights of the research for him. "Some people were really passionate about it," he says. "I wish I could have made it up there more."
Joey received a B.S. in Economics and Ecology & Environmental Sciences from UMaine in spring 2020, and is now pursuing a master's in resource economics and policy, also at UMaine. He wants to do more research around economic and community resilience, and how to help rural communities thrive—in part inspired by his experience on the Katahdin Indicators project.