Hannah Crayton: Seeking solutions to Maine's food waste challenges
This Thomas College senior with a major in environmental science and a minor in education works with stakeholders to raise awareness and inspire action on food waste.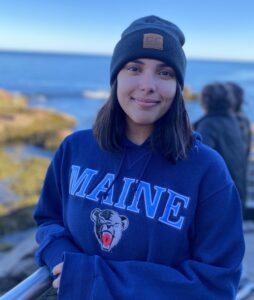 Why are you interested in food waste and/or sustainable solutions?
I am interested in food waste because it's a problem that affects all people, and everyone can do their part and get involved to solve the food waste problem, too! I enjoy being an advocate for the planet and bettering the environment for future generations as well. Earth stewardship is very important to me and one way to attain that is through sustainable solutions like the ones we've identified at the Mitchell Center.
How did you get involved in the Mitchell Center food waste project?
I have a professor at Thomas College who's been a mentor to me, and he introduced me to Susanne Lee and the food waste project at the Mitchell Center. After reading the job description and interviewing with Susanne, this project seemed like the right fit for me. 
What do you feel are the most important academic or personal skills that you bring to your multidisciplinary student research team?
I think my education background has definitely helped me bring key communication skills to the multidisciplinary team. I think strong communication is super important when working in a team setting like this one. I also think my Environmental Issues class helped me conceptualize the triple-bottom-line solution strategy that we follow. Every solution we come up with has to follow the "Three Ps": people, planet, and profit. It must have a favorable impact on the community, the environment, and the economy. 
What are the most important things that you are learning through your participation on this project?
I think the most important thing that I'm learning is how to work with stakeholders. Learning how to work in a team setting is also really important because we'll all have co-workers in the future and figuring out how to communicate and accept ideas or suggestions from other people is instrumental. I'm also learning a lot about food waste and marketing through the communication team I'm part of. 
How is working on this project enriching your studies, or vice versa?
I can apply most of my course material to the work that I'm doing with the Mitchell Center. On many occasions I've used this project as an example in my Management Principles and Macroeconomics classes. Similarly, this food waste issue also introduced me to regenerative agriculture, which I talk about often in my environmental  classes. 
How do you like to spend your free time?
I enjoy being outdoors as much as possible! I love a good hike or practicing yoga outside, but I also enjoy binge-watching my favorite Netflix shows.