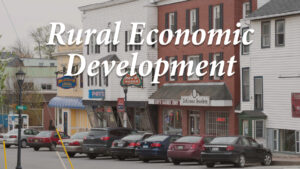 Speakers: Vicki Rusbult and Lee Umphrey, Eastern Maine Development Corporation (EMDC)
Eastern Maine Development Corporation, a Maine designated economic development district, has developed a new model of economic development. Economic Opportunity Response Teams (EORT) components enhance traditional technical assistance services by fostering fully integrated, collaborative relationships with businesses, communities, and individuals. The process is enhanced by creating Targeted Development Roadmap that support client-specific and long-term partnerships.
Lee Umphrey, President and CEO, EMDC
Following decades of professional experience connecting people and communities with programs and resources at local, state, federal and international levels of government, Lee Umphrey joined EMDC as President and CEO in October of 2018.
Lee began his career in Washington, D.C. at the Library of Congress. While employed at the institution's Congressional Research Service, he learned the value of research and gained an appreciation for the consequential role of information dissemination in creating opportunities. As a staffer for several subsequent years with U.S. Senator Claiborne Pell, Lee developed the foundation for what would become a career-long emphasis on successful interactions with Capitol Hill, federal agencies and international entities.
Throughout his career, Lee has focused on education, healthcare and workforce needs as well as community and economic development, to create, reinvigorate and promote sustainable initiatives through legislative action and access to state and federal programs. As Vice President and Interim Executive Director of Math for America, he directed a congressional process establishing a national math and science corps that became public law.
Vicki Rusbult, Director of Community Initiatives, EMDC
Vicki joined EMDC in 2010, and has more than 38 years' experience in project and grants development and management in the fields of transportation, economic development, community planning, cancer research, primary care research, and healthcare. Vicki oversees community and regional economic activities and provides technical assistance for comprehensive planning, community development, writing and publication of the regional Comprehensive Economic Development Strategy (CEDS), and infrastructure planning and development. She has a Doctorate of Education/Educational and Transformative Leadership from the University of New England and a Masters' in Public Administration from the University of Maine.