This talk is available via Zoom. Registration is required due to security concerns. Please complete the registration form to receive the Zoom connection information.
For those who aren't familiar with the word play, check out the original Schoolhouse Rock: Grammar – Conjunction Junction Music Video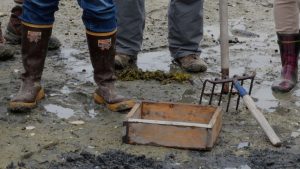 Speakers:
Lauren Ross, Assistant Professor, Civil and Environmental Engineering
Sean Smith, Associate Professor, Earth & Climate Sciences and Mitchell Center for Sustainability Solutions
A grand challenge of coastal pollution management is the development and application of useful ways to approach functional biophysical relations and effectively communicate observed coastal patterns to diverse groups of people that often connect parts of a story, events, and decisions in different ways. Our research to frame solutions to pollution problems affecting shellfishing communities in Maine has serendipitously led a group of collaborating scientists and stakeholders through lessons similar to that of the Conjunction Junction song in the Schoolhouse Rock educational series. Conjunctions are about connections, and coastal pollution research and science communication is all about that in estuaries at the junction of coastal watersheds and the sea. It is also about "AND, BUT, & OR" just like the song with the distinction that land-sea connections governing estuary pollution dynamics are about "causes" not "clauses". The causes of problems confronting shellfishing communities relate to sources, delivery, and residence time of pollutants, but estuary responses are also dependent on coastal conditions. Some pollution events can be caused by land source AND estuary residence time problems, such as high rates of polluted runoff discharge into estuaries with poor flushing. Others are caused by similar co-occurring problems, BUT only under certain types of conditions governed by tidal cycles or seasons. Scientists and stakeholders working on these problems have the ultimate task of deciding how the knowledge from research can be put into action by choosing one type of management strategy OR another under varied scenarios. Our coastal research that started seven years ago focuses on these socio-biophysical dynamics where freshwater flows, tidal circulation of seawater, and coastal shellfishing communities connect. Our goal is to provide tools to help make science-based decisions to guide whether or not to close shellfish harvesting in response to estuary water quality conditions, how to protect ecosystem services in coastal estuaries, and where to deploy monitoring resources. Here we provide an overview of how scientists and stakeholders are making strides towards functions that provide better predictions of water quality conditions in Maine estuaries, as well as new forms of information, data sources, and analytical tools to help natural resource managers and shellfishing communities respond.
Lauren Ross is an assistant professor in the Civil and Environmental Engineering Department at the University of Maine. She holds a BS from the University of North Florida in Mathematics, an MS from San Diego State University in Applied Mathematics and a PhD from the University of Florida in Coastal and Oceanographic Engineering. Her research involves understanding tidal processes in estuarine and coastal environments. Lauren's research areas range from the fjords of Chilean Patagonia to the hyper-turbid estuaries of western Europe. She has helped industrial partners in Europe to determine optimal locations for tidal turbines in estuaries and understand how these turbines will alter the surrounding marine environment prior to implementation.
Sean Smith is an associate professor in the School of Earth and Climate Sciences at the University of Maine with a joint appointment to the Mitchell Center. His research seeks to understand processes that shape the earth's landscape with attention to alterations of hillslope and stream conditions by human activities. Much of his work is within the disciplines of watershed geomorphology, hydrology and surface flow hydraulics to focus on the quantification of landform stability and the flux of water, sediment and nutrients in the contemporary landscape. A primary goal of his research is to advance the prediction and mitigation of environmental impacts across varied spatial and time scales. His interest in developing scientific information to guide watershed management policies inspires his efforts to communicate research results to stakeholders in varied community and physiographic settings.